For anyone hoping the Australian Open would come down to the four best players in the world, only one of the four favorites coming in actually reached the semifinals, much less the final in the men's and women's brackets.
With No. 4 Li Na taking on No. 20 Dominika Cibulkova in the women's final and No. 1 Rafael Nadal facing off with No. 8 Stanislas Wawrinka, it's hardly the two matches anyone would have predicted prior to the start of the tournament.
After the likes of Novak Djokovic, Serena Williams and Victoria Azarenka were all ousted in the quarterfinals or before the round took place, one woman will win her first Australian Open and one man could win his first Grand Slam, while the other is in search of his 14th title.
Here is the television and live stream information, along with a breakdown of both matches.
Australian Open Schedule

| | | | | |
| --- | --- | --- | --- | --- |
| Match | Players | Time (ET) | TV | Live Stream |
| Women's Final | (4) Li Na vs. (20) Dominika Cibulkova | 3:30 a.m. | ESPN | Watch ESPN |
| Men's Final | (1) Rafael Nadal vs. (8) Stanislas Wawrinka | 3 a.m. | ESPN | Watch ESPN |
AusOpen.com
Women's Final
As the phrase goes, "Always the bridesmaid, never the bride."
Including this year, Li Na has been to the Australian Open final in three of the last four years, but she has never emerged as the winner. Now she has more experience, though.
She recently used the Australian Open's official Twitter account to explain how different making this final is.
"First time I came to the final I was so inexperienced...right now a final is special" Li Na #ausopen

— Australian Open (@AustralianOpen) January 23, 2014
Who will win the women's final?
Despite her past struggles in the final, Li Na is playing some of the best tennis of her career on the blue courts of Melbourne. With a new grip and change in outlook coming into the final, she looks like the overwhelming favorite.
The new grip, according to Tom Perrotta of The Wall Street Journal, was a suggested change that her coach Carlos Rodriguez didn't think would go over so well; however, it has been a huge part of her dominant play in Melbourne.
"If somebody says you want to change the grip on the serve for somebody who is 31 years old, you say, "Please, go home," Rodriguez said.
Li Na, he added, does not seem like a 31-year-old player.
"She is like a kid of 20 years old," he told Perrotta. "She's ready to change and do whatever she needs to do to improve."
Cibulkova, on the other hand, has been a fireball to watch thus far in the Australian Open. With just one match against Maria Sharapova in the fourth round going to three sets, the young Slovakian has cruised past four opponents ranked ahead of her.
With a matchup against Li Na in the finals, a win would mark her third against an opponent ranked inside the top five—and it would give her the first Grand Slam title.
As for Li Na, this would be her second Grand Slam after winning the 2011 French Open.
Men's Final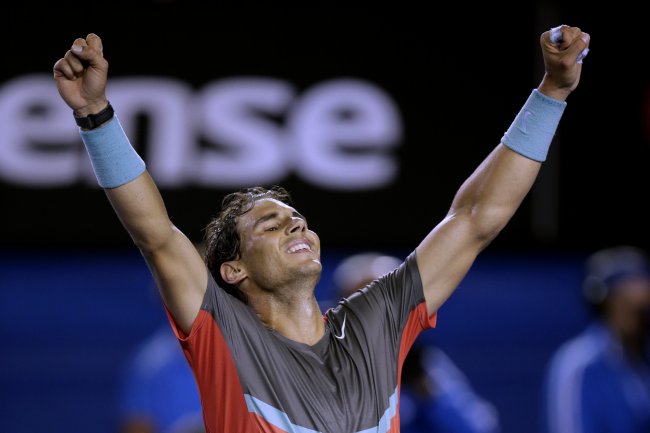 Rick Rycroft/Associated Press
Who will win the men's final?
The men's final pits Nadal against an unlikely opponent in Wawrinka.
Nadal has won 13 Grand Slam titles in his career. Wawrinka is participating in his first Grand Slam final.
The Spaniard has played the Swiss player 12 times and comes into the final undefeated. Wawrinka, on the other hand, is in search of his first set win against Nadal.
The odds seem to be in his favor; however, Nadal won't be looking to the past and isn't taking Wawrinka lightly coming into the final, as the Australian Open's Twitter account reported.
#Nadal "I go on court knowing that I play against a player that is unbelievable & what has happened in the past prob won't help me." #fedal

— Australian Open (@AustralianOpen) January 24, 2014
For Wawrinka to pull off the upset, he will have to continue to dominate with his serve. Following his win over Djokovic in the men's quarterfinals due to several great serves, Wawrinka did the same against Tomas Berdych before reaching the final.
If Wawrinka can pull out some of those same demoralizing points, winning quick points off serves and breaking serves against Nadal could become easier. After watching Wawrinka in both previous matches, Nadal knows the Swiss player will be on the attack with his serves.
#Nadal "I saw (Stan) play v Novak, v Berdych. He's doing great. I know him, he's a good friend, he's serving unbelievable." #ausopen

— Australian Open (@AustralianOpen) January 24, 2014
With his 14th title in sight, Nadal will come in with the confidence that he can take down Wawrinka. Though the David vs. Goliath story is enticing, Nadal is too dominant for Wawrinka to take down.
After defeating one of the best players in the world in Djokovic, Wawrinka's mighty slingshot will not be enough to take down Nadal.