Richard Sherman and LeBron James invaded the week's greatest hits on WWE-related social media.
NFL cornerbacks and NBA MVPs are not the usual subjects of the best tweets, viral videos and Instagram photos of the WWE landscape, but it was a week that merged sports and sports entertainment, at least in two instances.
Social media tidbits centered around WWE Superstars as well. Kane, CM Punk and Batista made their own impressions on the digital world.
We begin, though, with former Diva Eve Torres and Stephanie McMahon. The two shared a fun moment over the weekend when McMahon clamped on a rear-naked choke, complete with big smile.
The former Divas champ shared the image on Twitter.
I may not have had a match with her in WWE...but I got to get choked by @StephMcMahon all weekend! #WomenEmpowered pic.twitter.com/PpjdF5N7oL

— Eve Torres (@EveMarieTorres) January 20, 2014
Eve has spent much of her post-WWE career teaching self-defense for the Gracie Women Empowered self-defense program. She looks to have shown McMahon a new move.
Meanwhile, after the Seattle Seahawks' playoff win over the San Francisco 49ers, Sherman pulled a Reggie Miller and gave Colin Kaepernick the choke sign. He followed that by calling out Michael Crabtree in a postgame interview that felt like an audition for WWE.
The rant had Diamond Dallas Page suggest a Sherman vs. Crabtree bout at WrestleMania, per TMZ.com. While the incident went on to become a well-worn topic all week, it led to the creation of a fabulous video.
Insert Sherman into a WWE interview with Gene Okerlund and the result is magic. Someone needs to do the same thing for Bart Scott's famous interview.
Punk was not all that impressed with Sherman. He had some tips for the Seahawk should he decide to make a career out of working WWE mics.
Guys. It wasn't a good promo.You don't need to scream. Plus he didn't even say "let me tell you something", "here's the thing", or "brother"

— Coach (@CMPunk) January 20, 2014
On Jan. 26, Punk will be in his own playoff scenario. Tension between him and Kane led to the Director of Operations forcing him to enter the 30-man Royal Rumble first. "The Best in the World" will now have an unenviable trek ahead of him at the event.
Punk's upcoming struggle made Kane mighty happy it seems.
WWE shared the following photo on its Instagram account with the caption, "What position was CM Punk given for the #RoyalRumble by Kane?"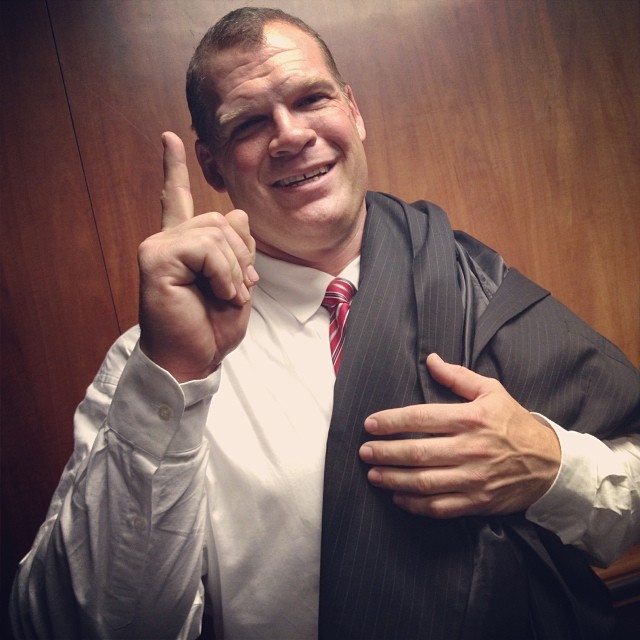 Photo from Instagram
A shot of Batista backstage was one of the most viewed pics on Instagram. "The Animal" returned to the ring on Monday's Raw. His fanbase was so excited about that it likely didn't matter what kind of photo WWE posted of him; the view count was destined to be high.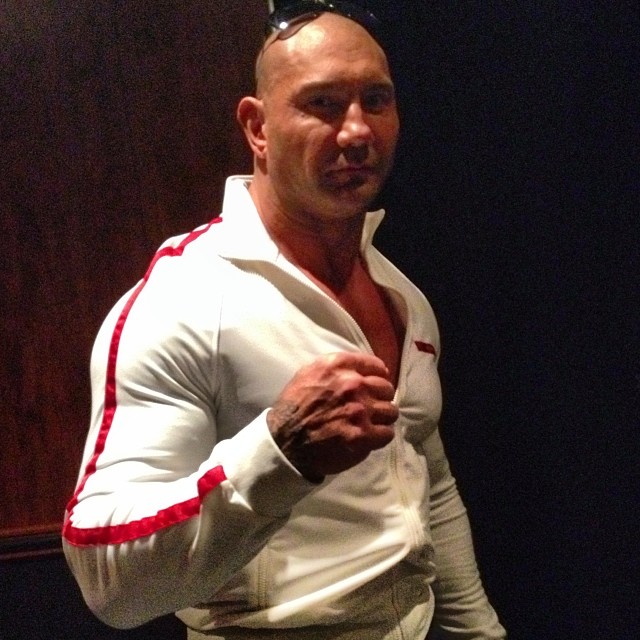 Photo from Instagram
WWE took little time to celebrate his return with a look at his finishing move.
The following video counts down Batista's best Batista Bombs. Judging by the victims shown in the clip, no one is safe from the move—not Kane, not Santa Claus.
Alberto Del Rio experienced a modified version of the move on Monday's Raw. The tightness of Batista's jeans prevented the sit-out portion of it.
Will he get the full version at the Royal Rumble? Will Randy Orton or Brock Lesnar have to fend off the move at WrestleMania XXX? The uncertainty of how those questions will be answered add excitement to Batista's latest run.
He is back just in time for the build to WrestleMania, an event that appears to be minus The Rock for the first time since 2010.
It was "The Great One" himself who gave LeBron a replica WWE championship belt as a gift. The act inspired "King James" to do an impression of The Rock, eyebrow raise and all.
LeBron has to get points for his exuberance here, even if his wasn't a perfect rendition of The Rock's signature line. Die-hard fans will be quick to point out which part of the quote the Miami Heat star got wrong.
He joins David Ortiz, Clayton Kershaw and Max Scherzer as folks from the sports world to recently receive a WWE title. Should Sherman keep his WWE-style antics up, he'll surely receive one as well, in addition to an invite to do some trash-talking on Raw.