Where: MetLife Stadium, East Rutherford, N.J.
Date and Time: Sunday, Feb. 2, at 6:25 p.m. ET
TV: Fox
Live Stream: Fox Sports Go
Spread: Broncos -2.5, per Vegas Insider (as of Jan. 23)
Over/Under: 47, per CBS Sports
If there was ever a one-game sample size to test which is more important to winning championships in the NFL—offense or defense—it is Super Bowl XLVIII.
As ESPN Stats & Info points out, the matchup between the Denver Broncos and their high-octane scoring attack and the Seattle Seahawks and their stifling defense is a battle of strength versus strength:
Seahawks-Broncos is No. 1 scoring offense vs No. 1 scoring defense, No. 1 total offense vs No. 1 total defense and matchup of No. 1 seeds.

— ESPN Stats & Info (@ESPNStatsInfo) January 20, 2014
Peyton Manning and the Broncos' league-best passing attack going up against Richard Sherman and the Seahawks' league-best secondary may be the overarching storyline, but don't be surprised if there are other less-expected factors of the game that determine the outcome.
With that in mind, let's dig into a few bold predictions for Super Bowl XLVIII.
The Broncos Rushing Attack, Not Manning, Will Be Denver's Difference Maker
Manning put up the best statistical season in the history of quarterbacks during the 2013-14 campaign, but don't be surprised when the Broncos are relying on their run game more than the passing game.
Yes, No. 18 threw for an incredible 5,477 yards and 55 touchdowns and has a borderline-unfair amount of weapons at receiver, but there are a handful of factors that will make the running game more important.
For one, the Seahawks have the much-publicized best secondary in the league. Manning knows this and will try to set up the play-action pass later in the game with plenty of early runs. It may be the only effective way to confront Seattle's pass defense, if there even is one.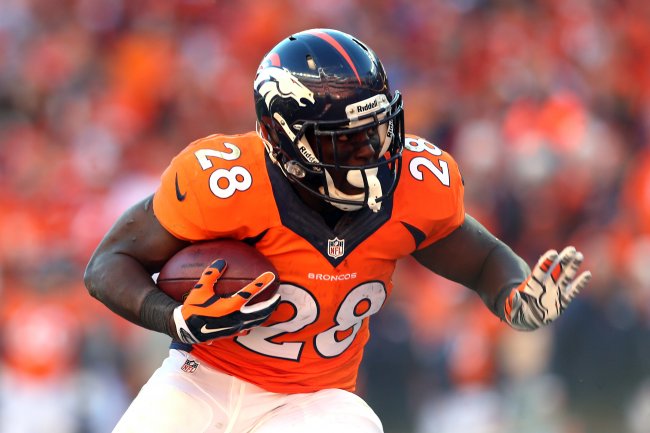 Elsa/Getty Images
Furthermore, Denver's running backs don't get the credit they deserve. Knowshon Moreno and Montee Ball combined for more than 1,500 yards rushing and 14 touchdowns on the ground. The two completely controlled the divisional-round game against the San Diego Chargers.
Lastly, while the weather effects for this game may end up being overblown, it is still difficult to throw the ball 40-plus times in the cold wind, especially when snow is a possibility.
Running the ball will neutralize the weather's impact on Denver's offensive attack and force Manning to be less reliant on long passes that could be altered by the wind.
Byron Maxwell, Not Sherman, Will Be the Most Important Seattle Cornerback
Manning's cerebral nature is well-publicized, but it doesn't take a quarterback as smart as Manning to understand avoiding Sherman in the passing game is a good move.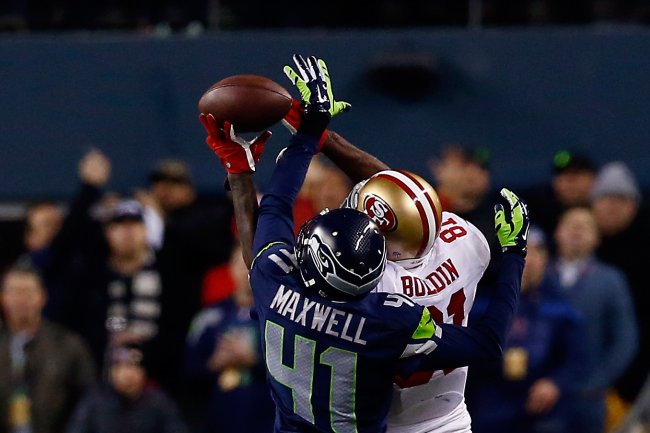 Tom Pennington/Getty Images
Many teams only have one elite wide receiver, so they still have to target Sherman to stick to the game plan, but the Broncos have plenty of weapons. If Sherman is shadowing Demaryius Thomas, Manning can simply look to Wes Welker, Eric Decker, Julius Thomas or even Moreno out of the backfield.
That means the rest of the "Legion of Boom" will have to step up during the Super Bowl. Byron Maxwell may not have the publicity that Sherman does, but he is a critical cog in the best defense in the league.
He tallied four interceptions this year and will be asked to make numerous plays against the likes of Decker, Welker and possibly even Thomas. Don't be surprised when he does just that.
Doug Baldwin Will Make the Game-Winning Touchdown Catch
Doug Baldwin has been on a mission this season and postseason, as Jerry Brewer of The Seattle Times explains:
All season, Baldwin has combated the notion that the Seahawks' wide receivers are pedestrian, that they're a weak link, that they're a problem the team must mitigate if it wants to win a championship. The dog in him is an underdog, and he barks loudest when the Seahawks need him most.
Baldwin used those perceived slights as motivation to post 106 yards receiving and a 69-yard kick return in the NFC Championship Game against the archrival San Francisco 49ers. He told Brewer—and anyone who would listen—the following about his performance: "Let's be honest: Everyone has got their opinion. It doesn't mean their opinion is an intelligent one. ... I don't have a chip on my shoulder, I have a boulder on my shoulder."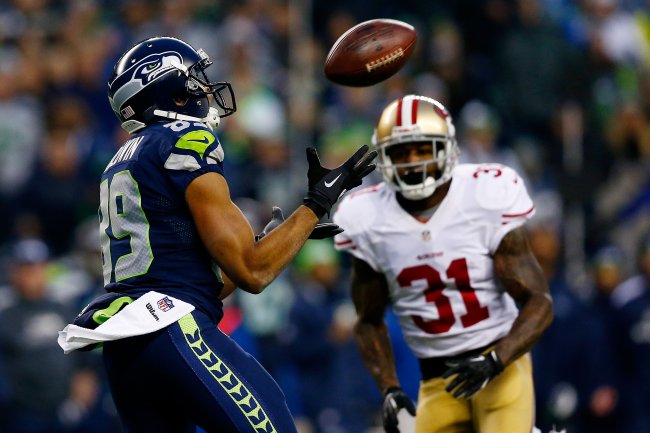 Tom Pennington/Getty Images
Regardless of Baldwin's impressive outing against the 49ers, the Seahawks rely primarily on Marshawn Lynch and the running attack to move the ball. However, Denver's defense will be keyed in on No. 24 all game, which will open up the field for Russell Wilson to hit the motivated Baldwin on a play-action pass late in the fourth quarter.
It will prove to be the final blow in a back-and-forth affair, and the Seahawks will take the game 28-27.