The NBA announced the results of the All-Star voting on Thursday. Ladies and gentleman: your starting five for the 2014 All-Star Game, Feb. 16 in New Orleans: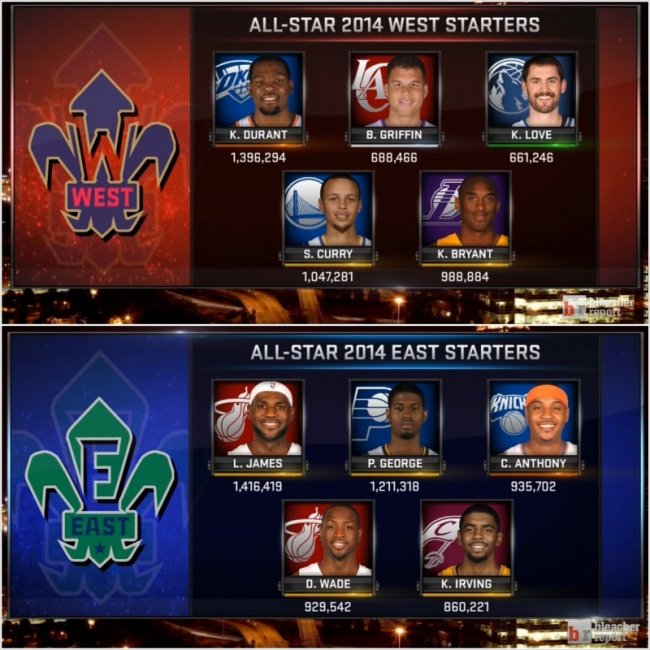 Bleacher Report
Astute NBA observers will notice that one of those 10 players has not taken the court in quite some time. In fact, Los Angeles Lakers shooting guard Kobe Bryant has played only six games on the season and none since fracturing his left tibial plateau on Dec. 17 against the Memphis Grizzlies.
Controversy alert! Code: purple and gold!
Not to worry, fans of justice: Bryant will likely not play in the All-Star Game, per Bleacher Report's Ethan J. Skolnick:
Kobe Bryant says he doesn't intend to play in All-Star game.

— Ethan J. Skolnick (@EthanJSkolnick) January 24, 2014
But what does the selection of Bryant to the All-Star Game say about the fan voting process? About the very idea of democracy itself? Are we sliding down the slippery slope toward one-world Socialist dictatorship? Won't somebody please think of the children?
Sean Highkin of USA Today attempted to put our minds at ease by citing historical precedent:
When fans vote for All-Star teams, there are always going to be a few ridiculous choices. Kobe making it is no different from Yao Ming being voted a starter in 2011 (when he played five games) or Allen Iverson winning the fan vote in 2010 (when he washed out of the league).
So it would seem that Bryant's victory in the fan voting will not destroy the game, let alone tear a hole in the fabric of the space-time continuum. Another, more worthy player will take his place, and the game will go on as scheduled.
How did Bryant end up as the second-leading vote-getter among Western Conference guards in the final tally? Honestly, the bigger surprise is that he didn't end up first.
The NBA allowed voting through social media platforms, including Facebook, Twitter and two Chinese networks: Sina Weibo and Tencent. Weibo and Tencent's Weixin are the two most popular social media platforms in basketball-crazy China, and Chinese basketball fans worship Bryant. Lakers game are broadcast often on Chinese Central Television's sports network, CCTV5.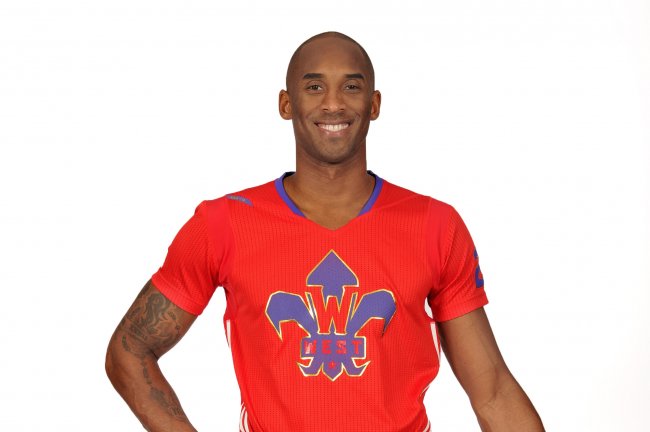 Andrew D. Bernstein/Getty Images
In fact, Bryant might be more beloved by the younger generation of Chinese fans than national basketball legend Yao Ming, whose popularity swung multiple All-Star votes in his favor. Combine those Chinese Kobe fans with the massive Lakers fan contingent in America, and you have perhaps the strongest voting bloc in the world.
If anything, credit should be given to fans of Golden State Warriors point guard Stephen Curry, the only Western Conference guard to get more votes than Bryant.
While it's true that Bryant's inclusion in the game would not have been fair, little of the fan voting is particularly fair.
Other than Bryant, the best example of this might be the case of Toronto Raptors point guard Kyle Lowry. Though Lowry has arguably been the best guard in the Eastern Conference—ranking first with 6.4 total win shares, per Basketball Reference—he didn't even finish in the top 10 in the final voting tally.
But Lowry will likely make it as a reserve—that's what the coach's vote is for.
These voting controversies make for interesting pieces, but they are ultimately meaningless. The All-Star Game is an exhibition. It is no different than the NFL Pro Bowl, which currently features an all-conference fantasy draft format, where the teams are chosen by Jerry Rice and Deion Sanders. The NHL format seemingly changes on a yearly basis.
Major League Baseball commissioner Bud Selig attempted to make the All-Star Game more meaningful after the 2002 game ended in a tie. Now the winner of the game determines home-field advantage in the World Series. Still, baseball fans are more interested in having fun and making sure their favorite players don't get hurt.
You know who else plays basketball exhibitions? The Harlem Globetrotters. And there is little to distinguish the NBA All-Star Game from any Globetrotters exhibition—fun will be had, defense will not be played, and the final score will quickly be forgotten.
Could the voting process be improved? Absolutely. Highkin also suggested delaying the All-Star ballot rollout until after the start of the season, in order to avoid including popular players with serious, long-term injuries.
One suggestion: Create the ballots after the season starts, so guys like Kobe/Rondo/Granger/Gallinari aren't even on it.

— Sean Highkin (@highkin) January 24, 2014
That would have worked in the case of Boston's Rajon Rondo, who finished sixth among Eastern Conference guards despite playing his first game of the season on Jan. 17. But it probably would have been too late to keep off Derrick Rose, who finished fourth among Eastern Conference guards despite not playing since Nov. 22.
Realistically, there is no perfect solution. If casual fans vote, they are going to make mistakes. Coaches make mistakes in the voting process too, as do "expert" basketball writers. It's a subjective process. The NBA might as well do what it promised to do anyway: Let the fans vote and play the players that the fans want to see.
The All-Star Game is not a meritocracy; that's what the playoffs are for.