Of all the various All-Star Games in professional sports, the NBA's version may be the most entertaining. The game is generally wide open, guys show off their dunking ability and—unlike the NFL, for instance—basketball is more entertaining when less defense is being played.
So what type of All-Star contest will we get this year? An open, up-and-down affair, or a battle down in the paint between elite post players?
You be the judge. Here are the starters for both the East and West, via Bleacher Report's official Twitter account:
The 2014 All-Star Game starters for both the Eastern and Western Conference. pic.twitter.com/YtxTXr9uW4

— Bleacher Report (@BleacherReport) January 24, 2014
Not surprisingly, the biggest surprise on Twitter was the exclusion of Houston Rockets center Dwight Howard as a starter, as B/R's Howard Beck suggests:
Wow, Dwight Howard misses the All-Star team. Finishes behind Kevin Love, Blake Griffin, Kevin Durant in "frontcourt" voting.

— Howard Beck (@HowardBeck) January 24, 2014
Obviously, Dwight Howard will get picked by the coaches, but still a weird result due to new NBA ballot. No center will be jumping center

— Howard Beck (@HowardBeck) January 24, 2014
BTW, Dwight missed by less than 8,000 votes. Think the LA/Orlando backlash might have played a role?

— Howard Beck (@HowardBeck) January 24, 2014
Meanwhile, Sam Amick of USA Today passes along the following video Howard made after the center position was taken off the ballot:
Let the debate continue - no center in the West starting lineup. Kevin Love over Dwight Howard. Timely link here - http://t.co/22gA7MIm0T

— Sam Amick (@sam_amick) January 24, 2014
Amick also tweeted the reaction from the TNT crew in regard to the Howard snub:
Shaq, on TNT: "They shouldn't have snubbed out the center spot...They need to put the center back in." Kenny Smith agrees, G. Hill does not.

— Sam Amick (@sam_amick) January 24, 2014
The other issue to address here is that Kobe Bryant is injured and has already said he doesn't plan on playing, per Marc J. Spears of Yahoo! Sports:
Kobe maintains young guys deserve to play in AllStar over him, prefers not to play and says if he does it will be a short cameo.

— Marc J. Spears (@SpearsNBAYahoo) January 24, 2014
Kobe Bryant says he will next see a doctor the first week of February.

— Marc J. Spears (@SpearsNBAYahoo) January 24, 2014
Kevin Ding of Bleacher Report adds more details:
Kobe is aware NBA has mandated guys play in All-Star if they play in games before--but he said he doesn't deserve to and doesn't want to.

— KEVIN DING (@KevinDing) January 24, 2014
And Bryant himself discussed exactly why he wants to sit this one out, per Dave McMenamin of ESPN:
Kobe: "With all due respect to the fans that voted me in ... you got to reward these young guys for the work that they've been putting in"

— Dave McMenamin (@mcten) January 24, 2014
But enough of those players who perhaps shouldn't have been voted in or those who were snubbed. ESPN Stats & Info shares this bit of information about the inclusion of Steph Curry:
Stephen Curry: will be 1st Warriors player to start an All-Star Game since Latrell Sprewell in 1995.

— ESPN Stats & Info (@ESPNStatsInfo) January 24, 2014
Golden State Warriors fans are surely pretty pumped tonight. And so are fans of Paul George, a very deserving starter, according to Jason Whitlock of ESPN:
Congrats to the Baby Dragon @Paul_George24 All-Star starter. Well-deserved.

— Jason Whitlock (@WhitlockJason) January 24, 2014
Many of the players that were perhaps considered snubs—Howard, LaMarcus Aldridge, Damien Lillard, Roy Hibbert—will surely be named as reserves next Thursday, Jan. 30.
Meanwhile, it will be really interesting to see how the East approaches this game. With such a small lineup, will they simply look to run the West starters up and down the court? Will they spread the floor and space out a West team that will dominate on the boards?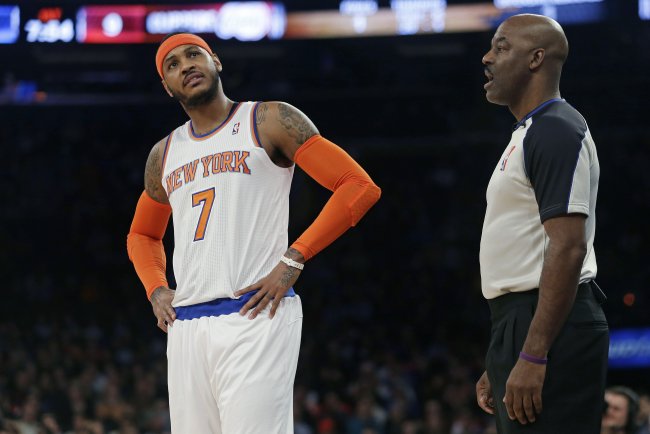 Frank Franklin II/Associated Press
Or will LeBron go all "Magic Johnson in Game 6 of the 1980 NBA Finals" and play center? Because given how freakishly talented James is, would it really be a surprise to anyone if he started at center and dominated?
No, not really. One way or another, it will be fun to see how both sides approach this matchup.