The 2014 NBA All-Star Game in New Orleans is still several weeks away, but the starting lineups for the East and West were announced during a compelling live TNT broadcast on Thursday, Jan. 23.
Each squad's starting five were determined purely by what the fans vote for, while the head coaches choose the reserves. That adds an element of unpredictability, yet it also gives advantages to big-market franchise players and individuals with the gaudiest personal brand and name recognition.
In many instances, that makes the player deserving of a starting nod. Here is an overview of the starters for each talent-laden team:
2014 NBA All-Star Game Starters

| | | |
| --- | --- | --- |
| Eastern Conference | Player | Team |
| Backcourt | Kyrie Irving | Cleveland Cavaliers |
| Backcourt | Dwyane Wade | Miami Heat |
| Frontcourt | Carmelo Anthony | New York Knicks |
| Frontcourt | Paul George | Indiana Pacers |
| Frontcourt | LeBron James | Miami Heat |
| Western Conference | Player | Team |
| Backcourt | Stephen Curry | Golden State Warriors |
| Backcourt | Kobe Bryant | Los Angeles Lakers |
| Frontcourt | Kevin Durant | Oklahoma City Thunder |
| Frontcourt | Blake Griffin | Los Angeles Clippers |
| Frontcourt | Kevin Love | Minnesota Timberwolves |
Source: TNT broadcast
Within the aforementioned context of big markets and the like, Cleveland Cavaliers point guard Kyrie Irving's selection for the Eastern Conference was all the more impressive.
The 21-year-old prodigy, who won the Foot Locker Three-Point Contest last year on All-Star Weekend, now finds himself holding court with the utmost elite the Association has to offer.
Irving saw an already great day continue, per the Akron Beacon Journal's Jason Lloyd:
Kyrie Irving's big day complete. Named All-Star starter tonight about 11 hours after he was selected to USA Basketball men's roster

— Jason Lloyd (@JasonLloydABJ) January 24, 2014
Who was the bigger surprise starter?
Many of the other superstars were essentially mortal locks to start the game at New Orleans Arena, but Irving and another player from the West were the standout surprises.
Miami Heat teammates LeBron James and Dwyane Wade have maintained a high level of play in 2013-14 as two-time reigning NBA champions, so it's no surprise they were included in the East's first five.
Joining James in the frontcourt will be meteorically rising star Paul George—the leader of the Indiana Pacers, owners of the Association's best winning percentage—and New York Knicks scoring machine Carmelo Anthony.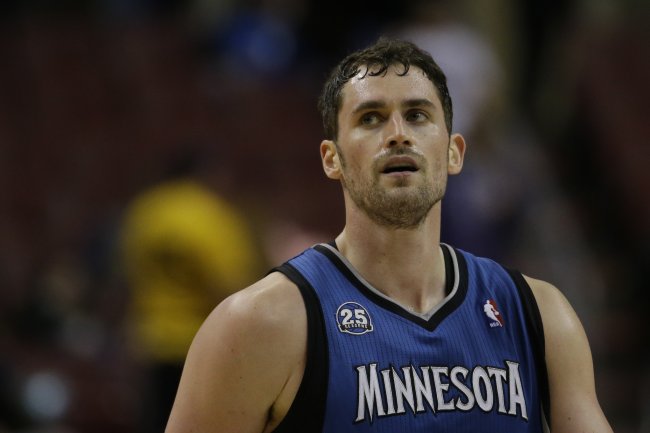 Matt Slocum/Associated Press
For the West, the starters experienced quite a shakeup. Houston Rockets center Dwight Howard gave way to Minnesota Timberwolves forward Kevin Love as the most shocking starter in the frontcourt and perhaps for both teams.
BasketballInsiders.com's Alex Kennedy felt Howard's snub was the most shocking development:
Biggest surprise from All-Star starting lineups? Dwight Howard won't be starting in this year's All-Star game: http://t.co/cwmXEb569K

— Alex Kennedy (@AlexKennedyNBA) January 24, 2014
Love has a league-high 35 double-doubles this season and managed to make up a lot of ground despite his Minnesota team being on the outside of the current playoff picture. The NBA on ESPN's official Twitter account highlighted Love's rise in the voting:
In the last update on All-Star voting, Kevin Love trailed 3rd place in the West frontcourt by 17,933 votes.

— NBA on ESPN (@ESPNNBA) January 24, 2014
Dwight Howard was 2nd among frontcourt players in the last West voting update. Fell behind Blake Griffin and Kevin Love in the final vote.

— NBA on ESPN (@ESPNNBA) January 24, 2014
Replacing Clippers point guard Chris Paul, is another California basketball stud in the Golden State Warriors' Stephen Curry. With his incredible shooting ability and floor vision, the ever-refreshing Curry was a logical replacement for the man widely considered the league's best all-around point guard in Paul.
The Warriors' official Twitter account was pleased with the decision in pointing out Curry's popularity:
.@StephenCurry30 finished w/ the most votes among West backcourt players, garnering more than 1 MILLION votes. Nice work, #DubNation.

— Golden St. Warriors (@warriors) January 24, 2014
Laker legend Kobe Bryant joins Curry in the backcourt, while supremely athletic Clippers forward Blake Griffin constitutes the second man from LA to crack the West's fabulous five on the front line.
Both Bryant and Paul have been injured for extended periods of time. Bleacher Report's Howard Beck noted that the Black Mamba has said he won't play:
Anyway, West starters: Kobe Bryant (who says he won't play), Steph Curry, Kevin Durant, Blake Griffin, Kevin Love.

— Howard Beck (@HowardBeck) January 24, 2014
On the other hand, the dynamic point guard Paul hopes to suit up to represent the West in the city where he spent his first six seasons as a pro, per SportsCenter's official Twitter account:
Chris Paul (separated right shoulder) hopes to be back on the court in time for NBA All-Star Game: "If I can play, I'm going to play."

— SportsCenter (@SportsCenter) January 23, 2014
Last but not least was Oklahoma City Thunder forward Kevin Durant, who has been on a torrid scoring pace and is leading the NBA with 31 points per contest.
ESPN Stats & Info provided the historical perspective for Durant's ongoing streak of nine consecutive games putting up 30 points or more:
Kevin Durant's scored 30+ Pts in 9 straight, tied for 3rd-longest single-season streak in last 10 seasons

— ESPN Stats & Info (@ESPNStatsInfo) January 23, 2014
Basketball fans should be thrilled with the results of this voting, with the West and East both seeing two new additions to the lineup this time around. Griffin, Durant and the apparently idle Bryant remain fixtures for the West, while three of the same five starters in James, Wade and Anthony occupy the East's starting bunch.
The explosive scoring of Durant and Curry alone will be fascinating to witness. Durant even called Curry the best shooter to ever play the game recently:
Steph any day, best shooter to ever play RT @nickyokoyama: @KDTrey5 You or Steph Curry in a 3-Point Contest?

— Kevin Durant (@KDTrey5) January 23, 2014
With the improvement Durant has made in involving his teammates, ball movement should be far more fluid on the West's side—especially with the high-IQ Love replacing Howard up front.
Kennedy highlighted the strange trend of no true centers starting for either team, noting that James would fill the position for the East and Love would do the same for the West:
No centers starting in the All-Star game. LeBron James will start at C for East, Kevin Love will start at C for West: http://t.co/SGJxrx8yGX

— Alex Kennedy (@AlexKennedyNBA) January 24, 2014
James is as sound of a passing forward as the game has seen in recent memory, but he's likely to be operating from the post for the most part. Irving is used to thriving in isolation situations, and Anthony does that even more so—to a fault at times.
What will be interesting to monitor moving forward is what reserves fill the remaining spots, and how that will impact the competition. The West has been the clear-cut superior conference this season, so whomever coaches the East has his work cut out for him to bolster the bench.