Bryce Harper Wants to Be a New York Yankee
June 5, 2009
(The Voice of Yankees Universe)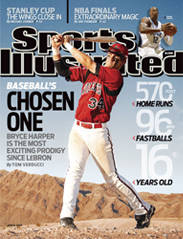 Harper's Profile:
Born:October 1, 1992 in Las Vegas, Nevada
Bats/Throws: S/L  Height: 6′3″  Weight: 205lbs  Position: C, 3B
     Bryce Harper, AKA Roy Hobbs, has taken over the baseball world at the age of 16. He is considered "the most exciting prodigy since LeBron." Those are some strong words for a guy who isn't even out of high school, but the guy is a freak of nature. He not only plays catcher and third base, but he can pitch. He has been clocked at 96mph. He also hit a famous 502 foot homer during the 2009 International Power Showcase. It was a home run derby for top prospects that took place at Tropicana Field. He is also the first high school sophomore to be named a first team All-American by Baseball America.Bryce's biggest accomplishment and most prized memory was in the Spring of 08. At a combine in Chicago, Bryce took down Derrek Lee in a Wood Bat Home Run Derby, surprising the star with a 17-11 Defeat.
Last year, Bryce hit .870 with 41 home runs and had 67 RBIs in 113 AB for Las Vegas High School. You may be saying it's just high school, but those numbers are not normal…they are unbelievable. He is even a switch hitter. Bryce hit a 579 foot home run in his freshman year!
He talks just like Roy Hobbs….
"Be in the Hall of Fame, definitely. Play in Yankee Stadium. Play in the pinstripes. Be considered the greatest baseball player who ever lived. I can't wait," he told Verducci.
He will be eligible for the Major League Baseball Draft in 2011, and he will be presumptive first overall pick. We all know the Yankees won't be finishing dead last anytime soon, so there is no hope of getting him in the draft. We could always trade for him, or throw a ton of money at him when he becomes a free agent. That is the Yankee way anyway…
Have a look for yourself…
http://www.youtube.com/watch?v=jQQ5cZD8PgU&eurl
We will have to wait a few years to see if he really becomes "the LeBron James of baseball." I barely know the kid, but I'm already dying to see this guy in the big leagues.
———————————————————————————————————
Austin Jackson: A Star Under Construction  / Corona sent back to Trenton
Yankees hurler Burnett appeals six-game suspension / Cano just can't walk