Here Are Minnesota Golden Gophers Fans Taking Duck Face Selfies on TV
January 23, 2014

Marilyn Indahl-USA TODAY Sports
If you don't take pictures of yourself making duck faces at the game, did it ever happen?
The answer would be "No," for this group of Golden Gophers fans, who took a break in the action during Wednesday night's game against Wisconsin to snap pictures of themselves.
Naturally, cameramen in the area keyed in on the young women, who unknowingly made a series of faces while being broadcast on television. A GIF of the moment has been fashioned by Tim Ryan of The Big Lead. Just another day in the life of a college student with an Instagram problem.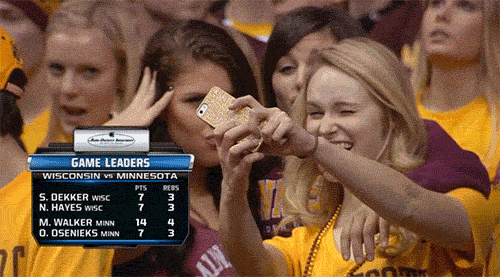 GIF via The Big Lead
While seemingly a photo booth-style frenzy, there was a method to their madness—a procession of looks that began with "divas!"

Screenshot via The Big Lead
"Divas" morphed into "Huh?"

Screenshot via The Big Lead
This proceeded to "Heyyy!"

Screenshot via The Big Lead
And then ran off the rails into "Wacky!" 

Screenshot via The Big Lead
There's no such thing as smiling anymore, everyone. You must be fierce, you must be free-spirited and above all else, totally loving life. How else will you make people on the Internet jealous of your carefree lifestyle?
Also, is anything better than footage of people taking wacky pictures?
You cannot entirely blame these Minnesota fans for taking pics, though. It was a boring game, and nothing was happening on the court. Granted, their unranked Golden Gophers were taking a break in the midst of an 81-68 victory over the ninth-ranked Wisconsin Badgers Wednesday night. 
We'll presume they were tweeting these off-kilter, wackily angled selfies to Mo Walker and DeAndre Mathieu—two Golden Gophers who had huge, 18-point nights, according to The Associated Press (via USA Today Sports).
Well done, Minnesota, and enjoy your upset selfies, ladies. I forecast you three will be doing more of these in the future, so remember: People love duck face. Do it at all times.
Duck face: The smoochy-est red flag.