The Phoenix Suns' supercharged pace and red-hot shooting proved too much for the East's front-running Indiana Pacers on Wednesday, and you can bet the rest of the Western Conference is now on notice that Goran Dragic and Co. could be a nightmare matchup for any playoff opponent.
Phoenix vanquished the mighty Pacers by a final score of 124-100, thanks to 54 percent shooting and an 11-of-16 effort from long distance. It wasn't just the raw numbers that made the Suns' surprise upset so remarkable, either; it was the way they did it.
Nobody dictates tempo against Indiana. Nobody fires away from three-point land with impunity. Nobody dices up the Pacers' historically good defense at will.
But the Suns did all those things, and that led to a few snippets of analysis you don't often hear.
"Indiana's trying to mount a comeback, but can't get any stops" is a super rare sentence

— Ethan Strauss (@SherwoodStrauss) January 23, 2014
The Big, Fat Caveat
Obviously, before we start talking about playoff spoilers and the dangers of facing the Suns, we have to first point out that it's far from a foregone conclusion that Phoenix will finish among the West's top eight seeds. Eric Bledsoe's return date from surgery to remove a piece of torn meniscus from his knee is still uncertain. Without him, the Suns aren't as big of a threat as they otherwise could be.
Per Paul Coro of The Arizona Republic, Bledsoe said of a possible comeback sometime after the All-Star break: "If it's possible," Bledsoe said. "I'm taking it slow."
Not exactly concrete, huh?
If and when Bledsoe comes back, there's still no guarantee that he'll be able to provide the same kind of brilliant all-around play and competitive edge to the Suns' backcourt.
Plus, the Memphis Grizzlies now have Marc Gasol back in the fold, and everyone seems to have forgotten the deep playoff run the Grizz made just last year. Plus, Memphis has beaten Phoenix in a pair of head-to-head matchups in the past two weeks.
Then there's the Minnesota Timberwolves, every number-cruncher's favorite team to regress to the mean eventually. The 'Wolves possess the fifth-best per-game differential in the West, and many expect them to vault up from the No. 11 spot in the conference before long.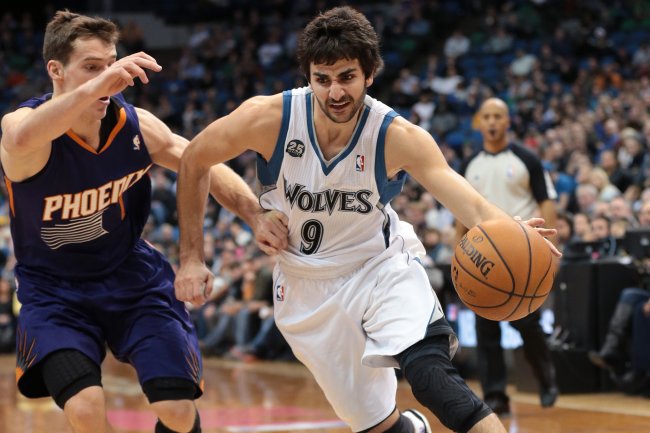 Jordan Johnson/Getty Images
And don't forget the Denver Nuggets, recent victims of the Suns but still within striking distance of a postseason berth at the halfway point in the season.
All that aside, the fact is this: The Suns currently occupy the No. 7 spot in the West. It's theirs to lose.
Based on the way they've hovered around .500 (5-6 to be exact) since Bledsoe went down, there's a good chance they'll stay right in the thick of the race all season long. And if they do wind up making the postseason dance, the things they showed against the best defense on the planet on Wednesday will make them a matchup everyone should want to avoid.
How It Happened
Dragic went off against Indy, probing the defense with his inimitable (unless you're Manu Ginobili) drives and herky-jerky attacks. He finished with 21 points on an ultra-efficient 8-of-10 from the field in just 22 minutes.
In addition, Gerald Green stuck it to the team that traded him over the summer with a team-high 23 points. In the midst of his best season as a pro, Green punctuated his performance with an array of dunks and acrobatic finishes. Oh, and he drilled a trio of triples for good measure.
Throughout the contest, Phoenix pushed the pace. That's not a new tactic against Indiana; everyone knows that getting into a half-court slog against the league's best defense is agreeing to a slow, painful death.
But most attempts to speed the game up against the Pacers' disciplined D sputter out sometime in the first five minutes of the game.
The Suns managed to do it throughout the contest, turning the game into an up-and-down affair that resembled a shootaround by the second half. In essence, Phoenix gave its fans exactly the kind of basketball they've grown to love over the past decade or so.
Suns scored 124 points! Is it 2005 all over again? And if so, why aren't we all posting on MySpace? pic.twitter.com/462tKEY4i7

— Not Bill Walton (@NotBillWalton) January 23, 2014
To be fair to the Suns, they're a little bit more than a push-the-pace sideshow. These Suns rank a respectable 12th in the NBA in defensive efficiency, a solid figure that looks even better next to their No. 8 offensive rating, per NBA.com.
And even though the Suns play at a top-ten pace, their offensive success against Indiana—and the league at large—isn't all about creating transition chaos.
Phoenix can put five legitimate three-point threats on the floor at once, which it did in spurts during its second-half blitz against the Pacers. With the Morris twins and Channing Frye holding down frontcourt positions, defense and rebounding can be a little difficult. But that trio creates space that few teams are used to defending.
Nobody covers the three-point line better than the Pacers, but Roy Hibbert was clearly out of his comfort zone in the limited minutes he had to spend chasing shooters far away from the bucket. Looking ahead, it's not hard to imagine the Suns doing the same thing to Tim Duncan or Tiago Splitter in San Antonio, Dwight Howard in Houston or Andrew Bogut in Golden State.
Standing ovation now as the starters walk off the floor for five new guys with 6:06 remaining. Wow. White flag coming early

— Candace Buckner (@CandaceDBuckner) January 23, 2014
Put simply, anytime you can make the Pacers give up, you've done something that makes you dangerous to every other team in the league.
At Their Best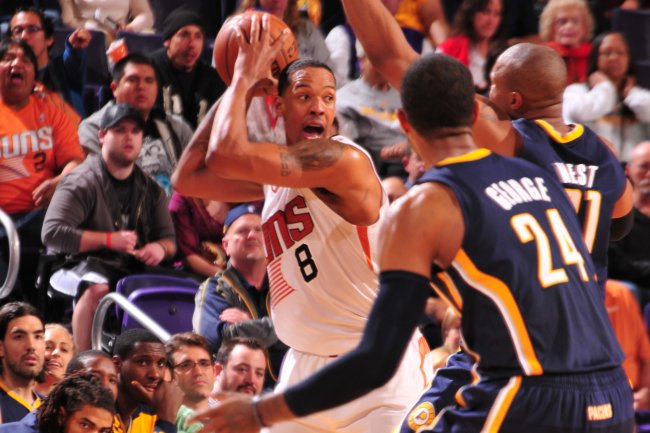 Barry Gossage/Getty Images
And as we saw against Indiana, once the Suns catch fire there's not a lot that any defensive scheme or personnel group can do to cool them off. It's silly to imagine they'll be so remarkably accurate or so in control of the game's pace over the course of a seven-game series.
But we know that the Suns are capable of playing this way against the league's best team. Even if it was just one game, that has to count for something.
Note, too, that the Suns have already had significant success against some of the West's best teams.
Taking on the West's Best: Phoenix's Big Wins

| | | | |
| --- | --- | --- | --- |
| Date | Opponent | Score | Result |
| Oct. 30 | Portland Trail Blazers | 104-91 | Win |
| Nov. 27 | Portland Trail Blazers | 120-106 | Win |
| Dec. 4 | Houston Rockets | 97-88 | Win |
| Dec. 15 | Golden State Warriors | 106-102 | Win |
| Dec. 30 | Los Angeles Clippers | 107-88 | Win |
NBA.com
As much as anything, Phoenix is a confident bunch. Nobody on the roster was intimidated by the imposing Pacers, a fact that became particularly evident as the game started to get out of hand down the stretch:
This is as animated as Markieff gets, cranking his arm after one 3 & staring down Indiana's bench after another 3. PHX 105-83. #SunsVsPacers

— Paul Coro (@paulcoro) January 23, 2014
Nobody's saying the Suns are world-beaters. They've got a ton of young players and are still a team that could run into a prolonged rough patch against a brutally difficult Western Conference schedule.
Against the Pacers, though, they showed what they can do at their best. Nobody out West wants to be the team to find out if they can do it over the course of a playoff series.