The Houston Rockets take a lot of three-pointers. A whole lot.
Kevin McHale's ballclub ranks second in three-point attempts, averaging 26 triple tries a game. There is absolutely nothing wrong with that if you have shooters.
The problem is, the Rockets don't seem to, well, have the shooters, and we saw that on display Wednesday night when they shot 8-of-31 from deep in a 119-98 win over the Sacramento Kings.
Houston ranks just 24th in three-point percentage, hitting on only 34.6 percent of its long distance attempts.
Only two teams currently in the playoff picture rank lower than the Rockets in that department: the Los Angeles Clippers and Chicago Bulls.
We saw the lack of consistent outside shooting doom Houston against the Oklahoma City Thunder on Jan. 16, as the Rockets missed all 14 triples they attempted in a 19-point second half.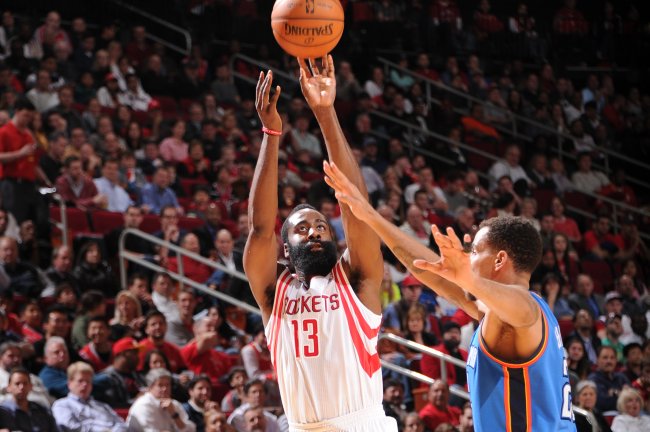 Bill Baptist/Getty Images
After the game, Thunder star Kevin Durant had this to say: "We were able to come down and stifle them a little bit and get them out of their rhythm. They're a great offensive team. They score the ball so quickly. I think we did a great job of just putting pressure on them."
Well, sure Kevin. You absolutely played a significant role in their offensive ineptness, but going 0-of-14 from behind the line in the second half? 0-of-14? That's more than just good defense.
That's not having enough threats from deep.
Obviously, this is an issue that should be addressed by the front office.
Durant did point out, however, how quick the Rockets score the ball and how good of an offensive team they are, and that is true, but the absence of reliable outside shooting is troubling.
Again, taking three-pointers is okay. It's better than taking a whole lot of long twos and mid-range jumpers. The latter is a fairly low-percentage shot, and if you're good at math, you'll probably realize that a three-pointer is worth more than a two-pointer.
When it becomes an issue and potentially detrimental to your success is when you have guys clanking threes left and right.
When you take a look at the Rockets roster, you probably wouldn't peg them as a team that struggles from beyond the arc. After all, they have Chandler Parsons, James Harden, Jeremy Lin and Omri Casspi on board. All good shooters, right?
Well, not necessarily.
Parsons is a reliable source from deep. That we know. He is hitting on 38.2 percent of his bombs, and that is pretty darn good.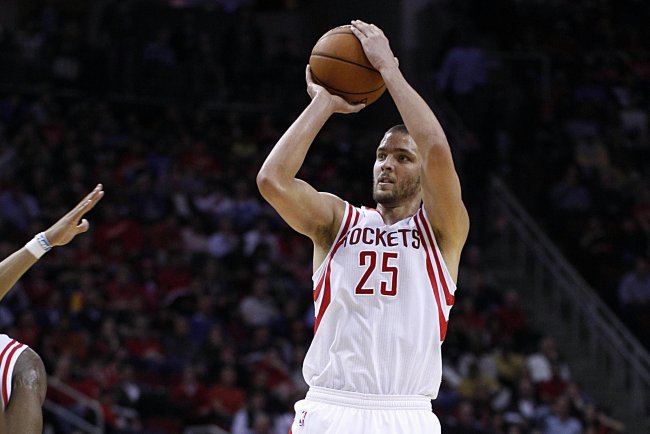 Andrew Richardson-USA TODAY Spor
But Harden (33.5 percent), Lin (34.9 percent) and Casspi (35.8 percent)? They are all very average.
This is where general manager Daryl Morey needs to take stock of the situation and say, "I need to get another shooter."
We know how deadly Houston is offensively. It ranks third in true shooting percentage, according to teamrankings.com, and it is No. 1 in free-throws. Plus, it is sixth in fast-break points.
The Rockets have guys who can get to the basket and draw contact on a consistent basis. Harden, Parsons and even Lin are all superb slashers who can make things happen in the paint. Then, of course, there is Howard, a behemoth who can dominate the middle on a nightly basis.
No, Howard isn't the greatest free-throw shooter in the world, but, thanks to his athleticism, he represents an extraordinarily dependable outlet for Harden and company on drives.
How many times have we seen Harden drive the lane, attract the defense, and then toss up a lob to be finished thunderously by Howard?
Seems like a countless number of instances.
In that area, we know the Rockets are outstanding, and such dribble penetration and finishing around the rim is a major reason why they are sitting at 29-15 in the tough Western Conference.
Just ask Kings head coach Mike Malone, whose team just fell victim to a Houston assault on the rack.
Kings HC Malone lamented allowing #Rockets 66 pts in paint, said he didn't care who was out there, that's unacceptable.

— AdamWexlerCSN (@awexler) January 23, 2014
But still, the Rockets need that extra dimension in their offense. A dimension that teams like the Portland Trail Blazers and Golden State Warriors truly possess.
The Blazers rank third in three-point attempts, but second in percentage. The Warriors rank sixth in heaves, but a healthy fourth in percentage.
Morey has a very good team here with the Rockets, but they are missing a pretty crucial ingredient. Fortunately, Morey has trade assets at his disposal to make a move and remedy the issue.
We know the deal with Omer Asik. He's an asset. You then look up and down the rest of the roster and see guys like Greg Smith and Donatas Motiejunas. More assets.
Who will be available at the trade deadline? Well, that we don't know. It's still a month away. However, there will almost surely be someone who can help Houston in this department.
For example, the Boston Celtics recently dealt Courtney Lee to the Memphis Grizzlies. Lee is shooting 42.9 percent from deep.
Guys like that do get traded from noncontending teams. Chances are, Morey will be able to zero in on such a player between now and the Feb. 20 deadline.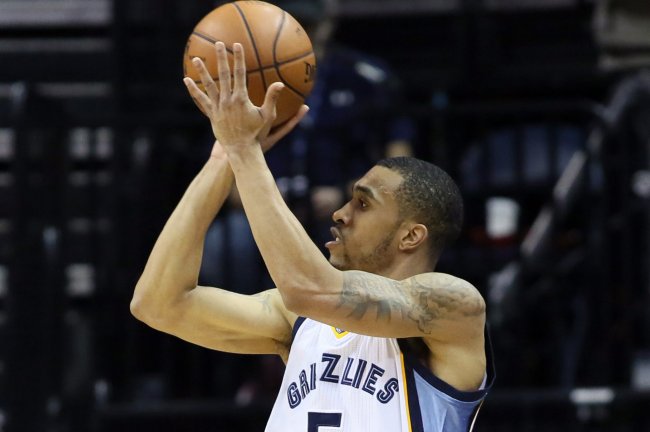 Nelson Chenault-USA TODAY Sports
Now, before we go any further, you're probably wondering about Aaron Brooks, a guy on the roster who is actually a good three-point man himself.
Brooks is the team's best long-range shooter, as he is shooting 41 percent from deep. The issue is that he is playing behind two point guards in Lin and Patrick Beverley.
Sure, Brooks saw minutes when Beverley was out with a fractured hand, but when Beverley returned on Monday night, Brooks didn't even get off the bench.
In Wednesday night's blowout win over the Kings, Brooks played a total of five minutes.
It seems fairly safe to say that Brooks isn't going to get off the pine much as long as Lin and Beverley are healthy, and playing him with one of the two in the backcourt is dangerous because of his deficiencies defensively.
That brings us back to square one: Morey has to make a move.
This Houston ballclub has everything offensively except for a reliable stroke from beyond the arc. Think about this for a minute. Despite the fact that the Rockets rank 24th in three-point percentage, they actually rank third in total field-goal percentage.
Imagine if they had better three-point shooters? I can't even begin to imagine how lethal that offense would be.
Let's also take into consideration the fact that the Rockets have Howard in the middle. Remember how potent the Orlando Magic's offense was back in the days of Dwight, Hedo Turkoglu and Rashard Lewis? Howard would command attention and double-teams in the post, and when that happened, his shooters would make opponents pay.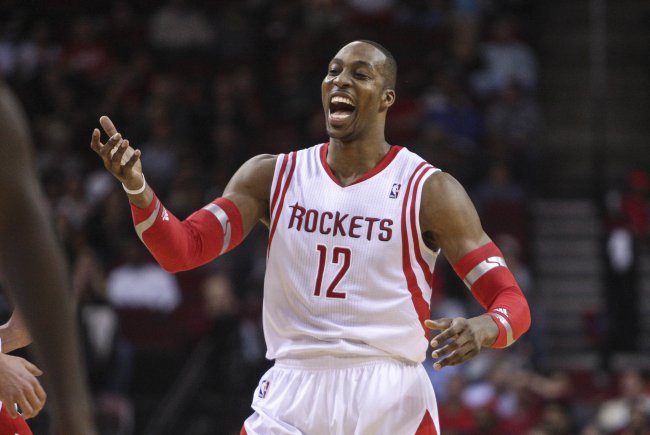 Troy Taormina-USA TODAY Sports
Plus, Houston has more playmakers than that Magic team did.
The Rockets should be salivating at the mere prospect of adding a sharpshooter.
This is something that they really need to do to reach that next level.
They're already very good, but very good doesn't cut it in this league. You need to be great, and bringing aboard someone to help cure their long-range ills would help them get there.