Roger Federer's Run to Australian Open Semifinal Confirms Return to Elite Status
Use your ← → (arrow) keys to browse more stories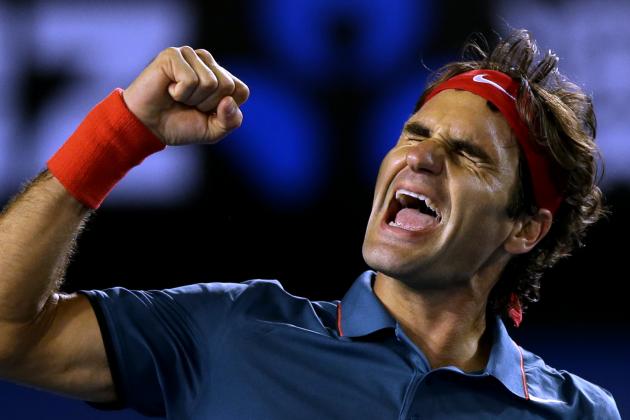 Aaron Favila/Associated Press

After last season's comparatively poor results, 17-time Grand Slam champion Roger Federer has come back with a renewed fervor at the 2014 Australian Open.
The 32-year-old legend has dropped just one set en route to a semifinal appearance at Melbourne Park, where he will face world No. 1 and longtime rival Rafael Nadal.
Regardless of the outcome of that dream match, Federer has already proven himself capable of still competing among the elite in men's tennis.
Nadal has always had Federer's number, so to speak, with a 7-0 record against him in Grand Slams outside of Wimbledon, per ESPN Stats & Info:
Federer to face Nadal in semis of Aussie Open. Federer has had the edge at Wimbledon, but Nadal in other Grand Slams. pic.twitter.com/k498os2neK

— ESPN Stats & Info (@ESPNStatsInfo) January 22, 2014
But the Spaniard has had health setbacks of his own that have kept him away from the court for extended periods of time. That's something Federer didn't have to worry about until the 2013 campaign, when he was banged up with back problems and won just one singles title.
The point is that Federer should not be judged based on what happens in the showdown with Nadal—even if he falls in straight sets. Even at the height of his dominance, Nadal was the riddle Federer was never quite able to solve on a consistent basis.
Ahead of the impending clash, though, Federer seems optimistic about his chances in Melbourne and what he might achieve beyond the season's first major, per ATPWorldTour.com:
Things don't get easier. But at the same time they might become more enjoyable. Maybe I can play with less pressure. Maybe I just love it. I still love competition. I still feel maybe there's something big around the corner. I'm just trying to find out and see if that's the case. I do feel it is. But only time will tell if it's possible or not.
We'll find out soon enough, but if the form Federer has flashed at the tournament thus far is shown, that big something just may be imminent.
Andy Murray was Federer's quarterfinal opponent, and although the reigning Wimbledon winner was playing in one of his first events since undergoing back surgery, he still presented a stiff test.
The fourth-seeded Murray dropped the first two sets but rallied and staved off two match points in a third-set tiebreaker, forcing Federer to close things out in the fourth set. After Federer went up 1-0, Murray thwarted an early break bid in an epic game that saw 10 deuces before the Scotsman finally held.
Federer could have been discouraged with all the momentum going Murray's way, but he broke in the eighth game after blowing six break-point chances in the second game alone and closed out the 6-3, 6-4, 6-7, 6-3 victory.
.@rogerfederer talks about his 4-set win over @andy_murray in post-match press conference. http://t.co/rVcWFxCZcZ #AusOpen

— Australian Open (@AustralianOpen) January 22, 2014
A new coach in Stefan Edberg and a racket change that helps Federer find more power are aiding his efforts as he pursues an 18th Grand Slam trophy.
Nadal has had his own struggles, dropping the opening set to No. 22 seed Grigor Dimitrov in the quarterfinals—an opponent who is nicknamed "Baby Fed" for his similar style of play.
How many singles titles will Roger Federer win in 2014?
Now that Federer is rejuvenated both physically and mentally, it wouldn't be surprising at all to see him and Nadal duel in an epic five-setter. No matter what happens, though, Federer has done enough already to refortify his status as an elite player.
Three-time reigning champion Novak Djokovic bowed out in the quarterfinals, unable to find a way past Federer's formidable compatriot in Stanislas Wawrinka in a match that went the full five sets.
Juan Martin del Potro (No. 5) was seeded higher than Federer (No. 6) yet lost in the second round to Roberto Bautista Agut in Round 2's massive upset.
"King Roger" is experiencing a renaissance in 2014, having advanced to a final in his only other event. Several other big names who seemed to have passed Federer are no longer in the Australian Open, and one of them in Murray was directly caused by Federer's brilliance.
Health permitting, a big step up—and maybe even another major title or two—await Federer at the dawn of the new year.