The Senior Bowl is not just a collection of some of the best college football players in the country; it is also a chance for prospects to prove themselves in front of a collection of NFL scouts. For some players, this will be more beneficial than others.
While some top names declined invitations for various reasons, this week of practices is a good chance for middling prospects to truly show their ability. By the time the game starts, the scouts are already impressed.
However, the game on Jan. 25 will also be an opportunity for certain players to prove what they can do in a competitive atmosphere. Although a big performance will not make or break their chances of being drafted high, every little bit helps.
Here is a look at some prospects with the most to gain on Saturday.
Logan Thomas, QB, Virginia Tech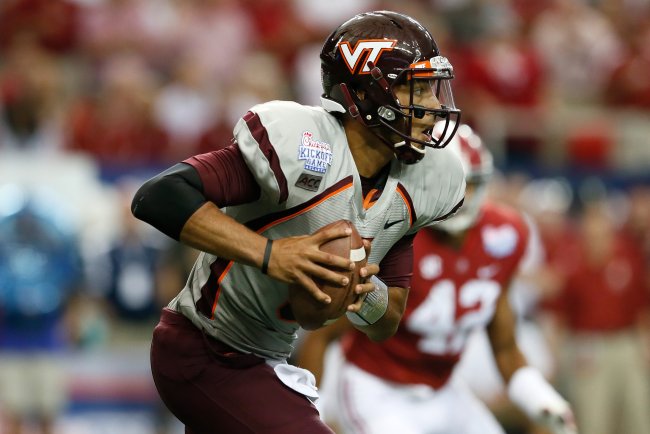 Kevin C. Cox/Getty Images
There seems to be a big divide on Logan Thomas and his projections as an NFL quarterback. He does have the size that scouts dream about:
Logan Thomas checks in at 6'5 3/4 and 250. Towers over every other QB and a bunch of D linemen, TEs etc

— Justin Higdon (@afc2nfc) January 20, 2014
Additionally, Bucky Brooks of NFL.com mentions that his accuracy has been impressive in practices:
One of the biggest surprises of the day at @seniorbowl has been the pinpoint passing of @VT_Football QB Logan Thomas pic.twitter.com/j65u2vUYAn

— Bucky Brooks (@BuckyBrooks) January 20, 2014
Conversely, Bleacher Report's Michael Schottey is one expert who does not believe he can translate to the NFL:
A lot of analysts I respect and admire have had a lot of great things to say about Logan Thomas (QB Virginia Tech) so far this week. I do not agree. I've seen an uncontrollably strong arm, an inability to dial back, poor mechanics and inconsistent delivery. Scouts look at moldable prospects over complete ones (see: EJ Manuel in 2013), but Thomas just does not stick out as a successful NFL passer to me.
The problem throughout Thomas' career has been poor decision-making. His efficiency rating is always low due to poor completion percentages and high interception rates, totaling at least 10 picks in each of the last three years.
As much as he can impress teams with his size and arm strength on the practice field, it will not answer these questions about his ability on the field.
Still, a strong effort in the Senior Bowl can prove that he is getting better in this area and is worth the risk on draft day.
Chris Borland, ILB, Wisconsin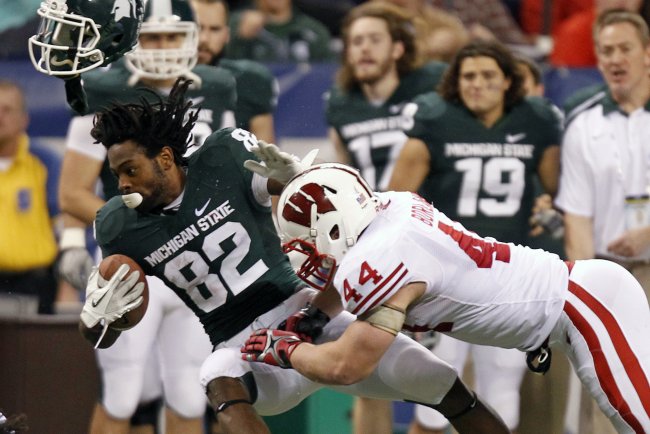 Michael Conroy/Associated Press
Unlike Logan Thomas, Chris Borland has impressive college numbers but lacks the size that NFL scouts want to see.
Bleacher Report's Matt Miller points out that he makes up for it in other areas:
Chris Borland comes in at 5'11". No measurement given for instincts, and that's where he dominates.

— Matt Miller (@nfldraftscout) January 20, 2014
Matt Mayock of NFL.com was extremely high on Borland, calling him a "sawed-off Luke Kuechly." Meanwhile, his colleague Daniel Jeremiah has received mixed reviews when discussing the linebacker:
I think I'm the only 1 that's riding the fence on Chris Borland. Heard "I love that dude" a bunch and "good college player, bad pro" a bunch

— Daniel Jeremiah (@MoveTheSticks) January 21, 2014
Borland has certainly impressed scouts in practices with his coverage skills and ability to close quickly on the ball. However, playing linebacker requires a lot more that can only be seen in games.
The Wisconsin star will have to show he can shed blockers and handle bigger opponents that he will likely see at the next level. This could prove that he is worthy of an early-round selection as someone who can make an impact early in his career.
Jimmy Garoppolo, QB, Eastern Illinois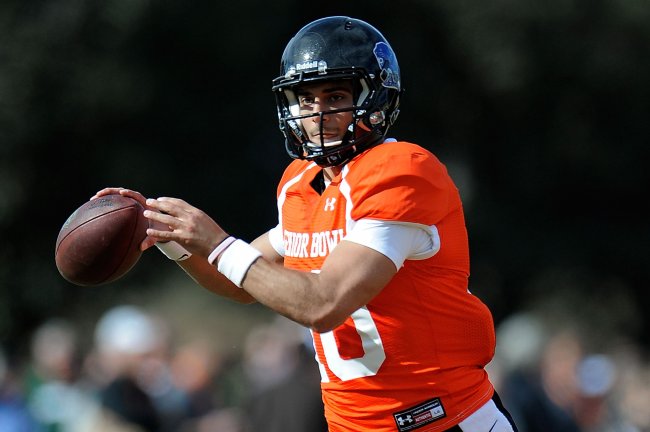 Stacy Revere/Getty Images
Players that spend their college careers in the SEC or Big Ten have plenty of experience against elite competition. If a scout wants to see how they will fare against the best in the country, they can simply look at tape from the season.
Jimmy Garoppolo does not have that luxury after spending his time at Eastern Illinois. He put up video game numbers this season, but that does not mean much against inferior opponents.
Fortunately, the practice week has given the quarterback a chance to show his pure skills and he did not disappoint:
Second-best quarterback in Mobile, by far, has been Jimmy Garoppolo. Spinning the ball, quick & compact release. Like him a lot.

— Matt Miller (@nfldraftscout) January 22, 2014
Garoppolo and Carr have looked sharp today. I know I've mentioned this a bunch, but Jimmy's release is so quick and natural. #SeniorBowl

— Dane Brugler (@dpbrugler) January 21, 2014
The quick release will help him get the ball off against quick defenders that are closing in on the ball, and it is something that could lead to success at the next level.
Still, most scouts have never seen Garoppolo in an actual game. They can look at stats and tape, but this will be their first chance to see how he reacts against an effective pass rush and quickly closing windows.
The young player has a golden opportunity in front of him to show everyone that he is ready to contribute in the NFL.
Follow Rob Goldberg on Twitter for the latest breaking news and analysis.