A lot of things will help determine the outcome of Super Bowl XLVIII, but the winner will likely be the one that does a better job in a few key areas.
The Denver Broncos and Seattle Seahawks will battle in what should be one of the most competitive championship games we have seen in years. Every play could end up being a game-changing moment, meaning each side better focus at all times.
However, the battle will come down to a few key statistics and which team does a better job at getting the numbers in their favor.
Turnover Ratio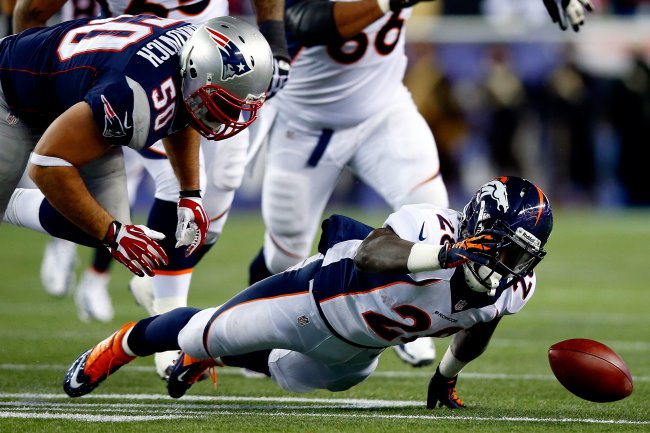 Jared Wickerham/Getty Images
While the turnover battle is always important in a big game, it will be even more noteworthy in this one.
The Seahawks led the NFL this season in turnover ratio with a mark of plus-20. The elite secondary helped lead the league in interceptions while the offense did a good job of taking care of the football.
On the other hand, Denver lost more fumbles than anyone else in the league this year and ended up even when it comes to turnovers. While this does not seem terrible on its own, only two teams reached the playoffs with worse marks.
In the Broncos' three losses this season, they totaled eight turnovers and obviously lost the battle in each contest. Lindsay Jones of USA Today pointed out during the year that this was driving the offensive coordinator crazy:
That's 13 lost fumbles this season for the #Broncos. Adam Gase is going to lose his mind.

— Lindsay Jones (@bylindsayhjones) November 18, 2013
It will not matter how many yards Peyton Manning can throw for if his team gives away the ball before scoring. Turnovers will be the great equalizer in this contest, and it could end up deciding the championship.
Time of Possession
Seattle is confident in its defense led by defensive backs Richard Sherman and Earl Thomas. However, the team still does not want to spend too much time trying to defend Manning and company.
Head coach Pete Carroll called the opposing quarterback "the best guy that's ever played" and continued to praise him on Seahawks.com:
Nobody has ever taken more command of the game than he has, at this stage of his career. And the coaching staff has allowed that to happen, where he can be in total command of what's going on. I think that's great football, because guys have to play it.
The reality is that Seattle has to limit possessions and keep the opposing offense off the field. This means you will see a lot of Marshawn Lynch to help control the clock and shorten the game.
This strategy worked for the San Diego Chargers in a Week 15 win in Denver, as they held possession for almost two-thirds of the game. The Broncos had limited opportunities to score, which led to mistakes when they forced the action.
Seattle had the second-most rushing attempts in the league this season, so this style fits perfectly into the plans. Still, the offense must stick with the run regardless of early success.
Amazingly, rushing attempts could end up being more important than rushing yards in this matchup.
Penalties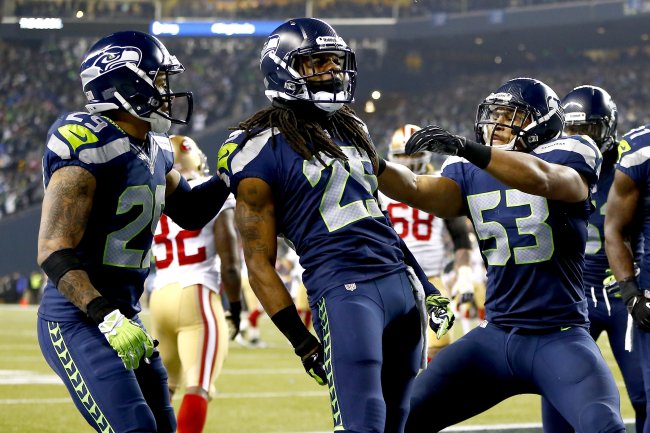 Jonathan Ferrey/Getty Images
Although the amount of talent in this contest will ensure that we get a well-played game, it will not necessarily be a clean battle. Players on both sides will continually try to get away with illegal play, and sometimes they will get caught.
As ESPN Stats & Information points out, both the Broncos and Seahawks received plenty of calls in the defensive backfield this year:
Most Pass Interference, Holding & Illegal Contact Penalties By DB/Safeties in 2013 season-- Seahawks 20, Broncos 19, Bills 18

— ESPN Stats & Info (@ESPNStatsInfo) January 21, 2014
These are the type of penalties that extend drives with key first downs and can be game-changing.
Additionally, NFLPenalties.com indicates that Seattle was called for 21 personal foul penalties that included unnecessary roughness, unsportsmanlike conduct and taunting. These penalties are easy to avoid, but lack of composure leads to big chunks of yards for the other team.
The Super Bowl is certain to feature its fair share of penalties, but these are the ones that neither side wants called on them. The squad that can keep its cool and not give up easy yards will be the successful one.
Follow Rob Goldberg on Twitter for the latest breaking news and analysis.