Creating the Perfect NBA Player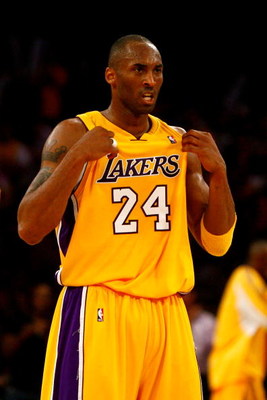 After watching Kobe's performance in Game One of the NBA Finals, a Jay-Z song went through my head:
"If you haven't heard, I'm Michael, Magic and Bird all rolled into one, cause none got more flows than young."
They're the measuring stick of greatness, each brought something unique to the game of basketball and if you could meld their skills into one person... whew!
Thinking about those players abilities combined into one super player made me think of the "create-a-player" option of video games. It's the only way you could ever see a player that skilled.
Not because you can set every attribute to 99 (which is not only cheating but lame as well) but because you create a balanced player with no discernible flaws.
So I thought I'd give it a try here using past and present NBA players.
Wingspan: Tayshaun Prince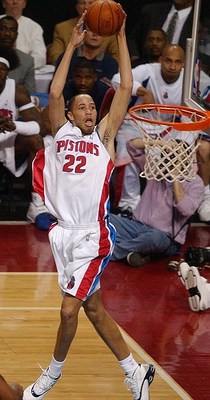 For defense, length can be an incredible attribute.
Scottie Pippen, one of the best one-on-one defenders ever had a 7'3" wingspan. Prince beats him out by three inches so I chose him over Scottie.
And Tayshaun is an excellent defender because of the space he can occupy. Players have to get around those long arms on drives and shoot over them on jumpers.
Having length also helps your lateral movement because you have less ground to cover in order to guard your man.
Height: Josh Smith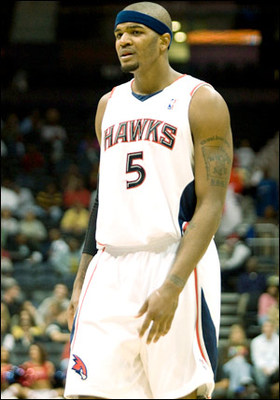 The average NBA forward is 6'10" the average NBA guard is 6'5" so by being Josh Smith's height of 6'9" it allows you to be versatile.
You can play the 1-5 positions on the floor making you a matchup nightmare
Speed (with the Ball): Jason Kidd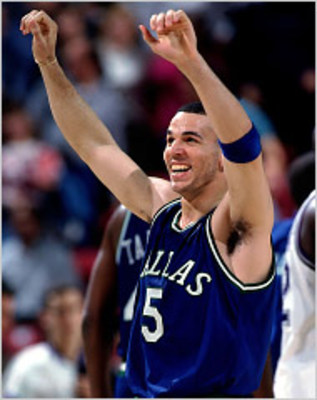 As you can tell by the photo I'm talking about the J-Kidd from his first stint with the Mavs.
When he came to the Mavs in '94 he was liquid lightning with the ball in his hands. It actually seemed like he could go 90 feet in between your eye blinks.
Honorable mention: Tony Parker.
Tell the truth; if he played in Miami instead of San Antonio they'd be calling him "Flash" not Wade.
Speed (Without the ball): Richard Hamilton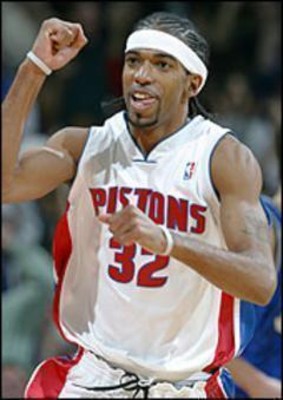 I remember watching the NBA Finals and how sad it was watching a past his prime Gary Payton try and follow Rip Hamilton around all the screens he runs off of.
Being able to create your own shot of the dribble is a great skill, but being able to weave in and around NBA bodies with speed is a lost art nowadays. Rip created space by being able to cut and run of screens better than anyone in the league.
Generating that much speed in such a small area lends itself to other aspects of the game as well.
Agility: Allen Iverson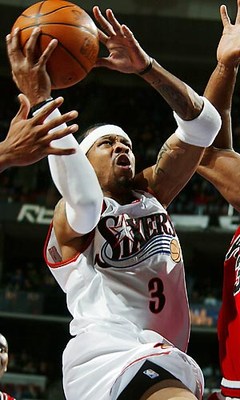 Rip creates space off of screens; Iverson creates it when there really should be none.
A mid-air contortionist, Iverson is able to shield the ball from the defender, absorb the contact and still finish at the rim. Part of that is his size, but the larger part of that is his flexibility and cat like agility.
The ability to start and stop on a dime, explode into the air and a land all without tearing your ligaments to pieces is the reason Iverson has been so good for so long.
Hops: Shawn Kemp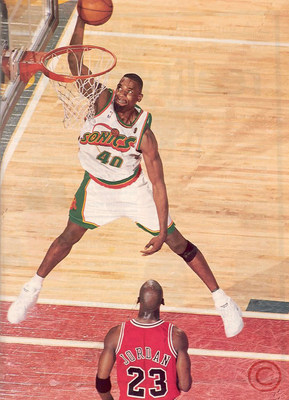 There are a lot of guys to choose from here, but for my money nothing beats Kemp.
Every time the "Rain man" left the floor you never knew when (if) he was going to come down.
Honorable Mention: Spud Webb
Really was hard not to take Spud here, but while Webb could jump, Kemp exploded from the floor.
Strength: Charles Oakley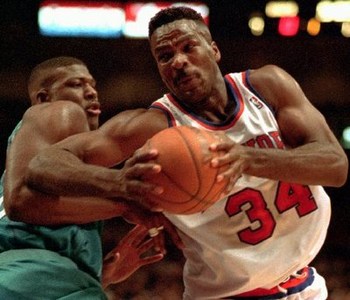 Oak Dog was not only strong, but he knew how to use his strength, which is more important. He had a solid base and could absorb and deliver punishment night in and night out.
He was also extremely intimidating on the court, every time you drove to the hole against the Knicks you made sure to know where No. 34 was.
Court Vision: Magic Johnson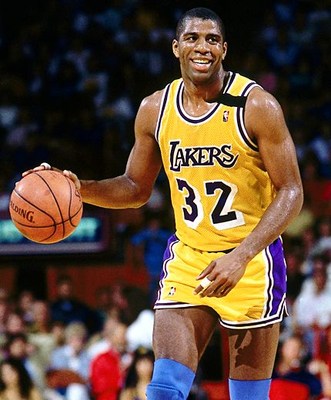 He ended up averaging just over 11 assists per game, but it was the flair in which he piled up his assists that garnered the most attention. He could hit the cutter with ease, often surprising teammates with a pin point pass.
On the fast break is where he often shined, bringing "Showtime" to the NBA and its various imitators (See: Phoenix Suns).
Honorable Mention: Steve Nash
The two-time MVP has made the careers of several players with his passing ability. Like Raja Bell, Shawn Marion, Leandro Barbosa and Boris Diaw to name a few.
Handle: Tim Hardaway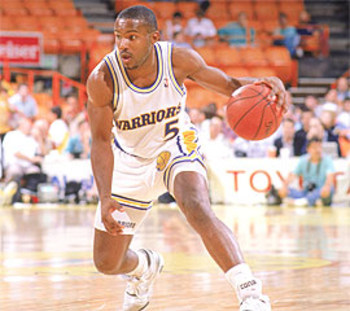 Before Iverson clowned MJ as a rookie (That's right I said it!) Tim Hardaway had the most feared cross-over in the league.
Opposing defenders were often still struggling to regain their balance long after Tim had blown past them. He was also very adept at splitting double teams and finding the open teammate.
Strong with his right and left, Hardaway could be lethal at times on isolation plays.
Honorable Mention: Allen Iverson
Not just for the aforementioned clowning, but for the fact that the NBA banned his crossover. How many players can say they've had a move banned??
Rebounding: Charles Barkley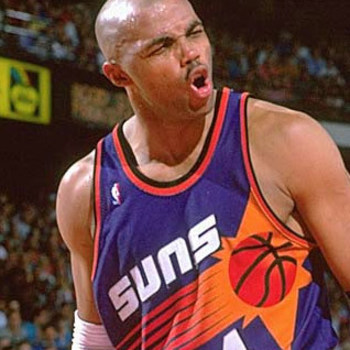 Believe it or not kids; "The round mound of rebound" was not always so round.
Nobody got more out of their height when it came to rebounding than Barkley. Very generously listed at 6'6" (sometimes 6'7" but he was truly closer to 6'4") Barkley attacked the glass and averaged nearly 12 boards per game for his career.
Honorable Mention: Dennis Rodman
Looking at the category, he would be most peoples' obvious choice and for good reason, the Worm definitely was a glass cleaner. Still Rodman was at least 5 good inches taller than Chuck and only got two more boards per game.
Post Game: Hakeem Olajuwon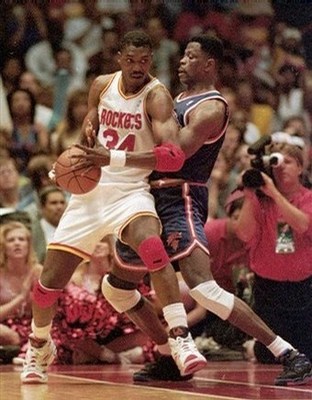 Few players were smoother in the post than "The Dream" and Patrick Ewing head still spins thinking about guarding him in the Finals.
Most big men just back a defender down until they're close enough to the basket to put up a shot, Olajuwon combined power and grace to make you look foolish.
Honorable Mention: Kevin McHale
An underrated player overall (comes with playing with a guy like Bird I guess) Kevin was not as polished as Olajuwon but he knew how to score in the paint.
Defense: Ron Artest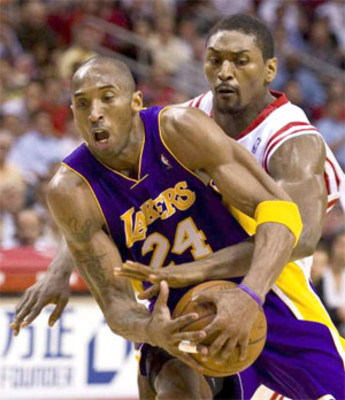 Ron Artest not only wants to keep you from scoring, but he dares you to try. He takes it as a personal insult if the guy he's guarding gets a clean look. He has the right combination of athleticism, intelligence and physical strength to guard nearly everyone on the court.
Often overlooked due to his tendency to explode at a moment's notice, recent history has shown he has mastered his temper to a large degree, making it impossible to ignore his defensive ability.
Honorable Mention: Bruce Bowen
Players often said he cheated to gain a defensive advantage. Maybe so, but he always got the job done.
Three-Point Shooting: Ray Allen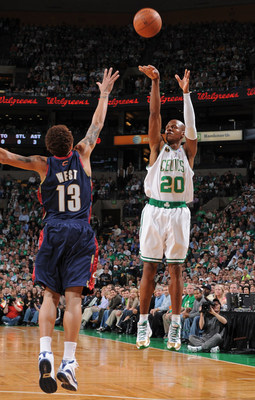 The picture says it all:
Elevation + Rotation= Aggravation for the opposing team.
Not only is his form textbook and his release is incredibly fast, but he manages to have nearly perfect follow through. Watching him shoot, you're surprised when he misses.
There are guys statistically better than Allen in this category, but if he took more threes he'd be right in the mix.
Honorable Mention: Reggie Miller
The opposite of Ray Allen in terms of form, Miller had one of the ugliest shots in the NBA, but it sure was sweet going down.
Free-throw shooting: Mark Price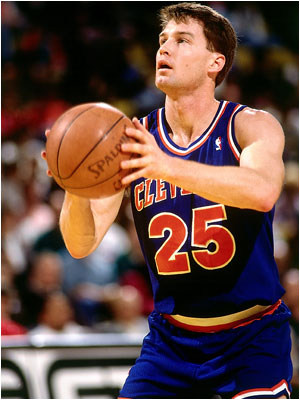 Price was known as one of the league's most consistent shooters. He finished his career with a 90.4 percent free throw shooting percentage, placing him as the league's all-time leader.
His stroke was just as good from three as well, winning the three-point shootout twice in his career.
College coaches often use film of his free throws to show players the proper technique.
Mid-Range game: Kobe Bryant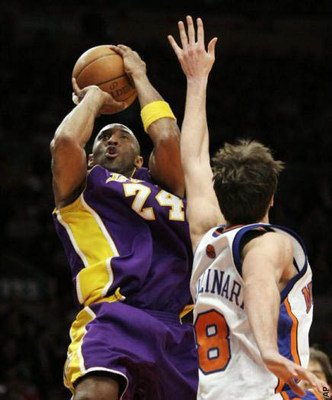 Kobe can simply destroy opposing players with this weapon. Because players fear his ability to penetrate they'll often sag off him, which allows him the space to elevate and sink the 15-foot shot.
He has also stolen...er...developed a fade away jumper similar to that of Michael Jordan which can give him the space needed on his shot when a defender crowds him.
Honorable Mention: Michael Jordan
The only reason why MJ is not listed as the preferred choice is because of the next slide...
Intangibles: Michael Jordan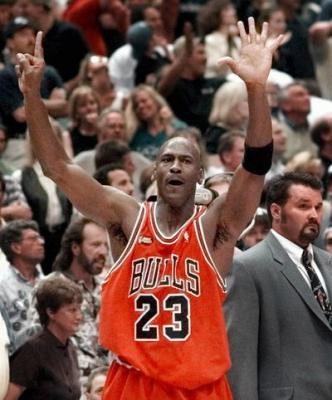 When Michael Jordan came out of NC the knock on him was his inconsistent jumpshot; so he developed one.
When teams began to double and triple team him and he was criticized for forcing the shot he became a better passer.
Regardless of whatever adversity he faced on the court he overcame it. He simply had a will and determination that would never allow him to fail.
You can't teach mental toughness, some guys have all the talent in the world but crack under the slightest criticism. Others use that as fuel to stoke their competitive fire.
Jordan was also a leader and fierce competitor who pushed teammates (sometimes to the brink of tears) to be the best they could. Is it any wonder he was able to wring six Championships out of what most would consider average NBA players?
Many players have won championships, but few were greater champions than Michael Jordan.
Honorable Mention: Larry Bird
He was never the most athletic guy on the floor, but he could make all the right plays at the right times. A professional and a leader on the court, if Jordan had never come along I'd be talking more about him.
Keep Reading