Authorities in Curitiba have been warned that they risk being excluded from the 2014 World Cup unless work on their construction shows significant signs of speeding up in the coming weeks.
BBC Sport's Richard Conway confirmed FIFA's ultimatum on Tuesday, Jan. 21:
Fifa warns authorities in Curitiba, a Brazil World Cup host city, it faces potential exclusion from tournament if work doesn't speed up.

— Richard Conway (@richard_conway) January 21, 2014
The Arena da Baixada is among the chief concerns for the host city, with renovations of the 41,456-capacity ground facing setbacks in recent months.
In December, The Guardian's Owen Gibson confirmed that the stadium, home to Brazil's Atletico Paranaense, would not be finished until March or later.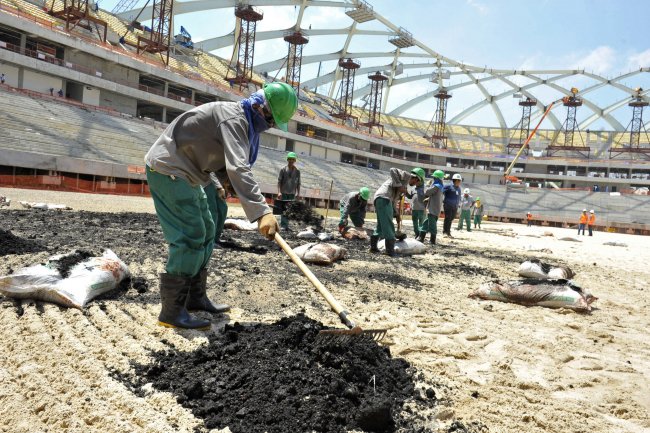 Alfredo Fernandes/Associated Press
This is while four of the other five stadiums that required work prior to the tournament would be ready by the end of January, according to Gibson:
Concern over the readiness of some World Cup stadiums has intensified on the eve of the finals draw. While Brazil's deputy sports minister Luis Fernandes attempted to quell mounting concerns by announcing that four of the six stadiums still unfinished would be ready to hand over to Fifa in January, there is a question mark over the Arena da Baixada in Curitiba.

Jérôme Valcke, Fifa's secretary general who is responsible for delivering the World Cup, said on Tuesday that three stadiums – in Curitiba, São Paulo and Cuiabá – would miss the deadline of being finished by the end of the year.
Mike Collett of Reuters says that the unfortunate delays shouldn't obstruct what a "cool place" the city is, however:
Downtown Curitiba .. Cool place .. Shame stadium delays have overshadowed what a good city it is pic.twitter.com/mVYjd6ehOT

— Mike Collett Reuters (@footballmc) December 14, 2013
FIFA secretary general Jerome Valcke chimed in on the subject, confirming Curitiba's involvement as of right now, but just how long that will last is another matter:
All stakeholders agreed: Confirmation of Curitiba as a host city on 18 Feb ahead of team workshop in Florianopolis pic.twitter.com/2kHac39nMr

— Jérôme Valcke (@jeromevalcke) January 21, 2014
It's not abnormal for facets of a nation's World Cup preparation to enter periods of disarray, but Curitiba's estimation for completion is running it extremely tight in time for the beginning of the competition on June 12.
The Arena da Baixada is slated to host four matches as things stand, all of which are listed below.
Arena da Baixada Scheduled 2014 World Cup Matches

| | | | | | |
| --- | --- | --- | --- | --- | --- |
| Date | Time | Team 1 | Match No. | Team 2 | Group |
| June 16, 2014 | 4 p.m. local time/6 p.m. GMT | Iran | Match 12 | Nigeria | F |
| June 20, 2014 | 7 p.m. local time/9 p.m. GMT | Honduras | Match 26 | Ecuador | E |
| June 23, 2014 | 1 p.m. local time/3 p.m. GMT | Australia | Match 35 | Spain | B |
| June 26, 2014 | 5 p.m. local time/7 p.m. GMT | Algeria | Match 48 | Russia | H |
FIFA.com
However, the group games concerned face disruption if Curitiba were to be punished as a result of their slow progress, with some pools facing potential rescheduling in order to accommodate those nations affected.
Curitiba now enters a frantic period of its development, where speed will play a decisive factor in their World Cup involvement, but not at the slightest sacrifice in quality or safety.