Tony Bellew will move up to cruiserweight to face former world title challenger Valery Brudov in Liverpool on March 15.
His promoter, Eddie Hearn, confirmed the news via Twitter:
March 15 the new journey begins for @TonyBellew in the Cruiserweight division, he faces Russian 2time World title challenger Valery Brudov

— Eddie Hearn (@EddieHearn) January 21, 2014
Bellew, 31, decided to stop fighting at light-heavyweight following defeat against Canada's Adonis Stevenson in November 2013.
That was only the second time Liverpool native Bellew had lost in his 23-fight career, which includes 20 victories, 12 by knockout.
Following that fight, Bellow discussed his weight and health, courtesy of BBC Sport:
I've basically been on a diet for six years. I can't continue to punish my body the way I do. I think it's time for a new chapter and I'll be making the step up to cruiserweight.
Bellew is now targeting a world title fight at his new weight by the end of the year.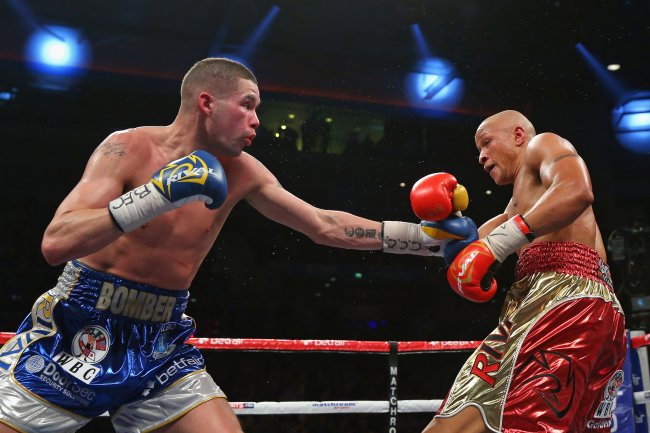 Alex Livesey/Getty Images
He took to his official Twitter account to hit back at people claiming he couldn't step up a division, and also said he has chosen a tough opponent over the option of fighting someone he knows he can beat:
Back home at the Echo Arena on March 15th, no gimme fights! I'm facing a good fighter in Valery Brudov from Russia. I look forward to it..

— Tony Bellew (@TonyBellew) January 21, 2014
For people who don't know about Brudov his record is won 45 (KO 28) lost 4.. He has more KO's than I've had fights. #March15thEchoArena 👊

— Tony Bellew (@TonyBellew) January 21, 2014
This is my first fight at Cruiserweight an looking at my timeline it looks like it'll be my last.😂 there bigger, there stronger. We'll see 👍

— Tony Bellew (@TonyBellew) January 21, 2014
I could of had a gimme fight but what does that prove? IMO that's what's killing boxing! Brudov has only lost to grade A fighters. Am I one?

— Tony Bellew (@TonyBellew) January 21, 2014
Brudov, 37, is a former world cruiserweight title challenger and has won 41 of 45 fights in his 15-year career, including 28 by KO, per BoxRec.
After failing twice during his previous attempts to win world titles at light-heavyweight, against Nathan Cleverly in 2011 and Stevenson in 2013, Bellew has made a wise move.
His initial choice of opening is brave, but it will give him a stern test and a clear indication of how suited he is to the division.
The decision to change divisions could see Bellew fight Cleverly again in the future, after the 26-year-old Welsh fighter also moved to cruiserweight, although he has not fought at that weight yet due to injury.
Overall it is a good career move. It will not only give him a fresh challenge after six years at light-heavyweight, but it can also keep him in the public eye as he attempts to fight his way through another division.