The No. 24-ranked Baylor Bears hung tough in the first half, but in the second half their threes weren't falling as frequently as the No. 8-ranked Kansas Jayhawks tightened the screws defensively.
The result was a 78-68 home win for Kansas on Monday night in Allen Fieldhouse. It was Kansas' fourth-straight win over a Top 25 team. Rustin Dodd of the Kansas City Star adds some perspective to the accomplishment.
Final: Kansas 78, Baylor 68. Fourth win over a ranked team in four games. First team to do that since UNC in '96-97.

— Rustin Dodd (@rustindodd) January 21, 2014
JayhawkProbz is keeping a list and checking it...five times:
Oklahoma: check Kansas State: check Iowa State: check Oklahoma State: check Baylor: check Who's next? #RoadTo10Straight

— JayhawkProbz (@KUJayhawksProbz) January 21, 2014
The Jayhawks improved to 14-4 overall and 5-0 in the Big 12. Baylor fell to 13-5 and a worrisome 1-4 in the conference. The Bears still have never won at Allen Fieldhouse. The loss dropped them to 0-12 all-time in Lawrence.
After sinking eight three-point shots in the first 20 minutes, Baylor made just 5-of-16 attempts from beyond the arc in the second half. After halftime, the team made just one of its first seven from long-range. That cold shooting really put Baylor in a hole.
Perry Ellis led a balanced Kansas attack with 18 points and Andrew Wiggins added 17. Freshman center Joel Embiid had a quiet second half, but still finished with 12 points.
Brady Heslip led the Bears with 19 points. He made four shots from deep in the first half, but cooled off significantly late.
Baylor's sophomore big man, Isaiah Austin played hard, but couldn't find a consistent rhythm. He had 16 points and four threes.
After the game Baylor coach Scott Drew talked about the biggest difference in the game via the Associated Press: "We knew that turnovers and getting them out of transition, we knew how effective they are in transition. You can't have 16 turnovers and win games on the road, in places like this. Got to get better in this area."
Is Kansas the best team with a loss in the country?
Turning Point
At the 12:54 mark in the second half, Baylor trailed 46-44. Ellis then hit a jumper to put Kansas up four. He stole the ball on the next possession, then finished off the play with a dunk despite getting fouled, and was able to hit the free throw for the three-point play.
That sequence kicked off a 9-0 run that gave Kansas command of the game.
Grades
Kansas
Andrew Wiggins, B+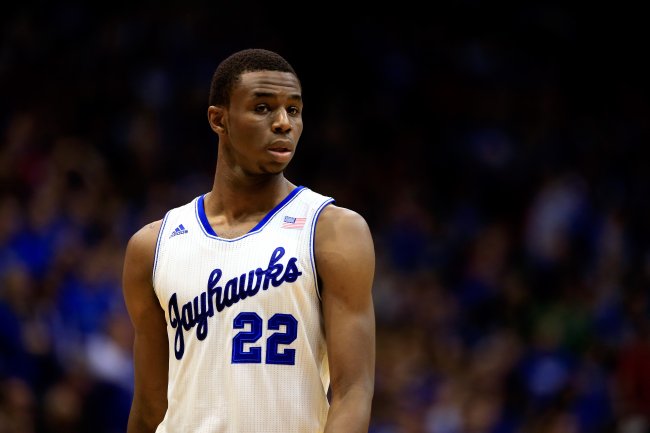 Jamie Squire/Getty Images
The super freshman rebounded from a quiet performance in the last game against Oklahoma State. He was more aggressive in the second half, and it helped put Baylor away. His aggression led to 12 free-throw attempts, and he also led Kansas with seven rebounds.
Joel Embiid, B-
Embiid started the game strong with 10 points in the first half, but he seemed to wear down a bit late. ESPN's SportsCenter captured Embiid throwing down a nasty alley-oop early in the game.
Joel Embiid had this nasty alley-oop jam in the 1st half vs. Baylor. He leads Kansas w/ 10 points. http://t.co/xAAcQxWqDB #SCtop10

— SportsCenter (@SportsCenter) January 21, 2014
The decrease in activity could have been due to the energy he had to expend on the defensive end.
It appeared to be a task wrestling with Baylor's physical forward Rico Gathers in the second half. Embiid's lack of physical strength was apparent in this one. He had just four rebounds in the game overall.
Perry Ellis, A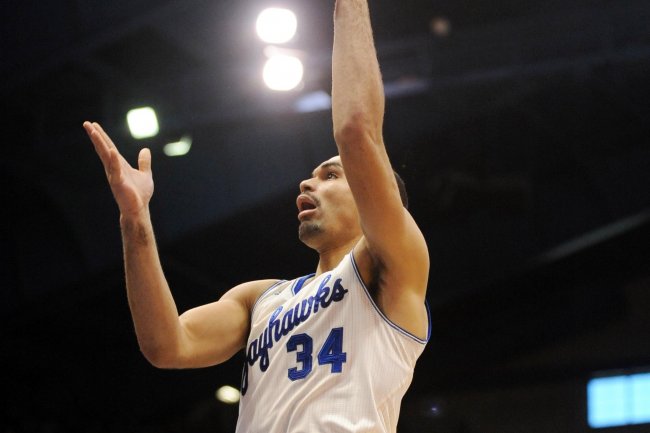 Denny Medley-USA TODAY Sports
The sophomore killed the Bears by working the baseline. He cut efficiently and point guard Frank Mason set him up for a few easy baskets. Ellis also did great work defensively. He keyed the run that put his team in control of the game.
Baylor
Isaiah Austin, B-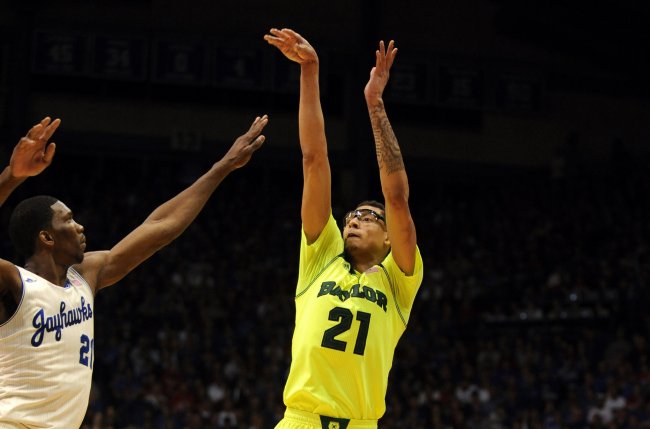 Denny Medley-USA TODAY Sports
Despite struggling a bit early, Austin stayed aggressive and continued to look for his shot. His lack of bulk will always be an issue against teams with beef and depth up front like Kansas.
Still, he played well and was able to show of his impressive range from deep.
Brady Heslip, B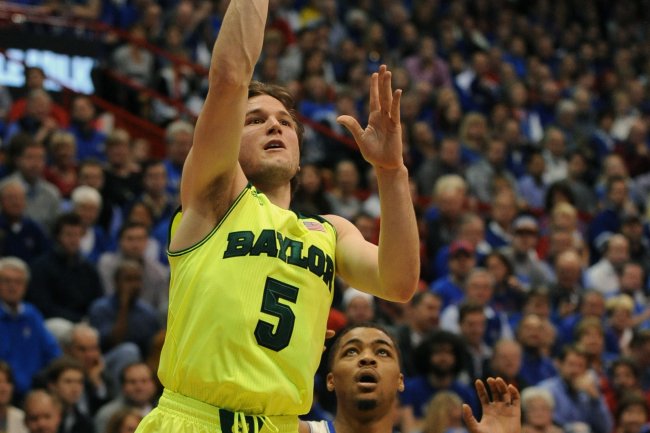 Denny Medley-USA TODAY Sports
Heslip has one of the quickest releases you'll find in the college game. Late in the game he came back down to Earth as the Jayhawks extended their defense and clamped down on the Bears' outside shooting. Still, he showed in the first half why he is considered one of the best marksmen in college basketball and capable of pushing the Bears to victory against anyone with his outside touch.
Follow me. I love to talk hoops.