The top of the Premier League table refuses to make figuring out which team is superior an easy task. It sure makes for a fun campaign, however.
The EPL isn't just interesting for the battle at the top, either. There is just as fierce a battle for teams to avoid the bottom three.
There wasn't a lot of table shakeup in Matchday 22, but we did learn a little more about the true identity of each team. Here is how I see it all shaking out.
First, however, if great saves strike your taste buds, feast on the best from this past week:
Video: Premier League Saves of the Week, Round 22 edition http://t.co/N8diNmyjUu

— NBC Sports Soccer (@NBCSportsSoccer) January 21, 2014
1. Manchester City (51 points)
Manchester City continue to dump in goals at an impressive rate. In Matchday 22, they added to their league-leading total by beating Cardiff City, 4-2.
Of course, that match came at Etihad, and it is away from their home stadium where they have something left to prove about themselves.
2. Arsenal (50)
Clive Mason/Getty Images
All the Gunners do is continue to win and hold on to the top spot in the table. Still, they can't hold the top spot in my power rankings.
Arsenal have won five straight league matches since drawing with Chelsea, but little has transpired to have us believe Arsenal will have more success against other top clubs.
This issue has led to plenty more than me placing Arsenal behind Manchester City in the pecking order:
SPI's (corrected) Premier League title odds. Man City a significant favorite: pic.twitter.com/LJ8z42KP7O

— Paul Carr (@PCarrESPN) January 20, 2014
3. Chelsea (49)
Which team will win the title?
The biggest question mark for Chelsea remains centered around their ability to score. The Blues have been excellent on defense, but inconsistent in their attack.
In their last league action, Chelsea dumped in three goals against Manchester United to flex their offensive power, but the Blues shouldn't let that offensive success keep them from exploring scoring help on the transfer market.
Whatever happens, Chelsea fans have to be inspired by Mourinho affinity for, and success in, the EPL:
"I feel the Premier League is my natural habitat." - Jose Mourinho - #FNZ #SoljaBiruForAllRaces http://t.co/thlsBmiQpa

— CHELSEA SOLJABIRU (@soljabiru) January 21, 2014
4. Liverpool (43)
Liverpool had a brief stay at the top of the EPL table, and they've been fairly terrible since. Week 22 was a good example.
Liverpool played Aston Villa to a 2-2 draw in a match that came at Anfield. That draw also didn't come until Luis Suarez earned a controversial penalty and converted the chance.
Manager Brendan Rodgers didn't think it was all that controversial, however:
#lfc boss Brendan Rodgers: "It was a clear penalty. When you watch closely, the goalkeeper's left arm made contact with Luis Suarez's foot"

— BBC Sport (@BBCSport) January 18, 2014
5. Everton (42)
Everton have hit a bit of a rough patch with fitness issues leading to lackluster results. Still, it could be far worse for this gritty team.
This team will not allow itself a loss. Such was the case this past matchday as Everton hit the road and came out with a 1-1 draw against West Brom.
Of course, that draw shouldn't have been all that surprising:
19 - West Brom (10) and Everton (9) have drawn more games than any other Premier League side this season. Predictable.

— OptaJoe (@OptaJoe) January 20, 2014
Everton needs to start picking up some wins to make gains in the table, but there's no denying that their league-low two losses is an impressive feat.
6. Tottenham Hotspur (43)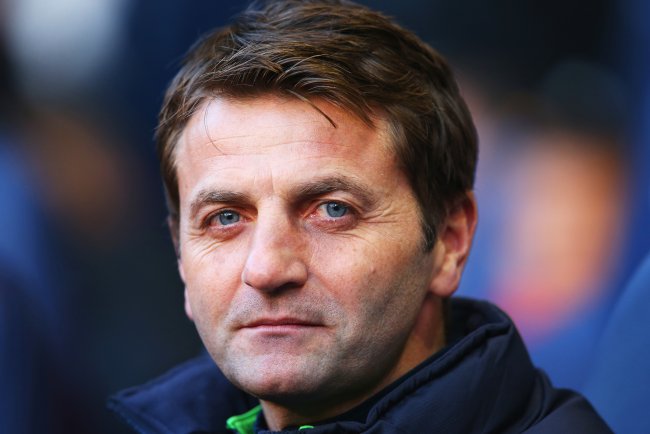 Julian Finney/Getty Images
With each passing match, it becomes clear that Tottenham made the right call to sack manager Andre Villas-Boas.
With their 3-1 win over Swansea City, the Spurs have won each of their last four league matches and have done so by the combined score of 9-2.
Tottenham still have plenty of work to do to prove themselves against other top clubs, but their recent work is promising.
7. Manchester United (37)
Samuel Eto'o picked up a hat trick against Manchester United in Matchday 22 to send the Red Devils to a 3-1 defeat and highlight just how wrong things have gone this campaign.
Chelsea are thriving under new boss Jose Mourinho while the defending champs are floundering under the direction of their new boss, David Moyes.
Moyes has reportedly got an influx of cash to improve his side, and the rumor mill is cranked up:
Manchester United to make record bid for Chelsea midfielder Juan Mata http://t.co/SaXqeCaef1 via @guardian

— Guardian sport (@guardian_sport) January 21, 2014
Still, there are plenty of reasons for fans to wonder if Moyes is the right man for the job:
David Moyes. pic.twitter.com/cH1qBYYhxV

— Uber Football Facts (@UberFotbalFacts) January 20, 2014
8. Newcastle United (36)
Newcastle United picked up three points against West Ham in their last match, and it was a needed three points. That win snapped a losing streak of four matches.
Newcastle have shown they have the talent to hang with top clubs. Their biggest downfall, however, has been losing to teams they should be beating. The win over West Ham was certainly a step in the right direction.
9. Southampton (31)
Southampton's strong start to the campaign is now a thing of the distant past.
The Saints have picked up just two league wins over the last two months, and their last time on the pitch, they picked up a 2-2 draw with Sunderland.
For a team that was led by its stingy defense, the fact that two goals wasn't enough for them to pick up three points against Sunderland is disturbing.
10. Aston Villa (24)
Above, I pointed out Liverpool's draw with Aston Villa as another sign that the Reds are slumping. That's not entirely fair to Aston Villa.
Of course, the controversial ending against Liverpool may have not been entirely fair, either:
Is this the conclusive picture proof that Luis Suarez dived against Aston Villa? pic.twitter.com/okH0a2omeW

— Bleacher Report UK (@br_uk) January 20, 2014
Aston Villa have been showing signs of improvement. Heading into their draw with Liverpool, Villa was 1-1-1 in their last three league matches, and the loss was a 2-1 defeat to Arsenal.
11. Swansea City (24)
Wilfried Bony is quickly developing into a star. He dumped in another goal this past matchday in a contest against Tottenham.
Of course, that came in the 78th minute and meant his team only lost 3-1 instead of 3-0.
The Swans don't have enough talent around Bony to full capitalize on his development.
12. Hull City (23)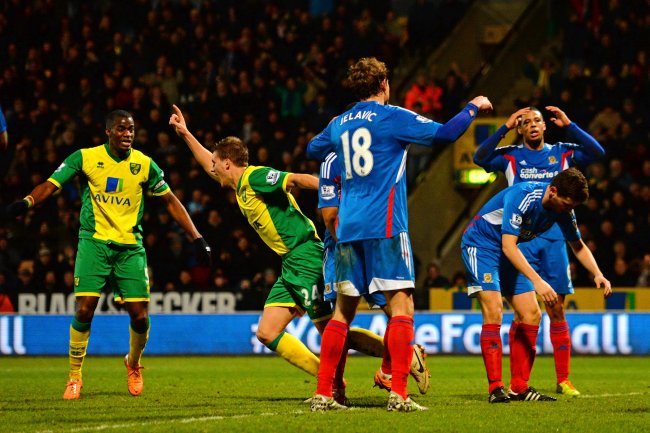 Christopher Lee/Getty Images
Hull City have been impressive after their fresh promotion, but they blew a good opportunity to pick up three away points this past week.
Hull allowed a goal in the 87th minute while not finding a score themselves and now remain stuck on 23 points.
13. Stoke City (22)
Stoke City are officially in trouble. Coming off of a 5-3 loss to Liverpool, Stoke dropped 1-0 to Crystal Palace.
As you can see by failing to net a goal against Crystal Palace, Stoke simply doesn't have enough firepower.
Perhaps John Guidetti will be able to spark some life into this side:
John Guidetti is determined to fire Stoke up the table and show Man City that he can perform in the Premier League. http://t.co/2Q6gU2Inlp

— Sky Sports Football (@SkyFootball) January 20, 2014
14. West Bromwich Albion (22)
West Brom should be thrilled with their draw against Everton.
This team in transition had been struggling and had dropped their two league matches heading into this contest by the combined score of 3-0.
Those two matches were against Crystal Palace and Southampton.
Now we'll see if West Brom can turn this draw into a string of improved play.
15. Cardiff City (18)
It could have been worse for bottom-feeding Cardiff City as they went to Etihad. Teams have left the Citizens' den with far more glaring losses than a 4-2 setback.
New manager Ole Gunnar Solskjaer now has to keep his team buying into his message with a trip to Old Trafford and a match against Manchester United up next in league play.
16. Sunderland (18)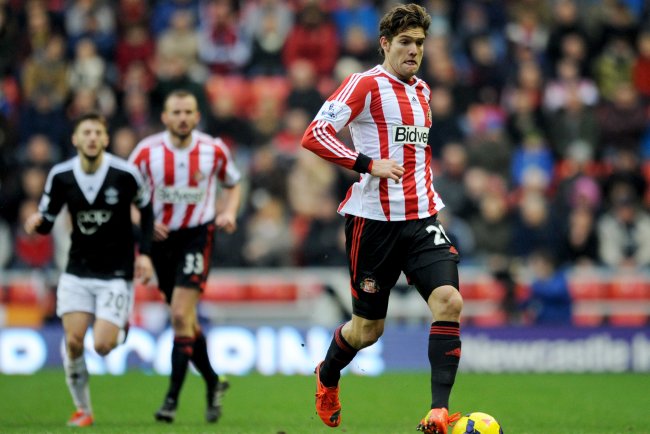 Chris Brunskill/Getty Images
Sunderland are in 19th in the table, but they are on a bit of a roll.
They picked up a 2-2 draw with Southampton this week and are now 2-2-1 in their last five league contests.
If Sunderland can hold on to this trend of improved play, they will easily avoid relegation.
17. Norwich City (23)
After a troubling 3-0 defeat to Fulham in the FA Cup, Norwich City had a much better outing in a 1-0 victory over Hull City.
Norwich had actually been in a slide, and this win is a needed bit of momentum for a side that is starting to look like it's headed towards relegation.
18. Crystal Palace (20)
With a 1-0 win over Stoke City, Crystal Palace got back on the right track.
Crystal Palace have been stuck at or near the bottom of the table all year, but they are now 2-1-2 in their last five matches. Relegation no longer seems like an unavoidable fate for Palace:
4 - Since Tony Pulis took over at Selhurst Park, only Arsenal (6) have kept more Premier League clean sheets than Crystal Palace (4). Tight.

— OptaJoe (@OptaJoe) January 18, 2014
19. West Ham United (18)
The return of Andy Carroll sparked some hope for this sinking side, but that return has yet to give West Ham a boost.
West Ham fell 3-1, at Boleyn Ground, to Newcastle, and their only score was an own goal. Now they are just 1-1-4 in their last six league matches.
20. Fulham (19)
Fulham continue to prove they will own one of the relegation spots.
I don't think anyone expected them to go into Emirates and take Arsenal for any points, but Fulham looked like they barely cared as Arsenal began to crank up the pressure in the second half en route to a 2-0 victory.