There are storylines aplenty heading into Super Bowl XLVIII, as Peyton Manning and the AFC's Denver Broncos prepare to face off with Russell Wilson and the NFC's Seattle Seahawks.
Manning and company set all kinds of records on the offensive side of the ball, while the Seahawks had the top defense in the NFL behind their famed "Legion of Boom" secondary. In fact, ESPN Stats & Info points out that there will be plenty of "No. 1s" to go around once the Super Bowl kicks off:
Seahawks-Broncos is No. 1 scoring offense vs No. 1 scoring defense, No. 1 total offense vs No. 1 total defense and matchup of No. 1 seeds.

— ESPN Stats & Info (@ESPNStatsInfo) January 20, 2014
Grantland's Bill Barnwell points out that it was these exact strengths that got these two teams through their respective conference title games:
Jonathan Ferrey/Getty Images

In the end, after all the talk and guessing, we got exactly what the numbers told us would happen. Seattle's power defense jumped on the 49ers' mistakes while Peyton Manning's weapons were too much for the Patriots' team of castaways, setting up a Sunday in New Jersey that has a chance to be one for the ages.
So we know what the main strengths of each team are, but what about the latest odds and spreads for the final football game of the season? Read on for some information on that front, as well as a prediction of how it will all play out.
The Necessities

Date: Sunday, Feb. 2
Time: 6:30 p.m. ET
TV: Fox
Live Stream: FoxSports.com
Spread: Seahawks (+3) vs. Broncos, via Bovada
Odds and Spreads
While Bovada has the Denver Broncos as the three-point favorites for the time being, any spread that comes out two weeks before a game is bound to be a dynamic figure.
Basically, it will be different depending where you look, and then it will be different again when you look in the same place a few hours later. Such is the nature of betting lines, especially with the biggest sporting event in the United States as the contest in question.
R.J. Bell of Pregame and Grantland gives us an inside look at the odds at multiple sporting books, as well as an indication of where much of the betting action was in the early going after the respective conference championship titles:
Current Super Bowl odds at four of the sharpest books (Pinny, CRIS, LVH, Cantor): #Broncos -2 over #Seahawks at all four.

— RJ Bell (@RJinVegas) January 20, 2014
Heavy early action on #Broncos has Denver -3 at some spots. Current consensus line is -2.5 over Seattle.

— RJ Bell (@RJinVegas) January 20, 2014
Even Fox Sports was monitoring the dramatic swing when it came to the spread:
The Super Bowl is already turning Vegas upside down. According to one report, the line swung 2.5 pts...in 30 minutes: http://t.co/1m6KFs5IJE

— FOX Sports: NFL (@NFLonFOX) January 20, 2014
Will Brinson of CBS Sports also noticed that the betting public seemed to be behind Manning and company in the early going:
Broncos have already moved to −3 @Sportsbook_com after heavy early action on Denver. http://t.co/GKwdDaFCKx

— Will Brinson (@WillBrinson) January 20, 2014
It is certainly interesting to note that there is a general consensus that sees the Broncos as favorites. Perhaps it is the nationwide appeal of Manning, but Seattle opened as the early favorites, per Mike Wilkening of Pro Football Talk.
Denver is certainly the favorite at this point (and given the dramatic backing of the Broncos in the initial betting, it likely will remain that way), but the line is so close that it only makes sense to expect a close game.
Prediction
There are multiple ways to look at this Super Bowl as it rapidly approaches.
The obvious first takeaway is to focus on the Broncos record-setting offense, and Manning going up against Richard Sherman and the league's best defense. Even if Sherman shuts down one of the receivers on the field (for argument's sake, let's say it is Demaryius Thomas), that still leaves Wes Welker, Julius Thomas, Eric Decker and Knowshon Moreno to contend with.
The game may come down to whether Earl Thomas, Kam Chancellor and Byron Maxwell can stop the secondary receivers at Manning's disposal. Of course, to call anyone on that receiving corps "secondary" is a disservice to the talent level that will be on the field.
However, don't overlook the matchup between Seattle's offense and Denver's potentially vulnerable defense.
The Broncos gave up 26.6 points and 371.5 yards a game through the first 14 contests, but have turned things around in the past four (including the two postseason wins). Denver has allowed 15 points and 268.5 yards a game the last four times out.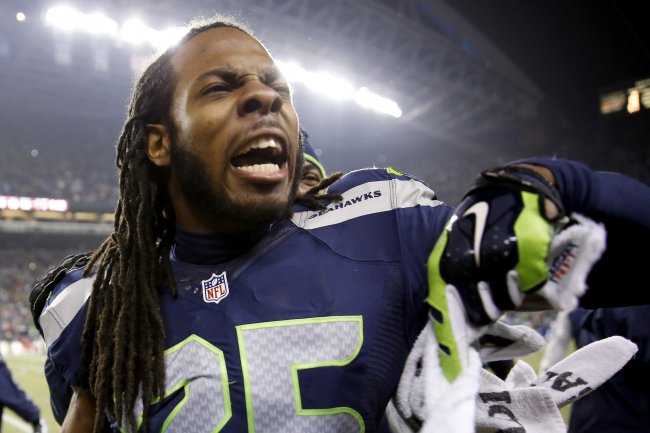 Otto Greule Jr/Getty Images
That being said, stopping Marshawn Lynch and the Seahawks formidable rushing attack will prove to be a difficult task. Look for Lynch to gradually wear out a Broncos defense that is missing the likes of Von Miller and Chris Harris.
At some point in the second half, Denver's defense will be so keyed in on stopping the run that Wilson will hit Doug Baldwin over the top for a critical touchdown pass against Denver's 27th-ranked secondary in terms of passing yards allowed per game.
With a late lead, the Seahawks defense will be up to the task of stopping Manning and company on the last drive, much like it was against Colin Kaepernick and San Francisco.
Prediction: Seattle 24, Denver 21