You already know the main storyline heading into Super Bowl XLVIII.
Peyton Manning will take his record-breaking offense to New Jersey and lead the Denver Broncos against Richard Sherman, the "Legion of Boom" and the Seattle Seahawks. The classic storyline of offense versus defense will shape the narratives leading up to the game.
With such tremendous individual units taking the field for each team, there is no shortage of superstars. Seattle has Sherman on the defensive side and Marshawn Lynch on the offensive side, while Champ Bailey and Demaryius Thomas will draw headlines for Denver.
Of course, the quarterbacks are always in the spotlight. ESPN Stats & Info provided a couple of interesting tidbits regarding Manning and Russell Wilson after the Super Bowl matchup was set:
Russell Wilson: 27-9 as starter, tying Ben Roethlisberger for most wins by a QB in his first 2 seasons in the Super Bowl era

— ESPN Stats & Info (@ESPNStatsInfo) January 20, 2014
Manning: 4th QB in SB era to win Conf. Champ. after leading NFL in Pass yds & Pass TD, joining Marino (1984), Warner(2001) & Brady (2007).

— ESPN Stats & Info (@ESPNStatsInfo) January 20, 2014
While the marquee names will have an impact on the game, under-the-radar candidates will also be asked to produce in critical moments. Here are some of the less-heralded players who will help decide the winner of Super Bowl XLVIII.
Where: MetLife Stadium, East Rutherford, N.J.
Date and Time: Sunday, Feb. 2, at 6:25 p.m. ET
TV: Fox
Live Stream: Fox Sports Go
Spread: Broncos -2.5, per Vegas Insider (as of Jan. 20)
Over/Under: 48, per CBS Sports
Montee Ball
The weather conditions during the Super Bowl may end up being overblown before the game finally arrives, but it is still a reality that it is hard to pass the ball when it's cold and windy.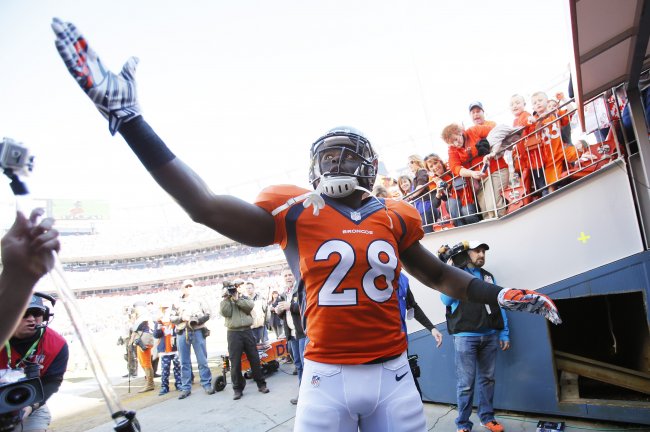 Kevin C. Cox/Getty Images
The weather is one thing, but even with Manning at the helm, the best way to beat Seattle's secondary may be to run the ball. That's not to say the Seahawks rush defense is poor because it is one of the best in the league, but their pass defense seems unbeatable at times.
That is where Knowshon Moreno and Montee Ball must step in.
Will Montee Ball get a touchdown at the Super Bowl?
Moreno is the workhorse back, but he is dealing with an injury after the AFC Championship Game. On the other hand, Ball has posted total yardage numbers of 94, 52 and 56 in his last three contests and has seen his workload increase.
Look for Ball to make an impact play at some point during the game.
Doug Baldwin
Think Doug Baldwin isn't motivated? Just look at his quote to Jayson Jenks of The Seattle Times:
I was able to watch a special on ESPN with Keyshawn Johnson and Cris Carter. They were talking about the wide receivers for the Seattle Seahawks. They said that we're not the main entrees. They said that we're the appetizers. I'll take that. We're the appetizers. But we're one hell of a good appetizer.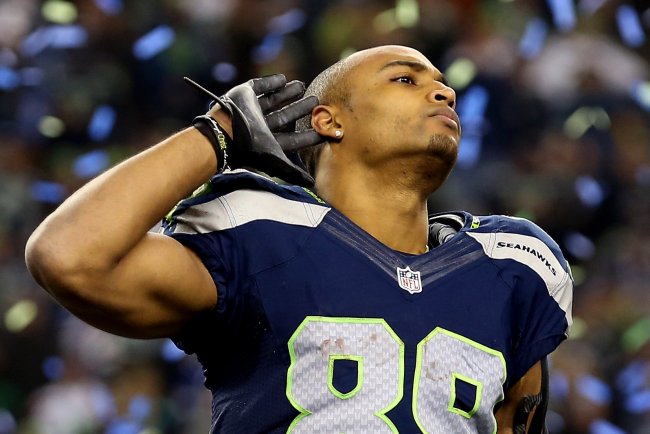 Christian Petersen/Getty Images
Baldwin used that perceived slight as motivation to post 106 yards receiving and a 69-yard kick return against San Francisco in the NFC title game. He even had to leave the game temporarily with a hip injury.
The Broncos pass defense ranked 27th in opposing passing yards per game this year and will be keyed in on stopping Lynch and Seattle's rushing attack. That could open up the field enough for the inspired Baldwin to seize the spotlight again.
The public may not have known much about Sherman before the NFC Championship Game, but everyone knows him now.
Sherman's postgame interviews aside, if he isn't the best cornerback in the league, he is at least one of the elite few. It doesn't take a quarterback as cerebral as Manning to know that.
However, with so many weapons on the field, the Broncos can afford to look away from Sherman, which means Seattle's other cornerback will have to step up and make a big play. Byron Maxwell may not be Sherman, but the Seahawks secondary wouldn't be nearly as formidable as it is if Maxwell (who had four interceptions of his own) was a weak point.
At some point in the game, he could find himself lined up against Eric Decker, Wes Welker or even Thomas. The Super Bowl may ride on his ability to contain some of Denver's offensive weapons.