The NFL's Top 10 Quarterbacks of All Time: By the Numbers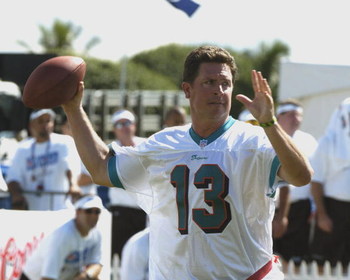 There has been a lot of talk the last few days about who really is the best quarterback, not only playing today, but of all time.
In this slideshow, I am going to give you the top 10 of all time, based on nothing but stats.
Super Bowls will not count, and playoff success will not count. The only thing that really counts is the numbers.
Now, I know that STILL isn't going to solve the argument because some people will say I should count scores more, or I should take off more for interceptions.
I have come up with a system to score these men.
They get one point for every yard they have thrown. They get 10 points for every TD they throw or run in. They lose 10 points for every interception.
10. Joe Montana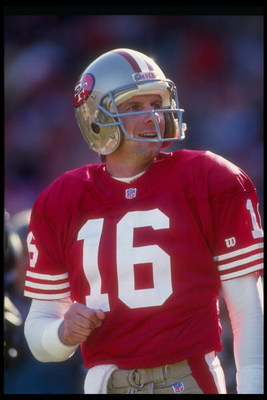 Joe Montana comes in at 10 on this list.
Montana was drafted by the San Francisco 49ers in the third round of the 1979 draft out of Notre Dame.
Leading the 49ers to four Super Bowl victories in the '80s, Montana is one of only two QBs to win four.
After his 13 seasons in San Francisco, Montana left to join the Kansas City Chiefs in 1993.
After two injury-filled seasons, Joe Montana retired in 1994.
Montana was inducted into the Hall of Fame in 2000.
For his career, Montana threw for 40,551 yards. He had 273 TD passes and added 20 rushing as well.
With a total of 139 interceptions, Montana comes in with 42,092 points.
9. Dan Fouts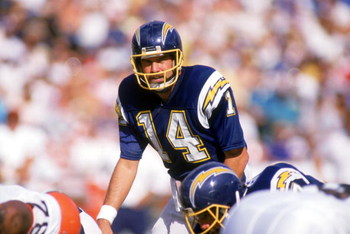 Dan Fouts spent his entire 15-year career with the San Diego Chargers.
Drafted out of Oregon, Fouts was selected in the third round in the 1973 Draft.
With six Pro Bowl nominations and twice an All-Pro, Fouts never was able to capture a Lombardi trophy.
With 43,040 total passing yards, 254 TD passes, and 13 rushing scores, minus the interception penalty of 242, Dan Fouts' points total is 43,290.
8. Drew Bledsoe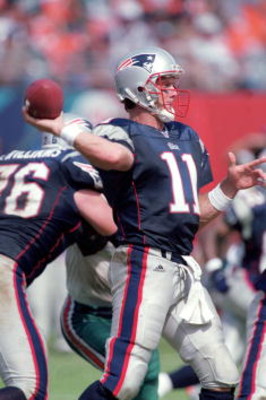 Drew Bledsoe came to the New England Patriots with the first pick in the 1993 draft from Washington State.
He started 13 games his rookie season but didn't hit his stride until 1996, when he threw for 27 TDs and only 15 interceptions.
An injury that knocked him out two games into the 2000 season birthed the career of one of the greatest QBs of all time, Tom Brady.
No longer needed in New England, Bledsoe signed with the Buffalo Bills.
Bledsoe did win one Super Bowl, but it was as a backup to Brady. Bledsoe never saw the field.
After three years in Buffalo and two with the Dallas Cowboys, Bledsoe retired in 2006 with a combined 44,611 yards passing. He added 251 passing scores and 10 rushing. Subtract 206 interceptions, and his total points are 45,160.
7. Vinny Testaverde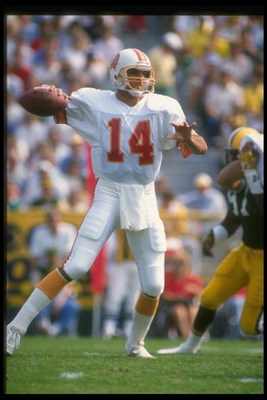 Don't you just love the old school uniforms?
Drafted by the Tampa Bay Buccaneers in 1987, Testaverde was destined to have a difficult career.
In six seasons in Tampa, Testaverde's best season was when he finished 6-10 in 1990.
After six seasons with Cleveland and Baltimore, Testaverde didn't do a whole lot better, only one time finishing with a record over .500.
In his first year with the New York Jets, Testaverde finished with a 12-1 record, only to fall to the Denver Broncos in the conference championship game.
After another five years of bouncing from team to team as a backup, Testaverde recorded a total of four seasons where he won more games than he lost.
Totaling 46,233 yards with 290 scores and 267 total interceptions, Testaverde scores 46,463 points.
6. Peyton Manning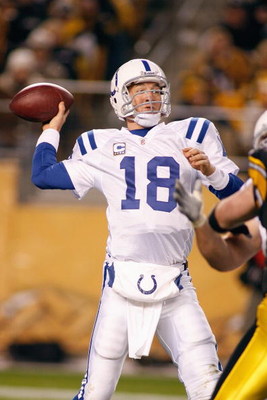 Peyton Manning is the only person on this list that is currently playing. He is less than 600 points behind the player at No. 5, so he will pass him probably by the second game of the 2009 season.
Entering his 12th year with the Colts, Manning was the first player selected in the 1998 draft.
How many Colts fans are excited that they chose Manning instead of Ryan Leaf? Believe it or not, there actually was a lot of debate about who was going to be better.
With the exception of his rookie season, and again in 2001, no Peyton Manning team has won fewer than 10 games in a season.
Manning is also a multiple-time league MVP. He has won one Super Bowl and was voted the MVP.
For his total score, even though it is going to change, Manning has 45,628 yards, 293 scores, and 165 picks, equaling 47,478 total points.
5. Fran Tarkenton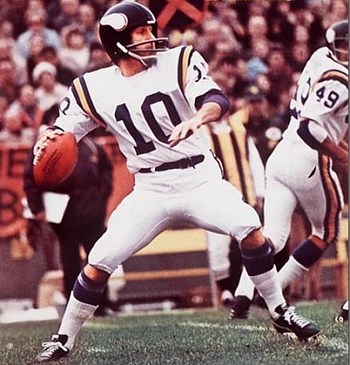 Fran Tarkenton was drafted twice actually: once to the Minnesota Vikings in the third round of the 1961 draft, and then selected in the fifth round by the Boston Patriots in the AFL draft.
Playing most of his career with the Vikings, Tarkenton spent all but five years in Minnesota (with the Giants from 1967-1971).
Tarkenton had a total of seven times in his 18-year career where his team finished better than .500.
Even with no Super Bowl championships, Tarkenton was inducted into the Pro Football Hall of Fame in 1986.
Tarkenton threw for 47,003 total yards. With 342 total TDs, plus 32 rushing, and 266 interceptions, Fran's total score is 48,083.
4. Warren Moon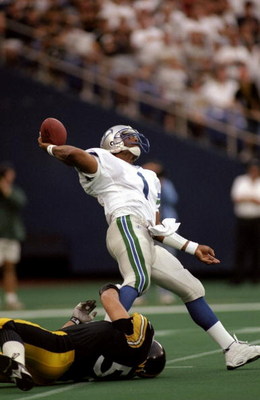 A nine-time Pro Bowl selection, Warren Moon came to the Houston Oilers in the 1984 season. In his 10 seasons with Houston, Moon only had a losing record in his first three years.
After stops in Minnesota, Seattle, and Kansas City, and only once finishing an entire season, Moon retired in 2000. He was inducted into the Hall of Fame in 2006.
Moon threw for a total of 49,325 yards with 313 scores and 233 interceptions, so he finishes with a total of 50,125 points.
3. John Elway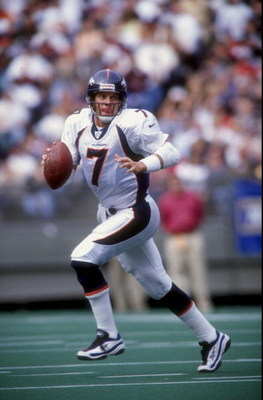 The most decorated player in the top 10.
John Elway is the only player on this list to win more than one Super Bowl ring.
Drafted by the Baltimore Colts in 1983, Elway forced the Colts to trade him by threatening to go play professional baseball. Elway could have been a top MLB pitcher.
After a long career, in which Elway saw the losing end of the Super Bowl scoreboard, Elway finally took the title in 1997, capturing his first ring.
He followed up in 1998 by leading the Broncos to back-to-back championships, retiring from the game after the second.
Elway was selected to the Hall of Fame in 2004.
With 51,475 total yards, with 333 scores and 226 interceptions, his total points are 52,745.
2. Dan Marino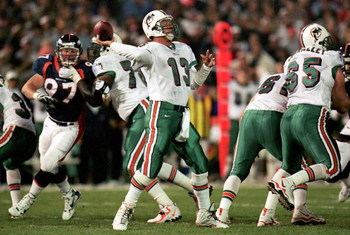 How many of you thought that Dan Marino was going to be No. 1 because he was the first slide? Tricked you.
Marino was originally projected to be the first QB taken in the vaunted 1983 draft class.
Due to rumors of possible drug use, Marino fell all the way to the Miami Dolphins at 27.
Marino started off hot, making it to the Super Bowl in only his second year. Unfortunately for Marino, he never made it back to the big game.
Retiring after the 1999 season, Marino decided not to play for the Minnesota Vikings or Pittsburgh Steelers, but to start his career as a broadcaster.
Marino threw for 61,361 total yards with 420 TDs and nine rushing. He also accounted for 252 interceptions, bringing his total to 63,131.
1. Brett Favre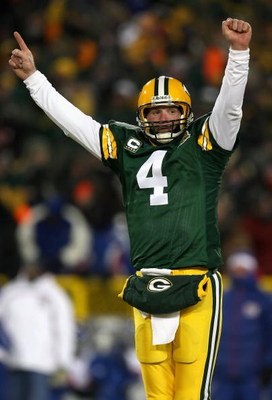 Drafted by the Atlanta Falcons in 1991, Favre played in only two games his rookie season.
Traded to the Green Bay Packers for a second round pick, Favre would take over after an injury and never look back.
Over the last three years, we have all enjoyed the "is he or isn't he going to retire" headache.
Will he be back this year? Maybe.
Favre currently has passed for 65,127 yards with 478 scores and 310 interceptions.
His total point value is 66,807.
The only other person on this list that is active is Peyton Manning. At 19,329 points behind, Manning still has a chance to catch Favre.
Finally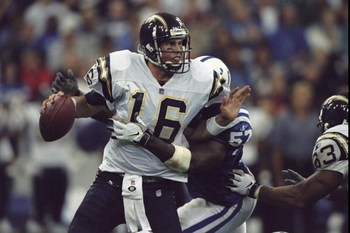 Sorry, I just had to put a picture of Ryan Leaf in here. As the worst QB EVER, he can now say he has been included in a best ever article.
Of this list, Brett Favre (1), John Elway (2), Peyton Manning (1), and Drew Bledsoe (1—on the team, even though he didn't start), and Joe Montana (4) are the only players with Super Bowl rings.
But for those that go by stats and stats only, this is your all-time 10 best.
Keep Reading