The Denver Broncos have an early (and slight) edge over the Seattle Seahawks in terms of betting odds for Super Bowl XLVIII, which kicks off at MetLife Stadium on Sunday, Feb. 2, 2014.
Both teams dominated their respective conferences all year long and finished the regular season as No. 1 seeds with records of 13-3. After first-round byes, Denver beat the San Diego Chargers and New England Patriots to reach the big game, while Seattle took down New Orleans and San Francisco.
One of the interesting aspects of this year's Super Bowl is that it's being contested at a cold-weather venue for the first time in the modern era. According to AccuWeather, there's a chance of snow and rain, with temperatures expected to be in the mid 20s to mid 30s.
Should the weather become more of a factor, then it shouldn't surprise anyone if the betting lines move in favor of Seattle. At this point, however, with snow looking unlikely, Denver has the edge in the eyes of oddsmakers.
Here's a look at the early money line, spread and halftime odds, via Vegas Insider, along with an additional prop bet, via Bovada:
| | | | | | |
| --- | --- | --- | --- | --- | --- |
| Payout | Over/Under | Spread | Halftime Over/Under | Halftime Spread | Coin Toss Prop |
| Seattle +130 | 48 points | Denver (-2) | 24 points | Denver (-.5) | Heads -105 |
| Denver -130 | | | | | Tails -105 |
Where: MetLife Stadium, East Rutherford, N.J.
When: Sunday, Feb. 2, at 6:25 p.m. ET
Watch: Fox
Live Stream: Fox Sports Go
The fact that the money line is so close shows how unsure Vegas is about this upcoming matchup, and it's not hard to see why. You need to bet $130 to earn $100 if you pick the Broncos to win, and you need to bet $100 to earn $130 if you pick the Seahawks.
Either way, you must bet a lot of money to make a lot in either scenario.
Denver finished the regular season with the top-ranked offense in the league, and Seattle finished with the top-ranked defense, as pointed out by ESPN Stats & Info:
Seahawks-Broncos is No. 1 scoring offense vs No. 1 scoring defense, No. 1 total offense vs No. 1 total defense and matchup of No. 1 seeds.

— ESPN Stats & Info (@ESPNStatsInfo) January 20, 2014
Furthermore, both teams feature game-breaking talent on both sides of the ball, and both have been phenomenal during the playoffs.
Here's a look at why both teams could win the game, followed by a final prediction.
Why Denver Will Win
The Broncos put together one of the greatest offensive campaigns in league history, as Peyton Manning topped a couple of single-season passing records (yards and touchdowns) nobody expected to fall when the season began.
As good as Seattle's secondary is (clearly the best in the league), the Seahawks haven't faced an offense like the one Denver brings to the table.
Wes Welker, Demaryius Thomas, Eric Decker, Julius Thomas and Knowshon Moreno are all capable of turning the game in favor of the Broncos at any given moment, and Manning is the best in the business at getting his playmakers involved.
But offense isn't the only thing that's been working for the Broncos of late. Denver's defense held Philip Rivers' Chargers and Tom Brady's Patriots to just 33 points combined, and it has allowed just 15 points per game in its last four.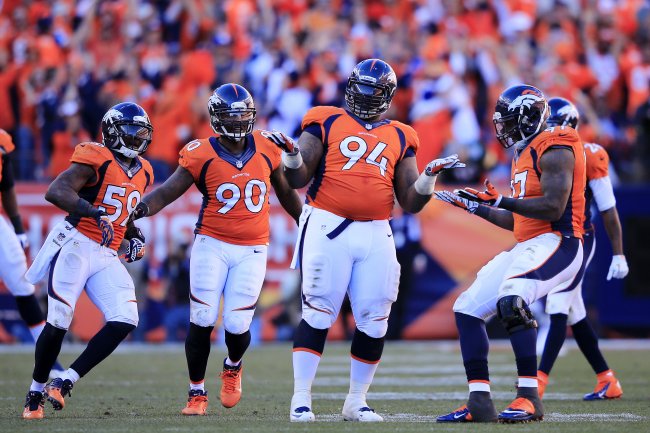 Jamie Squire/Getty Images
Of particular note was the way Denver's front seven bottled up the run in both playoff games, allowing just 129 yards on 34 carries (3.79 yards per carry). After beating the Patriots, Broncos cornerback Champ Bailey singled out his teammates on the defensive line, as noted by Jeff Legwold of ESPN.com:
Well, they [Patriots] didn't play the Broncos last week. They are a good running team, but we've got some guys up front that don't like that they're going to do whatever it takes to stop that run and that's really what it's all about, the guys up front.
Another shut-down performance from Terrance "Pot Roast" Knighton and Co. up front for the Broncos against Marshawn Lynch would almost certainly lead to a Super Bowl win.
Why Seattle Will Win
Nobody has been able to break Seattle's defense since Week 5, when Andrew Luck and the Indianapolis Colts dropped 34 on the Seahawks at Lucas Oil Stadium.
Thanks to the "Legion of Boom" secondary that helped Seattle finish the regular season with the league's top-ranked pass defense, Denver's high-powered offense could experience a failure to launch. And then there's this stat, courtesy of ESPN Stats & Info, that should have Broncos fans hiding in their closets:
Each of the 6 previous NFC teams to rank #1 in scoring defense who made the Super Bowl won it all. pic.twitter.com/0sIIcU0IJ0

— ESPN Stats & Info (@ESPNStatsInfo) January 20, 2014
On the other side, Marshawn Lynch has been unstoppable in the two playoff games for the Seahawks. He plowed through the Saints and 49ers to the tune of 249 rushing yards and three touchdowns and will once again be heavily featured in the Super Bowl.
Furthermore, Percy Harvin, who sat out of the NFC Championship Game with a concussion, is expected to play in the Super Bowl, according to Pete Carroll, via 710 ESPN Seattle:
Pete Carroll says WR Percy Harvin 'should be fine' for the @SuperBowl http://t.co/WKHIfAIanR

— 710 ESPN Seattle (@710ESPNSeattle) January 20, 2014
Back in November, B/R's Tyson Langland wrote Harvin's presence would elevate Seattle's offensive attack:
Harvin's presence alone will make the Seahawks the scariest team from now until the end of the season. The fifth-year veteran out of Florida is a versatile player with an unmatched ability to make defenders miss in the open field.
It's important to note that the Seahawks got to this point without Harvin contributing on offense. At this point, if he is able to impact the game positively for the Seahawks, it will be icing on the cake.
Prediction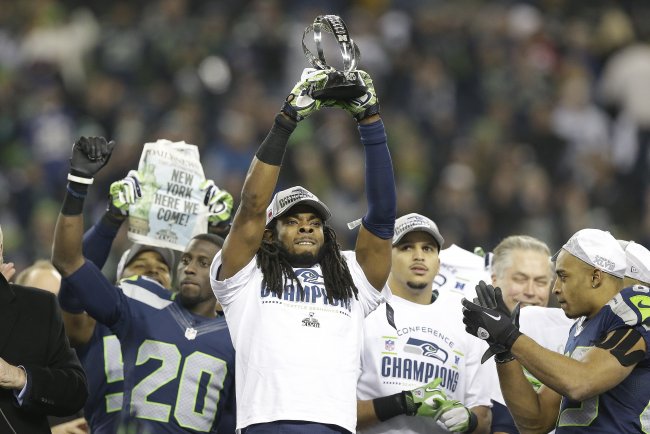 Elaine Thompson/Associated Press
Denver's offense is fantastic, but Seattle brings the more complete team to Super Bowl XLVIII.
Pete Carroll's Seahawks can win in just about every conceivable way, while the Broncos have relied on the right arm of Manning all year long—recent defensive improvements notwithstanding.
Given the way Seattle's secondary has blanketed receivers this past year, it's hard to imagine Manning will have a big game passing. Richard Sherman and his teammates in the defensive secondary will continue to do their thing, and Manning will become increasingly frustrated as the game wears on.
Turnovers will be the biggest key—as they almost always are. There wasn't a team in the league better than the Seahawks at creating turnovers (39 takeaways) and taking care of the football (plus-20 on the season).
Provided Russell Wilson doesn't uncharacteristically throw the game away, the Seahawks will win the championship.
Final Score
Seahawks win, 23-21.
Follow me on Twitter @JesseReed78