If you had watched practically any part the AFC title game without looking at the score, you probably would've thought the game wasn't even close. The final score between the Denver Broncos and the New England Patriots was 26-16, but the margin of defeat felt a lot bigger than that based on the pure dominance of Denver.
Peyton Manning and Demaryius Thomas went off for huge games, and the defense stepped up big time, holding Tom Brady and the Patriots' third-ranked scoring offense to only 16 points.
The Patriots were at a blatant disadvantage on offense. Brady's lack of weapons to throw to was evident. I mean, I'm pretty sure my mom has more weapons in her collection of forks and spoons than Brady did on his entire offense.
Despite a late comeback attempt by the Pats, a near-perfect performance by Manning helped Denver stay in control the entire game and has the team going to the franchise's first Super Bowl in 15 years.
Let's take a look at Twitter's best reactions, both serious and funny.
We Finally Found Out What "Omaha" Actually Means
Throughout the game, several Twitter accounts finally provided us with some accurate definitions of what Peyton Manning actually means when he yells "Omaha":
"Omaha" just means 'pass play to whoever is wide open'

— Fake SportsCenter (@FakeSportsCentr) January 19, 2014
That seems simple enough and does provide a good insight into Manning's puzzling brain.
But then @NFL_Memes provided another definition:
Omaha! pic.twitter.com/8ntig1Rd3k

— NFL Memes (@NFL_Memes) January 19, 2014
It seems that Peyton sometimes forgets if he's calling out a play or advertising for Papa John's.
During the game, the audience could randomly hear "Omaha" through the TV screen, but it was difficult to pick up anything else Peyton was yelling in his cadence. @NotSportsCenter was gracious enough to give us an insight into one of Manning's actual calls from the AFC Championship Game:
Peyton Manning pre-snap: "Montana Omaha! Irsay sucks Omaha! 3-7 Welker catch the ball or I will cut your hands off Omaha! Hut hut!" #NEvsDEN

— NOTSportsCenter (@NOTSportsCenter) January 19, 2014
Gosh, Manning does get pretty intense.
Lastly, @EvilMikeTomlin shared this about the quarterback possibly changing the meaning of "Omaha" altogether:
Peyton says he will change 'Omaha' to 'No grown man wears uggs' at the line of scrimmage

— Evil Mike Tomlin (@EvilMikeTomlin) January 19, 2014
Shots fired! Manning's longtime rival, Tom Brady, endorses the feminine shoe brand.
Well, at least now audiences should have a better understanding of what Peyton Manning really means when he's shouting "Omaha."
Denver's Run Defense Stood Tall
In the divisional round, the Patriots ran all over the Indianapolis Colts for a whopping 234 yards. Against the Broncos, New England rushed for a grand total of 64 yards.
Love all the pundits who thought #Broncos rush defense was vulnerable BC Blount smoked Colts with rush #Patriots

— Byron Kerr (@bkerr32) January 20, 2014
As Byron Kerr noted above, many people thought that Denver's rush defense would be in trouble against New England's beast running back LeGarrette Blount. However, Denver's defense tamed the beast, in large part thanks to the outstanding play of the defensive line.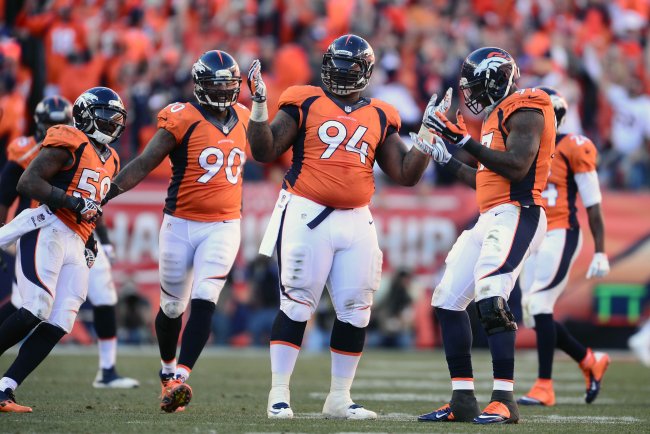 Mark J. Rebilas-USA TODAY Sports
Terrance Knighton, Robert Ayers, Shaun Phillips and the rest of the crew were devastating up front, shutting down Blount and applying pressure on Brady throughout the game.
Meanwhile, New England's defense was surgically dissected by Manning the entire game, and by the end, it seemed like the Patriots—along with their fans—had forgotten what a stop even felt like.
Patriots defense stopped the Broncos...lol jk

— Evil Mike Tomlin (@EvilMikeTomlin) January 19, 2014
Pats fans got their hopes up from another @EvilMikeTomlin update but then realized it was a joke—same as how the Patriots defense looked trying to stop Manning.
The Patriots Have Way Too Many Problems to Overcome
I mean, it was almost as if the Patriots were back in the 2008 or 2012 Super Bowl and just not able to stop a different Manning.
Hey Patriots... pic.twitter.com/7Zdy4vpnsP

— Happy Gilmore (@_Happy_Gilmore) January 19, 2014
Holy crap! I'm sure that brings back some bad flashbacks for Patriots fans. Eli Manning already denied Pats fans two Super Bowls, and now his brother is doing the same.
Tom Brady was obviously devastated after the game, via @NFL_Memes:
Tom Brady Be Like.. pic.twitter.com/2OtSgF1vNt

— NFL Memes (@NFL_Memes) January 20, 2014
His best friend and records are still gone, but at least one familiar face was being nice to him:
At least one Manning is being nice to Brady.. pic.twitter.com/XPYCi4ds6p

— NFL Memes (@NFL_Memes) January 19, 2014
Although Brady won't be actually playing in the Super Bowl this year, at least he'll be able to enjoy watching it with Eli.
The Broncos Deserve to go to the Super Bowl
With the outstanding season they've had, tying for the league's best record (15-3), and the well-deserving players on this Denver team, the Broncos absolutely deserve to be in the Super Bowl.
One player who truly deserves it is future Hall of Fame cornerback Champ Bailey.
Now in his 15th @NFL season, Champ Bailey has his first trip to the Super Bowl: http://t.co/F9MqPD2scA. #SB48 pic.twitter.com/8jP44yvUI2

— Denver Broncos (@Broncos) January 20, 2014
People love to see stories like Bailey's. He has been one of the best corners in the league for his near-15-year career in the NFL, and now he's reached the pinnacle of the sport, the Super Bowl.
The excitement for the Broncos was evident on the field after the game:
Super Bowl bound! https://t.co/HfSSPSAasI

— Denver Broncos (@Broncos) January 19, 2014
With great people like Champ Bailey and Peyton Manning on the team, the Broncos deserve nothing less than a trip to the big game, and that's what they've played themselves into.
One Last Look: Manning vs. Brady Rivalry Still Left with Questions
The rivalry between Manning and Brady has had many twists and turns, triumphs and failures and countless questions and arguments.
These two quarterbacks have long been argued over by their respected fans as to who is the best of all time. However, there is possibly an ever larger question that still has yet to be answered:
I don't know if Tom Brady or Peyton Manning has it sweeter. Brady's married to a model, but Peyton can get his hands on lots of pizza.

— Homer J. Simpson (@HomerJSimpson) January 19, 2014
We may never know the answer.
Looking Forward
The Broncos will now take on the Seattle Seahawks in the Super Bowl, and guess what...they are favored, according to RJ Bell of Pregame.com!

The game will match up the NFL's best offense and its best defense in what is sure to be a phenomenal Super Bowl. Peyton Manning and his stable of offensive weapons against Richard Sherman and the vaunted Seahawks secondary makes for major headlines going into the game.
The Broncos vs. Seahawks—truly the two best teams in the league battling it out, just as the Super Bowl should be.