With 22 goals in 17 Premier League games, Luis Suarez is certainly enjoying his Annus mirabilis this season. However, the Uruguayan has found himself in the centre of yet another diving row this week.
The Reds came from two goals down, at home to Aston Villa on Saturday, to rescue a point through goals either side of half time. The equaliser was converted from the penalty spot after Luis Suarez was apparently felled by Liverpool keeper Brad Guzan.
The incident seems to have split opinion like no other penalty claim in recent memory. According to a BBC poll carried out during Saturday's edition of Match of the Day, 69 per cent of viewers felt Suarez dived.
Furthermore, Brad Guzan told The Mirror that he had a conversation with the Liverpool striker after the game, who admitted that he "didn't know" if any contact had been made.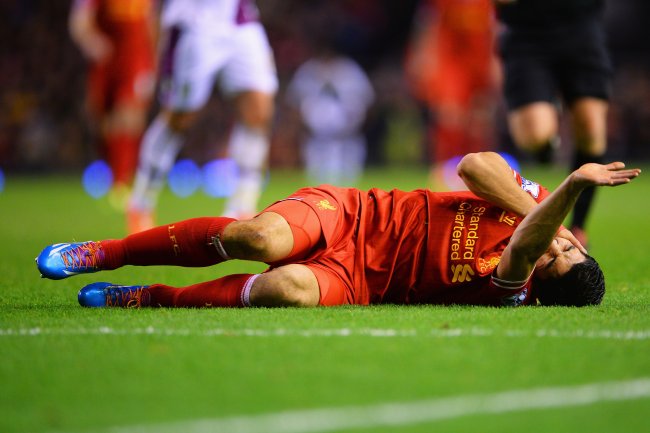 Michael Regan/Getty Images
However, a number of journalists—former pros and even a former referee—spoke to the Daily Mail after the match to insist that the correct decision was made and justice was done.
Ultimately, we could argue until the cows come home about this decision, but it is not important to find out who is right or wrong.
What is more important is the troubling attitudes towards diving that have been evoked.
Bleacher Report's Stan Collymore—a man who played in an era when divers generally would have been laughed off of the field or held to account for their actions—has been very vocal in his stance against diving. He risked much abuse (some of it unacceptably racist) from fans of his former club to give his stance on the matter:
Proud to get the shot off rather than cheat or dive. pic.twitter.com/Yv03XpufiF

— Stan Collymore (@StanCollymore) January 20, 2014
One would think that Stan's opinion would be universally accepted in the game. Diving is cheating, it should never be tolerated and cannot be viewed as a viable option for a striker heading towards goal. But it seems there has been a sea change in opinion:
Abd the fact some very well respected ex pros genuinely believe diving/cheating is justifiable says more about the game in 2014 than me.

— Stan Collymore (@StanCollymore) January 18, 2014
One of the ex-professionals to whom Collymore is referring is Gary Lineker, who offered his support to Suarez on Match of the Day.
"The one thing you love to see as a striker is when you're running away from goal you want to see the keeper running out because you've got half a chance of winning a penalty," he said on the BBC programme while pundit Alan Shearer agreed with him (quote via the Daily Mail).

Lineker further inferred that simulation was an acceptable facet of a forward's skill set on Twitter:
It's clearly making the most of a keeper's recklessness and completely different to diving with no contact. Playing for pen? Yes. Diving? No

— Gary Lineker (@GaryLineker) January 18, 2014
Frankly, Lineker's stance is a damning indictment of the modern game.
Firstly, on Match of the Day, he spoke of "winning" a penalty. This may just be a case of semantics, but why are footballers of the mindset of "winning" a penalty? A penalty is not won, it is awarded when a foul is given.
Superstars such as Neymar have been known to celebrate wildly penalty calls when they really should be lamenting a lost chance to score. Celebrating a penalty "win" is the equivalent of celebrating an insurance payout when your house burns down.
Is 'playing for a penalty' an acceptable practise?
The main problem with Lineker's argument, however, is that he differentiates between "playing for a penalty" and diving. They are one and the same thing.
A player's sole purpose as he closes in on goal is to put the ball in the back of the net—if he is playing for something else, he is contravening the rules and the spirit of the game.
Sadly, an act which should be detestable has become acceptable. It is, to quote Mr Lineker, a "beautiful thing."
The real skill is timing your run to firstly lure the keeper off his line, then to ensure you beat him to the ball. It's a beautiful thing!

— Gary Lineker (@GaryLineker) January 18, 2014
It is not a beautiful thing. It is a terrible thing. The fact that several pundits regularly spin the phrase "he was entitled to go down" shows just how permeated simulation is within the beautiful game.
A re-tweet from Collymore this weekend perfectly encapsulates the consequences that the modern attitude to diving will have on football in years to come:
@StanCollymore Few months back one of my U14's asked if they could "dive for a penalty".. That's what modern pros are doing to the game..

— Harrison Dunks (@Coach_Harrison1) January 20, 2014
The former Aston Villa and Liverpool striker is right: This does say a lot about the game in 2014. And what it is saying does not sound good.