Super Bowl XLVIII will pit the Seattle Seahawks against the Denver Broncos in a historic matchup between two teams with drastic differences in style.
The NFC champion Seahawks rely on a physical running game and an elite defense to get the job done, while Peyton Manning quarterbacks the NFL's most prolific passing offense.
This will be the toughest test for both Manning and for Seattle's "Legion of Boom" secondary, which ended the regular season yielding a league-low 172 yards per game through the air. Part of that was a result of excellent play from the front seven, but a lot of it had to do with the coverage on the back end.
Bleacher Report's Matt Bowen is looking forward to the two sides doing battle:
Peyton Manning vs. the Seahawks secondary is going to be a great matchup.

— Matt Bowen (@MattBowen41) January 20, 2014
If Manning is able to win his second Lombardi Trophy, it could strengthen his case for consideration as the greatest quarterback to ever play the game, given the quality of the opposing defense.
Should the Seahawks pull this off, head coach Pete Carroll will become the third man ever to win a national championship at the collegiate level and a Super Bowl at the professional level, along with Jimmy Johnson and Barry Switzer.
Let's take a look at the major storylines to follow and the potential history to be made as the big game approaches.
Where: MetLife Stadium, East Rutherford, N.J.
When: Sunday, Feb. 2, at 6:30 p.m. ET
Watch: Fox
Live Stream: Fox Sports Go
Spread: Broncos -2.5, per Vegas Insider
Old School vs. New School: Dynasties in the Making?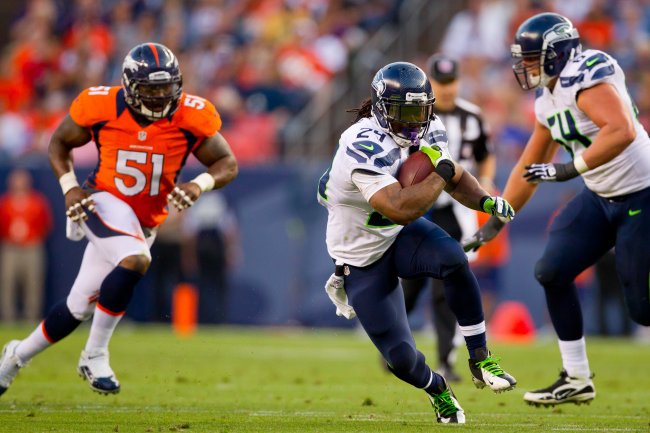 Justin Edmonds/Getty Images
Last season, the Broncos lost to the eventual Super Bowl champion Baltimore Ravens in a postseason game marred by a fluky misplay of the ball in coverage by safety Rahim Moore. One has to wonder what might have been if not for Moore's mishap, because Denver could very well be aiming for a repeat at the moment.
Then there are the Seahawks who, with a nucleus of young stars, mounted an epic comeback in last year's playoffs, only to lose to the Atlanta Falcons on a last-second field goal.
Both franchises were able to rebound after those difficult exits, take care of business all season long and establish themselves as the best teams in football.
Each club went 13-3 in the regular season and fought through adversity, with the benefit of home-field advantage paying big dividends.
Seattle's ground-and-pound offense, which is spearheaded by Skittles-consuming running back Marshawn Lynch, and its strong defensive identity give it the look of an old-school championship team.
The Seahawks' penchant for talking a big game and backing it up also hearkens back to earlier times, when rivalries seemed bitterer.
Although Manning is a throwback, pure pocket passer compared to his dual-threat counterpart in Russell Wilson, he runs an uptempo system that capitalizes on modern rules which favor passing the ball a ton.
ESPN Stats & Info highlighted how much the Broncos gassed the Patriots' defense en route to clinching a Super Bowl berth:
The Patriots' defense put Peyton Manning under duress on just 3 of his 43 dropbacks today (7%), their lowest pct. in a game this season.

— ESPN Stats & Info (@ESPNStatsInfo) January 19, 2014
As stacked as Denver's roster is, the future is uncertain beyond Manning's tenure under center, whenever that ends. Perhaps his successor can take over the system in place and thrive with a high volume of passes.
More likely, though, balance will be necessary for the Broncos, both in the future and even for the game at hand. A pass-heavy offense could falter in inclement weather, giving credence to Seattle's philosophy.
With the success the Seahawks and the NFC finalist San Francisco 49ers have had in recent seasons with their bruising brand of football, the NFL could already be experiencing a paradigm shift.
Even if Manning emerges victorious, a moderated version of old football values may reemerge and take the league by storm.
Manning's March to Immortality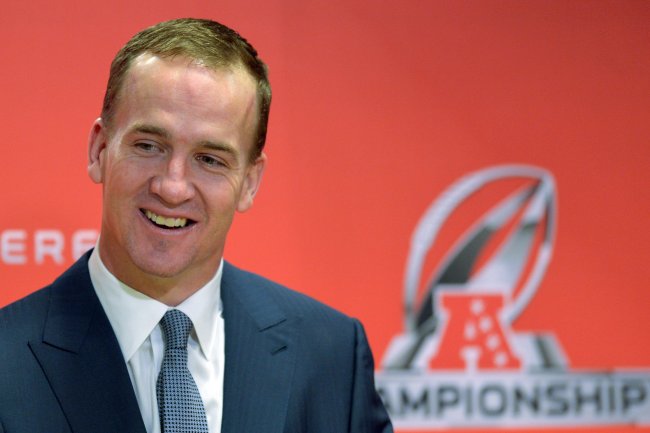 Jack Dempsey/Associated Press
The biggest critics of "The Sheriff" will allude to the injury that befell New England Patriots cornerback Aqib Talib in the AFC Championship Game, which did aid Manning's efforts in lighting up the Patriots secondary.
However, that should not be the focus. There was plenty of pressure on Manning to extinguish the doubts about him in the playoffs.
Armed with the best supporting cast of his career across the board, he's been capitalizing on the situation. Beating the Seahawks' amazing defense would make Manning the first quarterback to ever win Super Bowls with two different teams, per Gil Brandt of NFL.com:
Peyton Manning can become 1st QB to win SBs w 2 diff teams. Craig Morton was 1st to lose w 2 diff teams. Kurt Warner did it too.

— Gil Brandt (@Gil_Brandt) January 20, 2014
Manning doesn't have many years left on the gridiron, and this may be his last chance to capture his second championship.
The hurry-up system that Manning operates from the line of scrimmage has helped the 37-year-old have the best season of his brilliant career—and maybe ever—with a record 55 touchdowns and 5,477 passing yards.
After a 400-yard performance in the AFC title game against the Patriots, Manning is well on his way to boosting his already legendary status. Now he has to cap off his outstanding season against one of the best secondaries in recent memory.
Carroll's Homecoming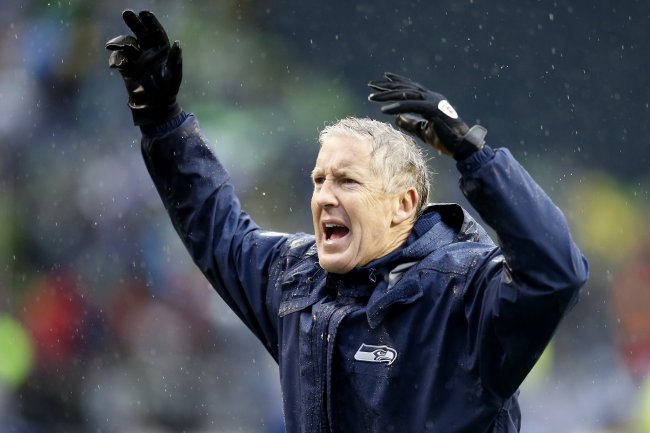 Otto Greule Jr/Getty Images
The 62-year-old Carroll brings a lot of swagger to the table. It rubs off on his young Seahawks team and has translated into wins on the field.
That big personality is part of what made Carroll a big attraction to Seattle—and before then, when he coached the New York Jets in his first shot at the helm of an NFL franchise. Fired after just one season on the job, Carroll returns to the area, per ESPN.com's Rich Cimini:
Happy for Pete Carroll, whose first HC gig (Jets) lasted only 1 year. And now he gets to go back to NY/NJ.

— Rich Cimini (@RichCimini) January 20, 2014
With a win, Carroll would join the elite company of former Dallas Cowboys coaches Johnson and Switzer, but delivering the first Lombardi Trophy to the Seahawks franchise would make the transition from college back to the pros even sweeter.
While Seattle won't have the benefit of the rowdy "12th Man" fans who have given the team such a prohibitive advantage at CenturyLink Field, the leadership Carroll provides has instilled a strong sense of chemistry.
Sometimes so-called "players' coaches" can be loose in discipline to a fault, or have their authority disrespected and walked all over. Conventional wisdom doesn't seem to apply to Carroll's tactics, though. He started a third-round rookie at quarterback last season and has been unafraid to take risks on players, working in tandem with general manager John Schneider to build what has become a magnificent roster.
Although he was never given much of a chance to build a foundation in his brief tenure with the Jets, this homecoming will see Carroll return having structured the Seahawks from the ground up—with impressive results.
The Rise of Wilson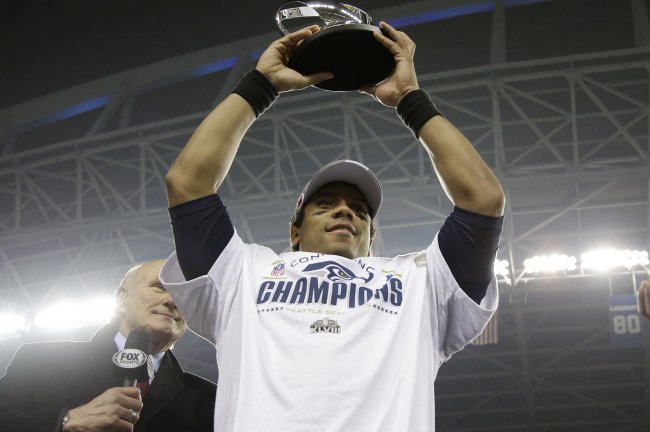 Matt Slocum/Associated Press
The No. 75 overall selection of the 2012 draft certainly has other teams desperate to find a franchise quarterback kicking themselves. Wilson hadn't played as well down the stretch, but made up for it in tossing a clutch touchdown against the vaunted San Francisco 49ers defense to advance Seattle to the Super Bowl.
Without Von Miller flying off the edge to help contain him, there should be opportunities for Wilson to run against the Broncos front seven, which will be focused on shutting down Lynch.
It's also worth noting that Chris Harris, Denver's best cornerback, went down with a torn ACL in the divisional round, leaving a thin defensive backfield to cover Wilson's receivers.
Against the 49ers, Doug Baldwin had six receptions for 106 yards, the unheralded Jermaine Kearse caught the big touchdown and Golden Tate continued to make timely receptions.
As impressive as Wilson's poise has been, though, he is the X-factor upon which the Lombardi Trophy hinges for Seattle. If he plays excellent and helps keep the ball out of Manning's hands, Seattle's chances to win increase exponentially.
Wilson is already making history as the winningest second-year quarterback along with Pittsburgh's Ben Roethlisberger, per SportsCenter's official Twitter account:
Russell Wilson is 27-9 as starter, tying Ben Roethlisberger for most wins by QB in first 2 seasons in Super Bowl era. pic.twitter.com/45alc24Bz9

— SportsCenter (@SportsCenter) January 20, 2014
All he's been doing is winning since ascending to the top of the depth chart ahead of last season, and Wilson also has the luxury of his defense and Lynch to lean on, as well as his ability to run.
Should the Seahawks find a way to best Manning and the Broncos, it would mark a shocking two-year ascent—keyed by the low-profile, humble acquisition of Wilson who was repeatedly passed up on draft day.