The Seattle Seahawks opened up as early Super Bowl favorites. That didn't last long.
As Mike Wilkening of Pro Football Talk reports, the Broncos quickly moved to 1- to 2.5-point favorites in most places. That is not a common spread for the Super Bowl.
In fact, as Wilkening points out, just four prior Super Bowls have featured a spread of a field goal or less.
The spread being close certainly doesn't dictate that we will have an epic game, but it's frustrating (as a person who has made a bet or two) how often the spread is dead on.
At any rate, you don't have to rely on the close spread to get you jacked for the game. The line is close for obvious reasons. Any way you look at it, this is one enticing matchup.
Take a look at the vitals for enjoying this game. Then, I'll highlight more reasons to anticipate an epic showdown.
Seattle @Seahawks. Denver @Broncos. You ready? #SB48 pic.twitter.com/eYTIzyGdcS

— Super Bowl XLVIII (@SuperBowl) January 20, 2014
When: Sunday, Feb. 2 at 6:25 p.m. ET
Where: MetLife Stadium, East Rutherford, N.J.
Watch: Fox
Why This Matchup Is Great
Kevin C. Cox/Getty Images
We've all heard the saying that a great offense beats a great defense. This game will be the ultimate test of that theory in this era of the NFL.
Peyton Manning guided the Broncos to a fantastic 13-3 season by setting the single-season record for passing yards and touchdowns. That helped the Broncos become the highest-scoring single-season offense in the history of the NFL.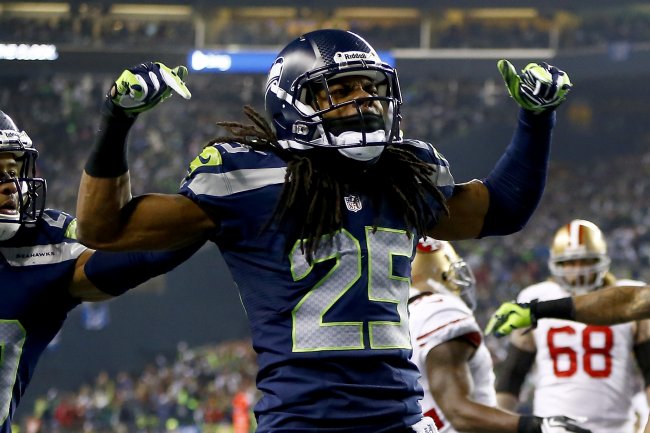 Jonathan Ferrey/Getty Images
Meanwhile, the Seahawks led the NFL in points allowed this season.
There's more to make this matchup compelling too. The Seahawks built their defensive success on the back of an incredibly talented defensive secondary, which propelled the Seahawks to the league's stingiest pass defense.
The Seahawks will have to use a different defense to have success against Manning and the Broncos, though:
If Seahawks plan to play that Cover-3 all day, Manning will eat them alive.

— Pete Prisco (@PriscoCBS) January 20, 2014
So, we have a gifted secondary going up against an absolute legend in Manning, and Manning has a lot of weapons at his disposal.
With Demaryius Thomas leading the way, the Broncos had four receivers finish the season with at least 778 receiving yards.
Meanwhile, strength will once again battle strength when the Seahawks have the ball.
The Seahawks finished the regular season fourth in rushing yards and 26th in passing yards. For their part, the Broncos finished eighth in rushing yards and and 27th in passing.
Those facets of these teams' games have been clicking in the postseason. Marshawn Lynch has plowed his way to over 100 yards rushing in both postseason games, while the Broncos have allowed just 129 combined rushing yards in the playoffs.
After fumbling on the first play of scrimmage, second-year quarterback Russell Wilson had a solid game on Sunday, and that came after a string of subpar performances.
Now, he has to try to beat a quarterback he tries to emulate:
Wilson on Peyton Manning: "I want to be like him one day." #SB48 #NFCChamps

— Seattle Seahawks (@Seahawks) January 20, 2014
This is a wonderful matchup to close the season and one I suspect will be as close as the spread suggests.