Why the Refs Wouldn't Review Fumble in 49ers vs. Seahawks
January 20, 2014

Jonathan Ferrey/Getty Images
The San Francisco 49ers and Seattle Seahawks were in the midst of a defensive struggle during the NFC Championship. With the Seahawks up by a score of 20-17, they were faced with a 4th-and-goal from the one-yard line.
Running back Marshawn Lynch took the carry and ran into All-Pro linebacker NaVorro Bowman at the line of scrimmage. Bowman successfully stripped the ball from Lynch and fell to the ground. The easy call here was a change of possession, awarding the 49ers the ball at the one: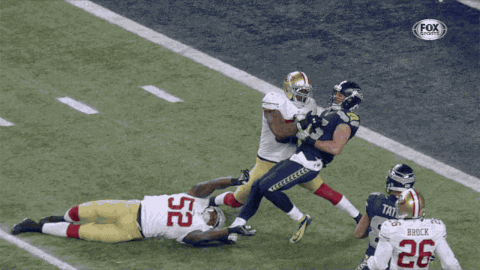 Fox Sports
Not so fast.
Apparently every member of the officiating crew missed Bowman's clear recovery.
The linebacker was severely injured on the play and needed to be carted into the locker room. His obvious pain forced him to let the ball go after he was touched down at the goal line—it was then recovered by Seattle.
That's the part the officials saw.
A missed call is part of any NFL game these days—unfortunately enough. But the fact the league deemed this play is not reviewable is just completely baffling.
If the same situation occurs in the end zone or on the sidelines it is absolutely reviewable. It seems strange the fact it's not reviewable within the field of play seems like something the league has overlooked for a long time.
Luckily, the 49ers were able to force a turnover on the very next play, rendering the awful rule fruitless.
Reactions on Twitter have already been plentiful.
Kevin Mawae tweeted the refs may not have much pull with their next round of negotiations due to their constant errors:
David Naylor pitted the blame more so on the awful rule put in place by the NFL:
This is just the latest in a long line of mishaps by the NFL's officiating crew this season. Consistent failure to deliver accurate and logical calls on the field must lead to some new changes within the ranks of the NFL's officiating crews.