Then there were two.
Peyton Manning and the Denver Broncos ripped through the New England Patriots' overwhelmed defense in fairly comprehensive fashion, while the Seattle Seahawks escaped CenturyLink Field with a thrilling hard-fought win over the San Francisco 49ers, setting up a compelling Super Bowl of contrasting styles.
In fact, in terms of numbers, it really doesn't get more contrasting than this, as the New York Daily News' Ralph Vacchiano pointed out:
From @AP_NFL: First Super Bowl since 1991 with team that scored the most points in the regular season vs. the team that allowed the fewest.

— Ralph Vacchiano (@RVacchianoNYDN) January 20, 2014
Super Bowl XLVIII: Seahawks-Broncos. The NFL's No. 1 offense vs. No. 1 defense. And two No. 1 seeds for just the second time in 20 years.

— Ralph Vacchiano (@RVacchianoNYDN) January 20, 2014
It would be difficult to even dream of a better matchup for this year's Super Bowl.
Date: Sunday, Feb. 2, 2014
Time: 6:30 p.m. ET
Where: MetLife Stadium, East Rutherford, N.J.
Watch: FOX
Live Stream: FOX Sports Go
Odds: Denver (-2.5), according to Covers
Over/Under: 49, according to Covers
Matchup to Watch: Seahawks' Pass Rush vs. Broncos' Pass Protection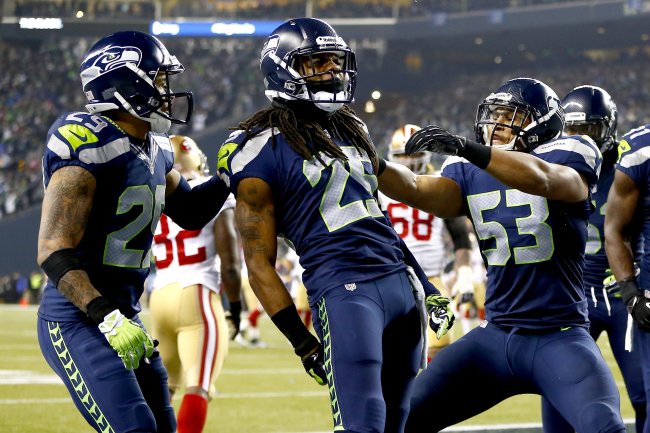 Jonathan Ferrey/Getty Images
Strength vs. strength. Just take a look at Pro Football Focus' numbers, courtesy of Matt Clapp:
. @PFF regular season cumulative #Broncos offensive grade ranks: Pass (1st), Rush (13th), Pass Block (2nd), Run Block (6th). #SuperBowl

— Matt Clapp (@sharapovasthigh) January 20, 2014
. @PFF regular season cumulative #Seahawks defensive ranks: Overall (1st), Run defense (6th), Pass rush (1st), Pass coverage (1st).

— Matt Clapp (@sharapovasthigh) January 20, 2014
The Denver Broncos can score on anyone. Peyton Manning completed 68.3 percent of his throws during the regular season for a silly 5,477 yards and 55 touchdowns—both of which are NFL records.
This is a future Hall of Fame quarterback playing just about as good as he has throughout his entire career, but it also helps that he has a slew of weapons in Demaryius Thomas, Eric Decker, Wes Welker and Julius Thomas.
CBS Sports' Pete Prisco noted just how dominant Denver's offense has been during the postseason as well:
Broncos have punted once in the playoffs. Once.

— Pete Prisco (@PriscoCBS) January 20, 2014
On the other side of the ball, the Seattle Seahawks can stop anyone. Behind Richard Sherman and Earl Thomas—two Defensive Player of the Year candidates—the 'Hawks have undoubtedly the best secondary in the league.
And as the team's Twitter feed pointed out, it was the defense that once again ultimately propelled the Seahawks on Sunday:
BOOM! It's all about the ball. Seahawks defense wins turnover battle and championship. #NFCChamps pic.twitter.com/Pu14DL6YgB

— Seattle Seahawks (@Seahawks) January 20, 2014
This is one of the best passing offenses we've seen in some time against one of the best passing defenses we've seen in some time. Unstoppable force versus immovable object might not even do it justice. Something has to give.
Although it won't be this simple, a major factor in this one will be how quickly the 'Hawks can get to Manning in the pocket.
Through two postseason games, Manning has barely been touched. Despite attempting 79 throws, he hasn't been sacked, and he's been hit just once. This isn't a new development, either—during the regular season, he was sacked a league-low 20 times.
As long as he continues to be comfortable in the pocket, much like he has been recently, he can surgically pick apart any defense—even Seattle's.
That means players such as Michael Bennett, Bruce Irvin and Cliff Avril will be crucial. It won't be easy—Manning gets the ball out so quickly—but if they can get into the backfield, there will be an opportunity to force Manning into some bad throws.
Either way, it's going to be a captivating battle. Is it (the next next) Sunday yet?