Henderson vs. Thomson: A Complete Guide to Full UFC on Fox 10 Card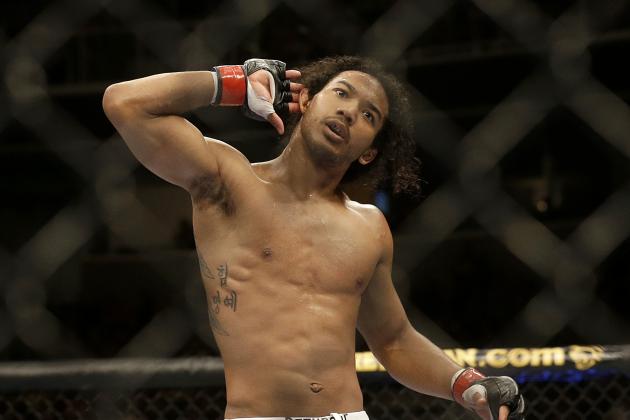 Jeff Chiu/Associated Press
UFC lightweight Benson Henderson
UFC on Fox 10 goes down Saturday from The House That Jordan Built, the United Center, in Chicago, Ill.
The main event pits recently dethroned UFC lightweight champ Benson Henderson against Josh Thomson, who once held the equivalent belt in the Strikeforce promotion.
But there's plenty of intrigue all up and down the slate, from the evening's kick-off contest on UFC Fight Pass all the way through to the four-fight, nationally televised main card.
What follows are information capsules, predictions and viewing coordinates for each and every bout.
Begin Slideshow

»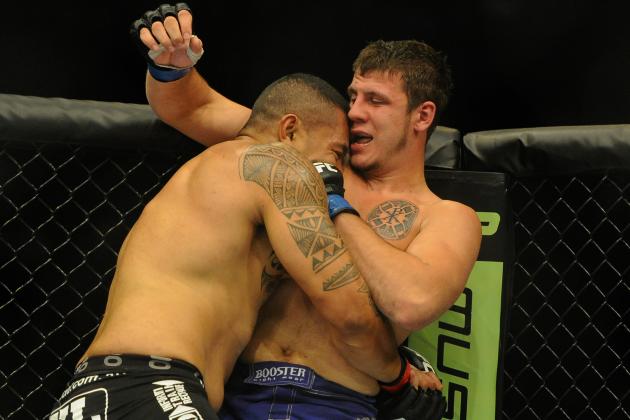 Benny Sieu-USA TODAY Sports
Nikita Krylov (right)
Division: Heavyweight
Records: Nikita Krylov (15-3), Walt Harris (5-2)
See it on: UFC Fight Pass (subscription required)
In his UFC debut, Alabama's heavy-hitting Harris was outwrestled by Jared Rosholt. No shame in that, necessarily. Krylov was knocked out by Soa Palelei. No shame in that, either, as Palelei could probably knock out a Redwood, given enough tries.
Here's guessing each man will try to recreate the other man's last fight. I think the more well-rounded Krylov will emerge successful.
Prediction: Krylov, unanimous decision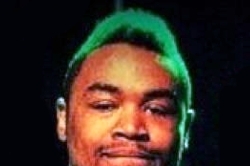 MMAWeekly.com
Mike Rhodes
Division: Welterweight
Records: Mike Rhodes (6-1), George Sullivan (14-3-1)
See it on: Fox Sports 1
This late addition to the card features Resurrection Fighting Alliance champion Rhodes in his UFC debut against a veteran in Sullivan, who is also debuting. Roufusport's Rhodes should have a willing dance partner in Sullivan and should get the upper hand with his dynamic stand-up game.
Prediction: Rhodes, TKO, Round 2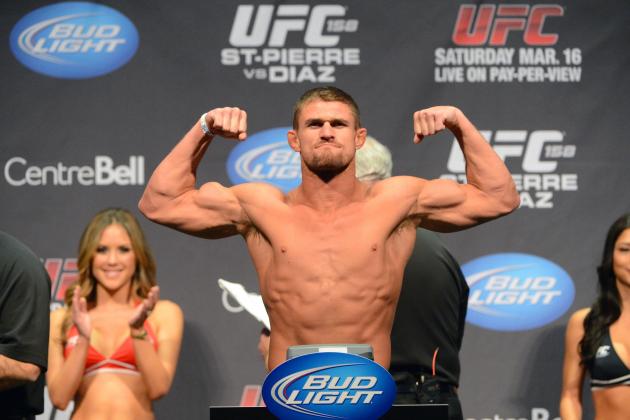 Eric Bolte-USA TODAY Sports
Daron Cruickshank
Division: Lightweight
Records: Daron Cruickshank (13-4), Mike Rio (9-3)
See it on: Fox Sports 1
These two likable former The Ultimate Fighter contestants are both looking to get back on track after losses in their last engagements. Though both have wrestling skills, I suspect this one never hits the ground and that Cruickshank and his more diverse stand-up game will outlast and outpoint Rio.
Prediction: Cruickshank, unanimous decision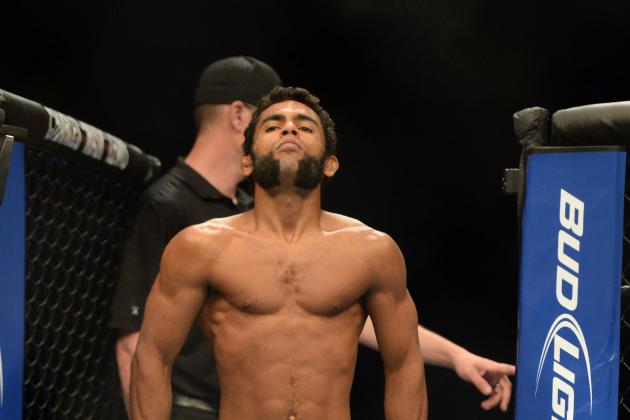 Kyle Terada-USA TODAY Sports
Hugo Viana
Division: Bantamweight
Records: Junior Hernandez (13-5), Hugo Viana (7-1)
See it on: Fox Sports 1
Viana should have the edge here, but he also shouldn't look past Hernandez, a well-developed kickboxer who can score on just about anyone. But as Hernandez's first-round submission loss to Lucas Martins in his UFC debut showed, he's a bit green on the ground.
Viana's no Demian Maia, but unless Hernandez has added big things to his grappling, he should have enough to win if he can get the action horizontal and keep it there. He doesn't want a striking match with Hernandez.
Prediction: Viana, unanimous decision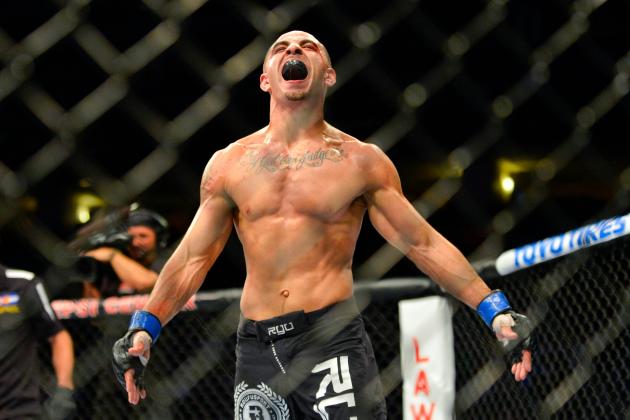 Ron Chenoy-USA TODAY Sports
Chico Camus
Division: Bantamweight
Records: Chico Camus (13-4), Yaotzin Meza (20-8)
See it on: Fox Sports 1
Another fighter for the Milwaukee-based Roufusport camp, which is appropriate given the fight's Chicago location. Shame Anthony Pettis couldn't join them.
But anyhoo, Meza is a veteran with veteran toughness. You're not going to put him in a situation he hasn't seen before. But that alone won't be enough against Camus, who has proven himself a tough out in the middle of the 135-pound division.
Prediction: Camus, unanimous decision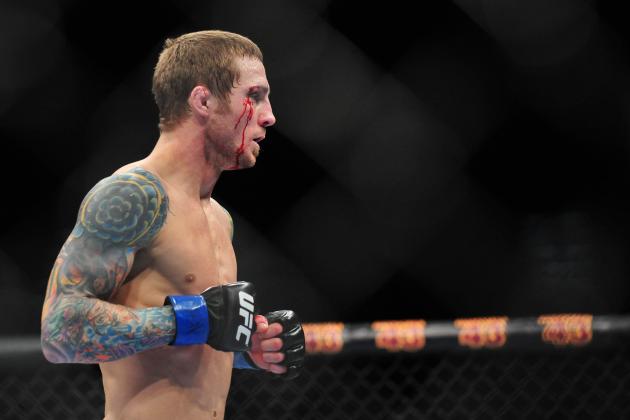 Gary A. Vasquez-USA TODAY Sports
Eddie Wineland
Division: Bantamweight
Records: Eddie Wineland (20-9-1), Yves Jabouin (19-8)
See it on: Fox Sports 1
Eddie Wineland is looking to rebound from that spinning-kick KO Renan Barao pasted on him in his last bout. He should be able to use his boxing to get over on Tristar Gym's Jabouin and get back to the main card.
Prediction: Wineland, TKO, Round 2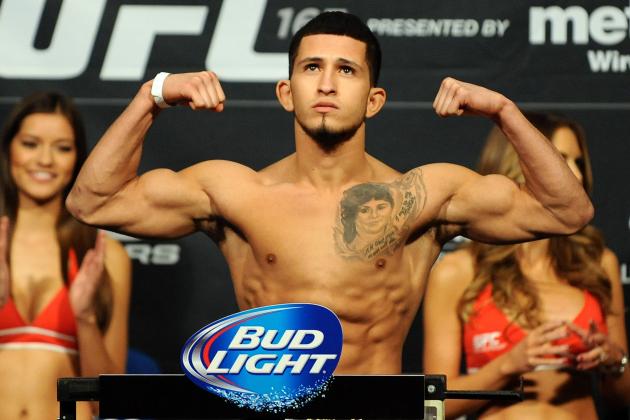 Stephen R. Sylvanie-USA TODAY Sp
Sergio Pettis
Division: Bantamweight
Records: Sergio Pettis (10-0), Alex Caceres (9-5)
See it on: Fox Sports 1
No Anthony on this card, but little brother Sergio's a pretty good entrant in his own right.
Caceres is a serviceable bantamweight, but Pettis—at age 20, the youngest fighter on the UFC roster—is considered a phenom for a reason. He outfought a very tough veteran in Will Campuzano in his UFC debut. On paper, Caceres' point-striking looks to be a weaker test.
Prediction: Pettis, unanimous decision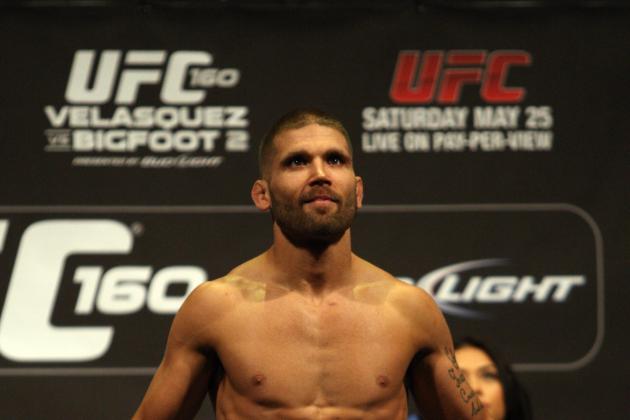 Bruce Fedyck-USA TODAY Sports
Jeremy Stephens
Division: Featherweight
Records: Jeremy Stephens (22-9), Darren Elkins (17-3)
See it on: Fox
The first Fox fight of the night features two men in the midst of career resurgences following a drop in weight.
Stephens is a new man since moving to featherweight, where he's a very violent 2-0. Same goes for Elkins. Though the Indianan is less flashy than Stephens, he's 6-1 at 145 pounds and trying to put a new win streak together after besting Hatsu Hioki in August. I think he'll get it done, grinding out Stephens for 15 minutes.
Prediction: Elkins, unanimous decision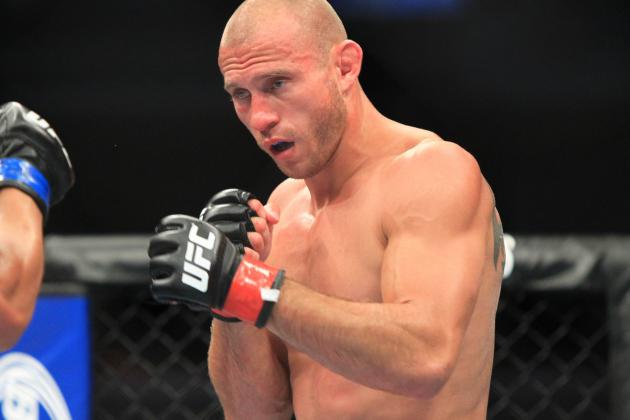 Pat Lovell-USA TODAY Sports
Donald Cerrone
Division: Lightweight
Records: Donald Cerrone (21-6), Adriano Martins (25-6)
See it on: Fox
Cerrone has expressed a desire to fight six times in 2014. That journey starts here at UFC on Fox 10. But he'd be wise not to look toward fight No. 2. Martins has little name value as an opponent, but he is awfully polished on the mat. In fact, Martins has won five straight and 11 of 12 on the strength of slick jiu-jitsu and a pair of heavy hands. What's more, this is the biggest fight of his career, and he has to know that.
So you know what? Sound the upset alarms here. Cerrone, always prone to attention lapses of all sorts, may be too busy counting his money before it's in his hand, and a hungry Martins will swoop in and catch him with his head turned.
Prediction: Martins, submission, Round 2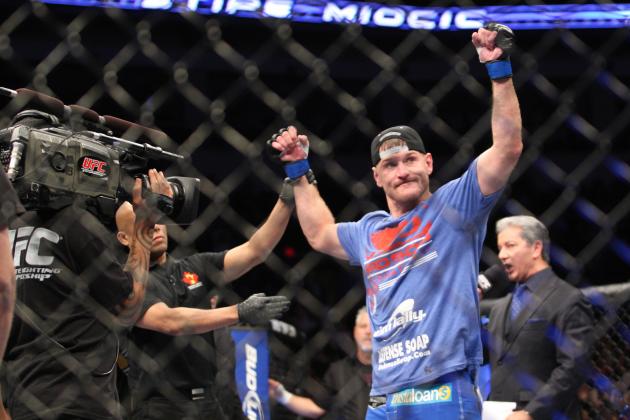 Bruce Fedyck-USA TODAY Sports
Stipe Miocic
Division: Heavyweight
Records: Stipe Miocic (10-1), Gabriel Gonzaga (16-7)
See it on: Fox
Gonzaga has made a career of surprising people. Just ask Mirko Cro Cop or, much more recently, Shawn Jordan. He's an unsung fighter who deserves more recognition for the giants he's slayed over the years.
You may sense a "but" coming. And you are correct. He's not going to pull the upset on Miocic. The former Golden Gloves boxer is younger, faster and more athletic. Gonzaga won't be able to land anything heavy or get the action to the mat. He'll hold up under fire, but this one won't be close.
Prediction: Miocic, unanimous decision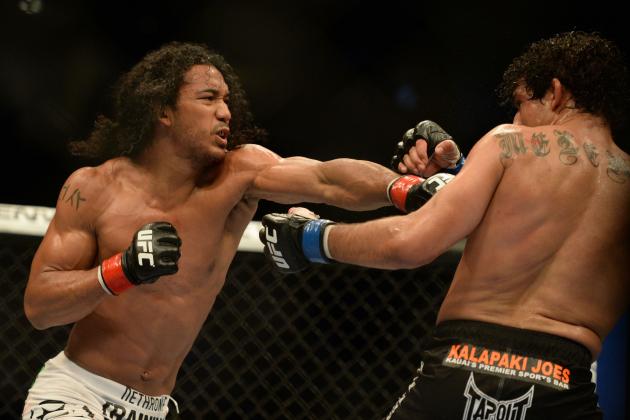 Kyle Terada-USA TODAY Sports
Benson Henderson
Division: Lightweight
Records: Benson Henderson (19-3), Josh Thomson (20-5)
See it on: Fox
The main event should go right by the book. Despite a championship pedigree and plenty of talent, Thomson has "happy to be here" written all over him. Bendo, on the other hand, is probably pretty angry to be here after losing his title to Anthony Pettis.
Henderson will do what he always does: clinch it up, prevent takedowns, stay elusive and get the last word in on every exchange. Thomson will be frustrated before the end of the first round.
Prediction: Henderson, unanimous decision


Scott Harris writes about MMA and other subjects for Bleacher Report. You are hereby invited to follow him on Twitter.