Peyton Manning did his best to silence his playoff critics, leading the Denver Broncos to a 26-16 victory over the New England Patriots in the AFC Championship Game on Sunday, Jan. 19, at Sports Authority Field at Mile High.
The Broncos are going to the Super Bowl after a 26-16 win over the Patriots! pic.twitter.com/OjF0YB0aYC

— Bleacher Report (@BleacherReport) January 19, 2014
The 37-year-old legendary quarterback completed 32 of 43 passes for an even 400 yards and two touchdowns, capitalizing on a depleted Patriots defense that had no answers for Denver's high-octane offense.
ESPN's Numbers Never Lie alluded to how Manning's yardage total eclipsed that of New England's entire offense:
The Broncos have more passing yards (400) than the Patriots have TOTAL yards (320).

— Numbers Never Lie (@ESPN_Numbers) January 19, 2014
This landmark capturing of the Lamar Hunt Trophy puts the Broncos in Super Bowl XLVIII, where the franchise will look to capture its first Lombardi Trophy since repeating as champions following the 1997 and 1998 seasons.
Manning's counterpart, Tom Brady, did not benefit from what had been an explosive rushing attack in recent weeks. The trio of LeGarrette Blount, Stevan Ridley and Shane Vereen were collectively unproductive, totaling 57 yards on 14 rushing attempts.
With how well Manning played, Brady was forced into catch-up mode in the second half. NFL Network's Albert Breer gave some love to those who blocked exceptionally well for Manning and co.:
Awesome performance by Peyton Manning today. And his offensive line crushed it, too.

— Albert Breer (@AlbertBreer) January 19, 2014
Brady had his opportunities but missed a number of big plays. One notable misfire was to Julian Edelman on a corner route that could have been a momentous touchdown in the early going.
Through three quarters, Manning had surpassed Brady in a lot of ways, but this stat from Fox Sports: NFL's official Twitter account was revealing:
Peyton Manning has now thrown for as many yards in the last 3 quarters as Tom Brady has thrown in his last 7.

— FOX Sports: NFL (@NFLonFOX) January 19, 2014
From the outset, Denver's ground game clearly established itself as superior, while the Broncos' front seven wouldn't let the Patriots get much push themselves. That created what turned out to be a huge time-of-possession advantage in the Broncos' favor (35:44 to 24:16).
That resulted in a gassed New England defense, which was taken to task in the second quarter on a 15-play, 93-yard drive engineered by Manning and capped by a one-yard TD strike to Jacob Tamme:
Even with the disparity in supporting casts, it was clear which superstar QB played the best football on this day—it was Manning by a considerable margin.
The injury to Patriots cornerback Aqib Talib in the second quarter made a noticeable impact. Bleacher Report's Mike Freeman didn't approve of the block Wes Welker laid on Talib that knocked him out of the game:
Looked at the Welker pick play on Talib over and over. That was dirty. Just dirty. It was. No question.

— mike freeman (@mikefreemanNFL) January 19, 2014
It seemed no one on the back end for New England could mark any of Denver's capable receiving corps. Renowned retired cornerback Deion Sanders observed how Alfonzo Dennard could not cover Demaryius Thomas:
Dennard can't handle D.Thomas!! At all even with a man over top. Truth

— DeionSanders (@DeionSanders) January 19, 2014
Thomas led Denver's aerial assault with seven receptions for 134 yards and a touchdown, which he scored in the third quarter to give the hosts a commanding 20-3 lead:
TOUCHDOWN BRONCOS!! Peyton Manning ON POINT to Demaryius Thomas for the 3 yard TD. Denver in command 20-3 over New England.

— NFL on ESPN (@ESPNNFL) January 19, 2014
Dave Zirin of The Nation weighed in on the bevy of misfortune that hit the Pats defense:
Patriots defense was just tortured. Like seeing someone get picked apart by a murder of crows.

— Dave Zirin (@EdgeofSports) January 19, 2014
However, with the accuracy and command Manning had throughout the game, he may not have been stoppable no matter who lined up across from him.
ESPN Stats & Info highlighted the roll Manning was on in picking apart the opposition:
The Broncos have had 5 straight drives of at least 60 yards. Their opening drive of the 3rd quarter was their longest of the season (7:08).

— ESPN Stats & Info (@ESPNStatsInfo) January 19, 2014
Brady found Edelman for a seven-yard touchdown with 9:30 left, not long after converting the second fourth-down desperation opportunity of the game.
That cut the deficit to 23-10, but when Brady plowed into the end zone himself from five yards out with just over three minutes remaining, a failed two-point conversion draw to Vereen sealed New England's fate.
Following the game, Brady talked about the uphill effort New England faced (via the Patriots' Twitter account):
"We got in a hole there and it was just too tough to dig our way out." -Tom Brady

— New England Patriots (@Patriots) January 19, 2014
As reported by CNN's Rachel Nichols, Manning was classy in his post-game remarks, lauding the Patriots' consistency and implying that beating them made the win that much more important:
Peyton: "You could rename the AFC Championship after the Patriots, they've been here so many times, so to beat them was significant."

— Rachel Nichols (@Rachel__Nichols) January 20, 2014
Also noteworthy is the damage Manning did to New England compared to the Pats' other opponents in the 2013 season, per ESPN The Magazine:
Peyton Manning put up the first ever 400-yard passing performance on a Bill Belichick-coached Pats team #MAGraphic pic.twitter.com/l9J6YBVr0f

— ESPN The Magazine (@ESPNMag) January 19, 2014
A lot of credit is due to Broncos head coach John Fox, who made some history of his own on Sunday, per Darin Gantt of ProFootballTalk.com:
Six coaches in NFL history have taken two different teams to Super Bowls. One of them is John Fox. #heiswhatheis

— Darin Gantt (@daringantt) January 19, 2014
Here are some letter grades for the key performers in this showdown, along with a brief summary of the ramifications this outcome produced.
Grades
Peyton Manning, QB, Denver Broncos: A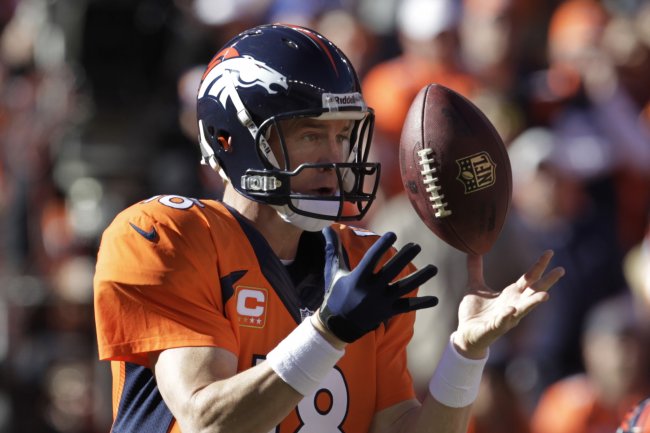 Joe Mahoney/Associated Press
The incredible hype the QB duel received in this contest proved to be a lopsided affair in Manning's favor. He improved to 5-10 lifetime against Brady and the Patriots and did so in tremendous style.
Former Broncos superstar tight end Shannon Sharpe did a great job summarizing how effective Manning was at Mile High:
Peyton Manning is reading the Pats D like the morning paper.

— shannon sharpe (@ShannonSharpe) January 19, 2014
This was an epic effort for Manning in the face of constant scrutiny over his postseason shortcomings. He now has a shot at a second Super Bowl and even further immortality in NFL lore.
Tom Brady, QB, New England Patriots: C-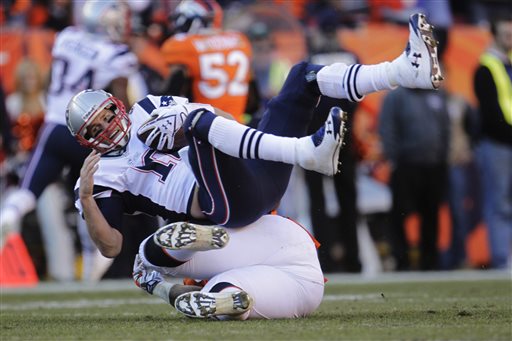 Joe Mahoney/Associated Press
Although he did hang tough and compete until the bitter end, this was not Brady's best showing.
Final QB Stats: Peyton Manning 32/43, 400 yards, 2 TD; Tom Brady 24/38, 277 yards, 1 TD. #Broncos #Patriots

— Eye on Football (@EyeOnNFL) January 19, 2014
A second consecutive AFC title game loss will sting, but the Patriots' faults, scarcity of depth and inability to generate any production from the backfield were more to blame for this defeat than Brady.
How did Peyton Manning's performance impact his legacy?
Terrance Knighton, DT, Denver Broncos: A

Terrance Knighton's ability to disrupt in the trenches and even push the pocket to fluster Brady was a big reason for Denver's effectiveness vs. the run.
The mauling defensive tackle finished with four tackles (two for loss) and a key sack of Brady on fourth down to deny New England any points on its promising first drive of the second half.
LeGarrette Blount, RB, New England Patriots: D
It's impossible to pin all the Patriots' lackluster running game on Blount, but considering his epic performances from the previous two weeks, he was a massive disappointment.
Blount had New England looking like a juggernaut that could go into Denver, set the tone physically and keep Manning off the field. It wasn't to be, however, because the 250-pounder logged just five carries for six yards.
What's Next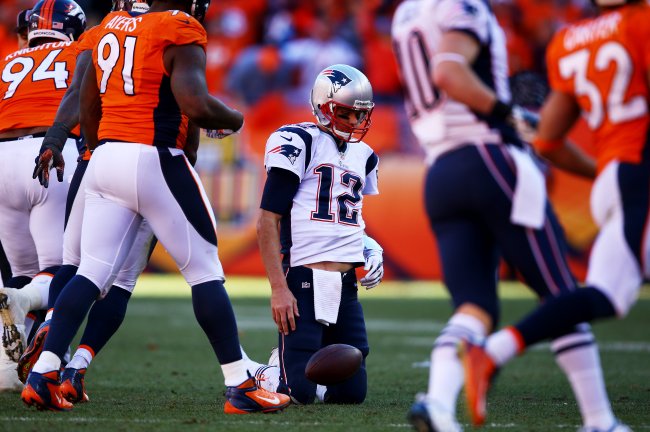 Doug Pensinger/Getty Images
It's been nearly a decade since the Patriots have won a Super Bowl, so perhaps the narrative about their postseason prowess will adjust as they enter their offseason. Then again, it was rather amazing this team overcame so much just to get to this juncture of the playoffs.
The Patriots are the 2nd team to lose back-to-back AFC Championships in the last 25 years (2009-10 Jets). #NEvsDEN

— ESPN Stats & Info (@ESPNStatsInfo) January 19, 2014
Manning's amazing display fortifies his postseason and overall legacy, but he'll have to finish it off with a championship against the Seattle Seahawks, who sport a far superior defense compared to New England.
Eli Manning won a Super Bowl on Peyton's home turf 2 years ago. In 2 weeks, Peyton can return the favor. #SB48 pic.twitter.com/MEv6EOK55D

— NFL (@nfl) January 19, 2014
If he can become the first quarterback ever to lead two different franchises to a Super Bowl win, Manning would inch closer to the greatest-of-all-time title.