The Premier League had better watch out: Santi Cazorla's coming back to town.
Last season, the diminutive Spaniard was a giant in the Arsenal team. Come the end of the season, he was voted the Gunners' official Player of the Season by a considerable majority.
This season has been rather different. At times, Cazorla has been so peripheral as to occasionally appear even smaller than his 5'4" frame.
However, it seems he is finally finding something like his best form. Against Fulham, he scored the two goals needed to break the Cottagers' resolve and give the Gunners victory. Combined with his searing strike against Tottenham in the FA Cup, Cazorla now has three goals in his last three appearances.
All over. Santi Cazorla 2 Fulham 0. Arsenal stay top.

— John Cross (@johncrossmirror) January 18, 2014
It's heartening for Arsene Wenger, especially in the light of losing Theo Walcott to a cruciate ligament injury. Cazorla was already an important player prior to losing Walcott. Now that Wenger has lost an effective wide option, the Spaniard becomes absolutely integral.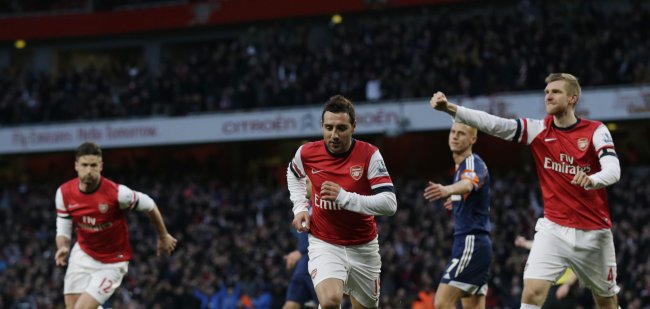 Matt Dunham/Associated Press
His two goals against Fulham showed just what he can bring to the team. The first was the consequence of a move he started, dropping deep in to the midfield and linking with Olivier Giroud and Jack Wilshere before using his right foot to place the ball neatly in to the bottom corner.
Within five minutes, he doubled his tally. When a cross from ex-Malaga team-mate Nacho Monreal was cleared to the edge of the box, Cazorla was there to bring it instantly under control. This time, he used his left foot to drive the ball low and beyond the despairing dive of the opposition goalkeeper.
It was notable that although both of Cazorla's goals were sweetly struck, each was hit with a different foot. Few Premier League players are as genuinely two-footed as the Spanish international. It gives him an enormous advantage: defenders cannot simply show him onto his weaker foot. As he demonstrated at the Emirates Stadium, he has no weaker foot.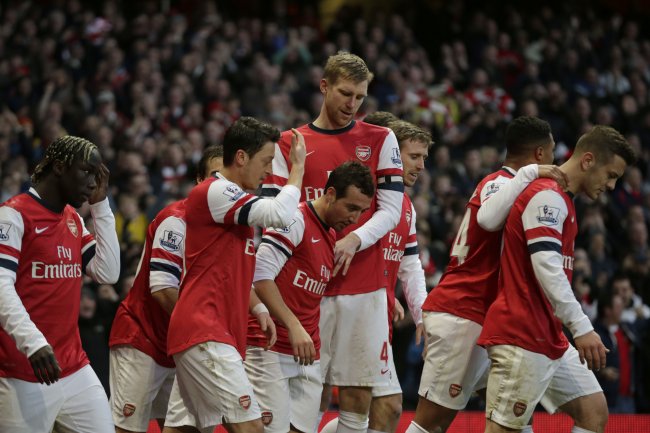 Matt Dunham/Associated Press
After the match, Arsene Wenger told Arsenal.com that Cazorla is finally over the injury problems that dogged the first half of his season:
He was out for a long time at the start of the season and had some injury problems. After that he had an ankle problem and only recently, since mid-December, has he come back to his level.
Another encouraging sign in this game was the contribution of Lukas Podolski. Like Cazorla, Podolski has not had a great impact on Arsenal's season thus far. Admittedly, he can point to the mitigating circumstance of a four-month injury.
However, his cameo against Fulham suggested he is coming back to something approaching his best. Within minutes of coming on, he seemed determined to test the opposition keeper. He was particularly unlucky with one stunning strike that was tipped onto the post.
With Cazorla and Podolski returning to form, Arsenal's title challenge is gathering momentum at just the right time.
James McNicholas is Bleacher Report's lead Arsenal correspondent and will be following the club from a London base throughout the 2013-14 season. Follow him on Twitter here.