Day 6 at the Australian Open was short on surprises, but there was still plenty of exciting action as many of the top players in both draws continued the march toward a potential Grand Slam title Down Under in Melbourne.
Although sizzling temperatures have largely been the story thus far, the players got a reprieve on Day 6. The weather was far more tolerable, and that showed up in the level of play, with many of the sport's top stars thriving.
With Rafael Nadal, Andy Murray and Roger Federer taking care of business on the men's side, as well as Victoria Azarenka, Maria Sharapova and Sloane Stephens in the women's bracket, this is shaping up to be a fight to the finish with almost every high seed still in contention.
Here are all of the singles scores from Day 6 at the Aussie Open, along with the top storylines that engaged tennis fans at the year's first Grand Slam.
Day 6 Men's Singles Results

| | |
| --- | --- |
| Match | Result |
| Roger Federer (6) def. Teymuraz Gabashvili | 6-2, 6-2, 6-3 |
| Rafael Nadal (1) def. Gael Monfils (25) | 6-1, 6-2, 6-3 |
| Andy Murray (4) def. Feliciano Lopez (26) | 7-6(2), 6-4, 6-2 |
| Jo-Wilfried Tsonga (10) def. Gilles Simon (18) | 7-6(5), 6-4, 6-2 |
| Grigor Dimitrov (22) def. Milos Raonic (11) | 6-3, 3-6, 6-4, 7-6(10) |
| Kei Nishikori (16) def. Donald Young | 7-5, 6-1, 6-0 |
| Roberto Bautista Agut def. Benoit Paire (27) | 6-2, 6-1, 6-4 |
| Stephane Robert def. Martin Klizan | 6-0, 7-6(2), 6-4 |
AusOpen.com
Day 6 Women's Singles Results

| | |
| --- | --- |
| Match | Result |
| Maria Sharapova (3) def. Alize Cornet (25) | 6-1, 7-6(6) |
| Garbine Muguruza def. Caroline Wozniacki (10) | 4-6, 7-5, 6-3 |
| Victoria Azarenka (2) def. Yvonne Meusburger | 6-1, 6-0 |
| Jelena Jankovic (8) def. Kurumi Nara | 6-4, 7-5 |
| Agnieszka Radwanska (5) def. Anastasia Pavlyuchenkova (29) | 5-7, 6-2, 6-2 |
| Dominika Cibulkova (20) def. Carla Suarez Navarro (16) | 6-1, 6-0 |
| Sloane Stephens (13) def. Elina Svitolina | 7-5, 6-4 |
| Simona Halep (11) def. Zarina Diyas | 6-1, 6-4 |
AusOpen.com
Top Men's Seeds Roll into Round of 16
Michael Dodge/Getty Images
With Rafael Nadal, Andy Murray and Roger Federer all in action on Day 6, there was a definite possibility that one of them would fall victim to an upset. That ultimately didn't come to fruition, though, as all three played essentially flawless tennis in straight-sets victories.
Rafa is the No. 1 seed in the tournament, and he proved why against a tough opponent in No. 25 Gael Monfils. The athleticism and never-say-die attitude of Monfils makes him an extremely difficult player to beat, however Nadal barely broke a sweat in losing just six games for the entire match.
As easy as 1, 2, 3. World No. 1 Rafa Nadal downs Gael Monfils 61 62 63 in 2:03. #AusOpen #ESPNAO

— ESPNTennis (@ESPNTennis) January 18, 2014
The score line makes it seem as though Nadal blew past Monfils without any concerns whatsoever, but there was still some drama. Rafa seemed to injure his ankle in a scary moment that was captured by the Australian Open's Twitter account, but he was able to recover.
Rafa injured? #Nadal turns his ankle and he doesn't look at all happy. Watch it here: http://t.co/85nfddEiQZ #ausopen

— Australian Open (@AustralianOpen) January 18, 2014
After how well he played, it's difficult to argue with Nadal's assessment of his game right now.
'I played well from everywhere, very good forehand, control, winners, movement, backhand' - #Nadal feels very confident w/ his game #ausopen

— Australian Open (@AustralianOpen) January 18, 2014
Murray had an interesting opponent on his hands in the form of Spain's Feliciano "Deliciano" Lopez. After outlasting Lopez in a first-set tiebreak, the Brit took control of the match and didn't show any signs of trouble in a breezy victory that put him in the Aussie Open's fourth round for the sixth consecutive year.
#Murray stretches his run to 6-straight years in the #ausopen 4r beating #Lopez 7-6 6-4 6-2. pic.twitter.com/2t4WFyz7bB

— Australian Open (@AustralianOpen) January 18, 2014
With that win, Murray continued his career dominance over Lopez, who simply can't solve the two-time Grand Slam winner.
Another good win in the books for #Murray. He's now 8-0 against Feliciano Lopez. Next up for the Brit, the Lucky Loser Robert. #ESPNAO

— ESPNTennis (@ESPNTennis) January 18, 2014
Murray has his work cut out for him when it comes to reaching the final, since he is in the same half of the draw as Nadal and Federer. But his form suggests that he could be among the final two men standing in Melbourne for the fourth time in five years.
Speaking of Federer, the No. 6 seed is once again playing the type of tennis that his fans have grown accustomed to seeing. The Swiss superstar didn't have much trouble at all in dispatching Russia's Teymuraz Gabashvili.
Lucky 13 for #Federer, he reaches #ausopen 4th round for the 13th-straight year beating Gabashvili 6-2 6-2 6-3. pic.twitter.com/IRNctzns0q

— Australian Open (@AustralianOpen) January 18, 2014
The win was a symbolic one for Federer in that it represented the 14th anniversary of his first Aussie Open match.
Did You Know?: 14 years ago today #Federer played his 1st match ever at the #ausopen. Since then Fed has won 71 matches here. #ESPNAO

— ESPNTennis (@ESPNTennis) January 18, 2014
Despite Federer's seemingly easy win, he admitted that it was much tougher than it looked due to Gabashvili's unpredictability.
"It was an interesting match, I had to defend much more...it was in a way a tricky match today" @rogerfederer #ausopen

— Australian Open (@AustralianOpen) January 18, 2014
After a fairly fortuitous run of opponents in the first three rounds, Fed now faces his toughest test of the tournament thus far in the form of Jo-Wilfried Tsonga. The Frenchman has given Federer some trouble in Grand Slam tournaments, and he is confident that he can oust the legendary champion again.
"I already did twice...it's a good opportunity for me, it's always nice to play against (him)" @Tsonga7 on his Grand Slam wins v #Federer

— Australian Open (@AustralianOpen) January 18, 2014
Federer appears to be in much better form now than he was last year, so it will be interesting to see if he is up for the challenge.
Azarenka and Sharapova Cruise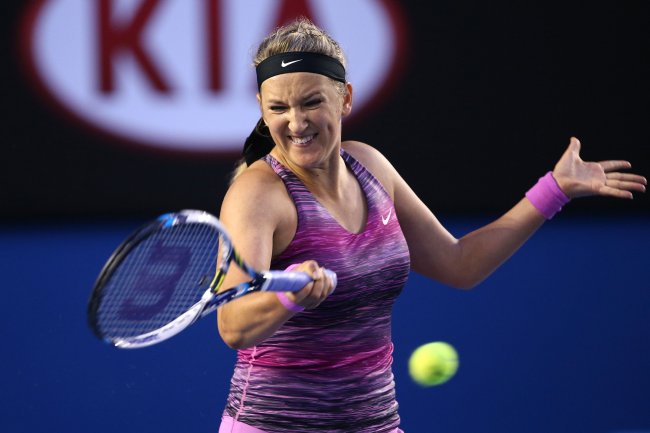 Clive Brunskill/Getty Images
The consensus seems to be that No. 1 Serena Williams will win the 2014 Australian Open title with relative ease, but they play the matches out for a reason. Williams will have some tough challenges to overcome in order to reign supreme, and beating No. 2 Victoria Azarenka in the final could potentially be her final roadblock.
Vika is the two-time defending champion in Melbourne, and she came one step closer to making it a three-peat on Day 6 by dominating Yvonne Meusburger in just one hour.
.@vika7 takes the first set over #Meusburger 6-1 in 37 minutes. What are your predictions? #ausopen pic.twitter.com/wNZbJkVMK9

— Australian Open (@AustralianOpen) January 18, 2014
With that win, the Belarusian star is now undefeated in her past 17 matches at the Australian Open, and she hasn't shown any signs of slowing down.
17 matches in a row now for Azarenka at the @australianopen. She cruises to a 61 60 win over Meusburger. #ESPNAO #AusOpen

— ESPNTennis (@ESPNTennis) January 18, 2014
Perhaps that will change in the Round of 16 when Azarenka meets American Sloane Stephens. The No. 13 seed took care of Elina Svitolina in straight sets, which means we'll see a rematch of last year's semifinal clash.
.@Vika7 Azarenka beats Meusburger 61 60 to set #AusOpen R16 clash vs @Sloanetweets. A rematch of last year's SF! pic.twitter.com/B02s3PfVPw

— WTA (@WTA) January 18, 2014
In addition to No. 2 Azarenka moving on, No. 3 Maria Sharapova continued her quest for a second Australian Open title with a win over No. 25 Alize Cornet that nearly got away from her in a second-set tiebreak.
#Sharapova fights off set point v Cornet to advance 6-1 7-6 to fourth round meeting v Cibulkova. #ausopen pic.twitter.com/VfZZIreoqA

— Australian Open (@AustralianOpen) January 18, 2014
Sharapova was able to hold on, though, and she looked much better than she did in her marathon victory over Karin Knapp. Even so, Sharapova admitted that she could have done a better job of putting the match away rather than allowing Cornet to hang around.
"There were a few different times when I could have taken control of that match" @MariaSharapova #ausopen pic.twitter.com/ZkSxVY2fdF

— Australian Open (@AustralianOpen) January 18, 2014
Serving has been a major issue for Sharapova in this tournament as she double-faulted eight times against Cornet. This came after double-faulting 21 times in her first two matches of the tourney, per ESPN Stats & Info.
Maria Sharapova: looks to reach Australian Open 4th rd. Can she overcome serve issues? Already has 21 double faults in 2 matches

— ESPN Stats & Info (@ESPNStatsInfo) January 17, 2014
Sharapova must now upend No. 20 Dominika Cibulkova, who is playing her best tennis in quite some time. It won't be an easy match for Sharapova, but she has proved able to gut out tough wins.
Caroline Wozniacki Upset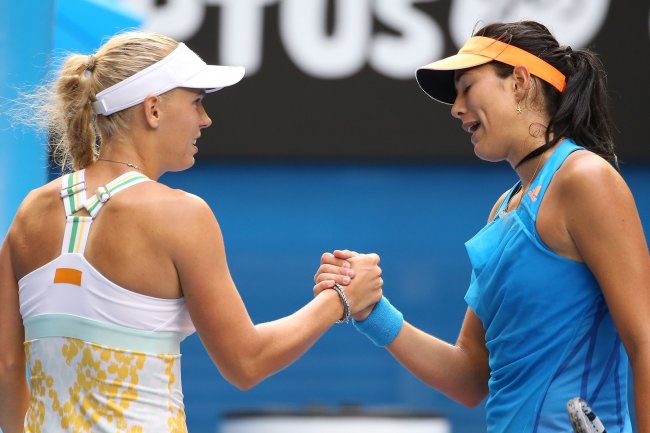 Michael Dodge/Getty Images
Day 6 wasn't all good for seeded players as women's No. 10 Caroline
Wozniacki
failed to make it out of the third round. The former No. 1 player was a big favorite over Spain's
Garbine
Muguruza
, but the Dane was upended by the 6-foot rising star in what may have been the biggest upset of the tournament to this point.
Upset of the tournament? #Muguruza knocks out 10th seed #Wozniacki 4-6 7-5 6-3. Did you see this coming? #ausopen

— Australian Open (@AustralianOpen) January 18, 2014
Who will win the 2014 Australian Open women's singles title?
Wozniacki obviously has the ability to compete with the very best players in the world—since she has done it before—but she has really struggled to find her form over the past couple of years. Some like to blame it on preoccupation with fiance Rory McIlroy, but that doesn't seem fair.
Wozniacki has always been widely regarded as an excellent defensive player, but she doesn't pack an offensive punch. That became an issue against Muguruza since the big Spaniard controlled the pace of the match after dropping the first set. Her big hitting was too much for Wozniacki, since the Dane didn't have enough in her arsenal to fight back.
After the match, a disappointed Wozniacki chose not to reflect upon some of the missteps she made against Muguruza.
"You can always look back and say that you've done the wrong thing but that's not the point" #Wozniacki disappointed about her loss today

— Australian Open (@AustralianOpen) January 18, 2014
Wozniacki did express the resolve necessary to be one of the top players in the world when she tweeted following the match, however.
Lost in 3 sets today after a tough battle! That's sports sometimes.. Back to the practice court to work hard!

— Caroline Wozniacki (@CaroWozniacki) January 18, 2014
At 23 years of age, there is certainly time for Wozniacki to return to an elite level. Losses to relative unknowns like Muguruza are tough to figure out, but Wozniacki still has an opportunity to be a true contender if she keeps a positive attitude and can find an extra gear offensively.
Follow @MikeChiari on Twitter