There's only one thing bigger than the 2014 NFC Championship Game, but the San Francisco 49ers and Seattle Seahawks must deal with one another before one team can reach Super Bowl XLVIII.
They are considered to be the top two teams in the NFL by most pundits, so it's going to take a few standout performances for one team to tip the balance of the game in its favor.
The two NFC West rivals split the season series 1-1, but the 49ers were badly beaten in Week 2 by the Seahawks, 29-3, the last time they traveled north to compete at CenturyLink Field.
These following stars must come through with signature games in order to propel their respective teams into the Super Bowl.
San Francisco 49ers: Colin Kaepernick, QB
You've likely heard Colin Kaepernick has struggled in Seattle, but you may not be aware of just how bad he's been at "The Link."
Completing just 32 of his 64 attempts (50 percent) with one touchdown, four interceptions and another turnover on a lost fumble, Seattle has been Kap's Kryptonite to this point in his career. Not surprisingly, the 49ers haven't been close in either game, losing by a combined score of 71-16.
Joe Montana made news on Jan. 16 when he offered the young signal-caller a bit of advice, as reported by Jarrett Bell of USA Today Sports:
I like his mobility and that he's getting the ball downfield. But sometimes, he needs to be more accurate in the pocket with pressure...He'll look and then he's off and running. I still think the thing is the pocket and making those tight throws from the pocket.
Likely, it'll take a few of those tight throws from the pocket that Montana's referring to for Kaepernick to lead the 49ers to victory over their archrival.
That said, it'll also likely take a few dynamic scrambles, too. His ability to get out of trouble with his legs has been such a huge weapon the past two postseasons for the 49ers, and now's not the time for him to stop running.
If Kaepernick struggles, then the 49ers will likely lose. If he has a signature game, however, then the 49ers will advance to the Super Bowl for the second year in a row.
Seattle Seahawks: Marshawn Lynch, RB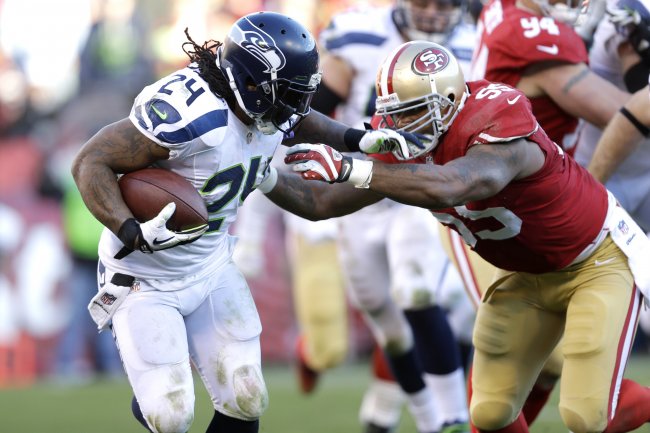 Marcio Jose Sanchez/Associated Press
Marshawn Lynch has been terrific against the 49ers at CenturyLink Field the past couple of times around, totaling 265 yards and five touchdowns. He's been the catalyst for Seattle's offensive success in those games.
However, during the Week 14 loss at Candlestick, Lynch wasn't able to make as much headway against San Francisco's front seven, rushing for just 72 yards on 20 carries, though he did manage a rushing touchdown.
Not surprisingly, the Seahawks lost the game, 19-17, because the 49ers were able to corral Russell Wilson for the most part while at the same time containing Lynch.
Wilson hasn't been sharp of late, either, as pointed out by ESPN Stats & Info:
Since the last Seahawks-49ers matchup on Dec. 8, Kaepernick and Russell Wilson have gone in opposite directions pic.twitter.com/Cd7WYSYo3h

— ESPN Stats & Info (@ESPNStatsInfo) January 17, 2014
San Francisco's defense has been stellar against the pass all year long, and it's likely Wilson will struggle without Percy Harvin in the lineup.
This means Lynch is going to need to carry his offense, just like he did in the divisional round against the New Orleans Saints, in order to secure the victory.
Seahawks fans will be pleased to know B/R's Tyson Langland believes he'll do just that:
In the last two games in Seattle, the Seahawks averaged 174 rushing yards to San Francisco's 91, and Marshawn Lynch out-rushed Frank Gore 209 to 44. The Seahawks are allowing just 93.8 rushing yards at home the last two seasons. Seattle advances to the Super Bowl using the same formula in the conference title game.
San Francisco 49ers: Justin Smith, DE
As previously mentioned, Lynch has been a beast the past two times the 49ers came into Seattle. If he's again allowed to run rampant, then San Francisco will almost certainly lose the game.
This means Justin Smith must have a huge game in the trenches for the 49ers. Everyone points to San Francisco's talented quartet of linebackers as the team's biggest strength, but Smith is the cornerstone upon which this dynamic front seven is built.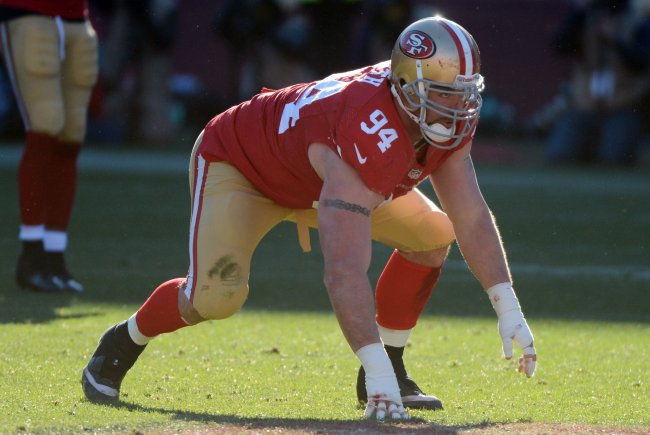 Kyle Terada-USA TODAY Sports
Smith has been handled by Seattle's offensive line both times the 49ers battled the Seahawks this season, however. Pro Football Focus (subscription required) gave him a negative grade against the run in both contests.
Smith must win those battles this time around.
The veteran defensive end isn't just utilized to stop the run, though. His ability to press the pocket on passing downs has been a huge key to Aldon Smith and Ahmad Brooks' success rushing the passer off the edges.
Russell Wilson provides a stiff challenge, however. He can get out of trouble as well or better than any signal-caller in the league. This means Smith must play with supreme discipline and stay in front of Wilson so that his teammates can make plays behind the line of scrimmage.
Follow me on Twitter @JesseReed78