The Top 10 Players in Orlando Magic History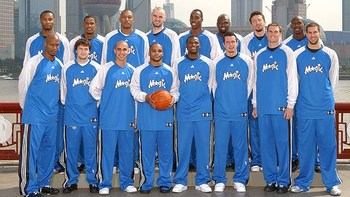 The Orlando Magic, in their 20th season in the NBA, have made it to the NBA Finals for the second time in team history. They are going up against the L.A. Lakers playing the role of underdog, similar to how they went against the Houston Rockets in the 1995 NBA Finals when they were swept.
But if there is one thing that the Magic have shown this season, it's that they don't back down from a challenge.
After such an important milestone in a team's history, it's good to look back on the best players in team history and see where the current group ranks among them.
This list is the top 10 players in Orlando Magic history, judged by how well the player played for the Magic (if you were mediocre with Orlando, but were an All-Star elsewhere, you get no love. I'm talking to you, Dominique Wilkins).
Honorable Mention
These are five players that I had to mention as just important for the team's history. I will just sum each up in 10 words (clockwise from top-left):
Pat Garrity - Good role player, shot very well, 10 seasons with team
Grant Hill - Superstar before Magic, injuries derailed his career, solid when healthy
Bo Outlaw - Great rebounder, great leader, very popular with fans, wore goggles
Jameer Nelson - All-Star point guard, improved this season, injured shoulder...out
Tracy McGrady - All-Star and MIP with Magic, traded for Steve Francis...ouch
No. 10 - Rashard Lewis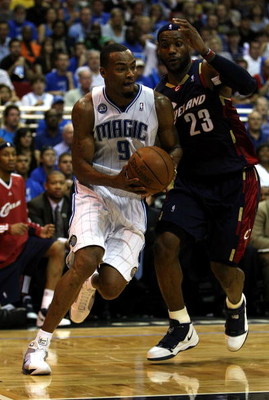 Lewis was a star small forward for many years with the Seattle SuperSonics who could score in a multitude of ways. When he came to Orlando, he moved to power forward and his weapon of choice became the three-pointer.
In Seattle, the most three-pointers he made in a season was 173, and in Orlando he has had at least 220 in each of his two seasons. Lewis' scoring prowess has been a major reason for Orlando's success this season.
No. 9 - Hedo Turkoglu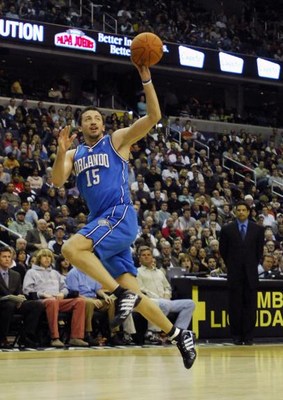 The 2007-08 Most Improved Player evolved from a solid sixth man with the excellent early '00s Kings to a key star with the 2009 Eastern Conference champions.
Perhaps the most versatile player on Orlando's current roster, Turkoglu has averaged 16.8 points, 5.3 rebounds, and 4.9 assists this season, has been a much improved defender, and has scored in a plethora of ways from driving inside to hitting the outside three.
No. 8 - Dennis Scott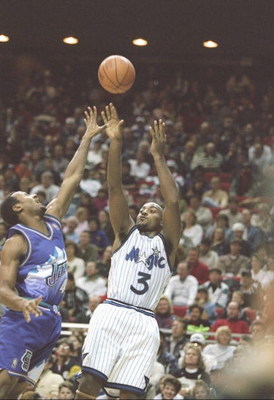 "3D" is the all-time Magic leader in three-pointers made with 981 and is third in percentage with .403. A former fourth-overall pick of the team, Scott spent eight solid seasons with the team.
His best season was the 1995-96 campaign when he averaged 17.5 points and led the league in three-pointers with 267.
Scott never accumulated many rebounds or assists, was solid on defense but was mainly just a volume outside shooter used to take the pressure off of Shaquille O'Neal and Penny Hardaway. But he is still held in warm regards by Magic fans
No. 7 - Scott Skiles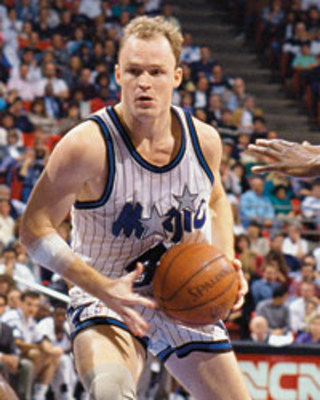 While many currently know him as the balding, hot-headed coach of the Bucks and/or Bulls, Skiles was a very good point guard for the Magic in the mid-to-late-'90s.
Despite only spending four seasons with the team, Skiles is the all-time Magic leader in total assists and assists per game with a blazing 7.2.
He also holds the all-time NBA record for assists in a game with a mind-boggling 30 in the same season that he won the Most Improved Player (for those of you counting, that is the third Magic we've discussed thus far who has won the award.
Plus, he was great in NBA Jam.
No. 6 - Horace Grant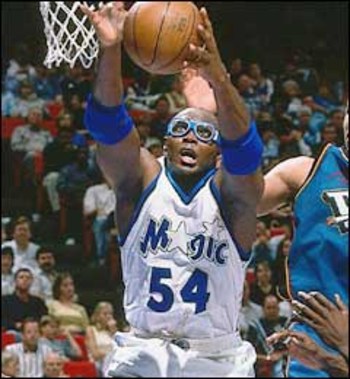 Ah, the goggles. The symbol of a man. A man who was not afraid to do the dirty work and clean-up while the stars are in the spotlight.
Grant is fourth all-time in Magic history in rebounds and blocks. He was the starting power forward on Orlando's 1995 Finals team and did most of the clean-up work around the basket.
He was a pretty effective scorer when needed, but for the most part, his job was to take the pressure off of the stars of the team, which he did effectively for the Bulls and Michael Jordan as well as the Magic and Shaquille O'Neal.
No. 5 - Darrell Armstrong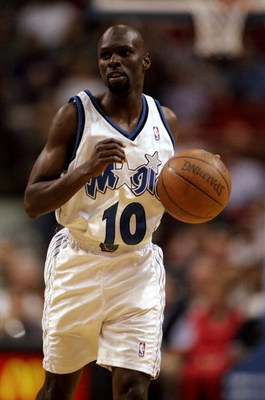 Armstrong is a player who evolved from a garbage-time player in the mid-90's Magic to a key starter in the late '90s/early 2000s Magic and one of their hardest working players.
Armstrong used his speed and hustle to become successful with the Magic, first visible in the 1998-99 season when he won both the sixth Man of the Year and the Most Improved Player (yup, that's four Magic players we've discussed who have been the MIP).
Armstrong was a solid rebounder for a 6'0" guard as he is in the top 10 in Magic history in rebounding in addition to assists, steals, and three-pointers.
No. 4 - Penny Hardaway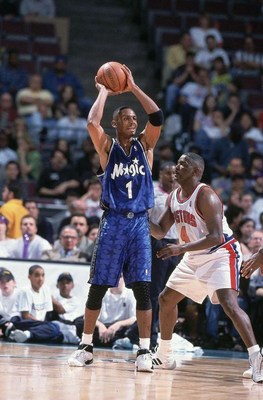 To sum up Penny Hardaway's tenure with the Magic in a small paragraph would be in insurmountable task, but I'll try my best here.
Coming out of Memphis, Penny was seen as the closest thing to the next Magic Johnson since the man himself. He was a 6'7" point guard who could rebound pretty well and had good range.
He formed a great one-two punch with O'Neal and was a major reason for Orlando's "Magical" (ahahaha, I crack myself up) 1994-95 season.
Still high in many statistical categories for Orlando, while his time with Orlando was kind of enigmatic (injury problems and toughness questions in addition to the All-Stars and the accolades), Penny is still one of the best in Magic history.
No. 3 - Shaquille O'Neal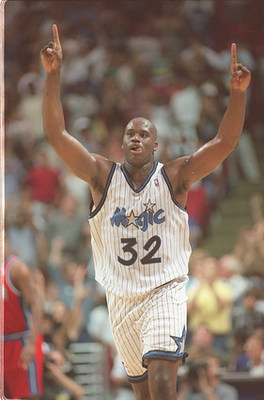 Orlando's first superstar was also one of their best players ever. Shaq lived up to the hype in his four seasons with Orlando, instantly turning the team into contenders and giving them an identity.
Shaq averaged at least 20 and 10 in each of his four seasons with Orlando (although both were quite higher than 20 and 10), becoming the Rookie of the Year and a multiple All-Star.
O'Neal averaged almost 30 points per game in 1994-95 when Orlando made it to the Finals, but lost to Hakeem Olajuwon's Rockets.
No. 2 - Dwight Howard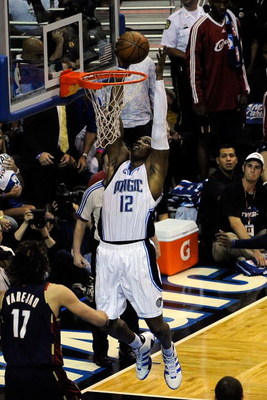 Superman could very well be No. 1 on this list when all is said and done. The former number one overall pick has emerged as the best center in the league.
Already he is the Magic leader in career rebounds and he is high on points and blocks. He helped turned the Magic back into contenders as the team began to build around him.
Now, Howard has become one of the elite franchise players in the NBA and has as bright a future as anyone. But as of now? He's still the second best Magic player of all time. Not bad.
No. 1 - Nick Anderson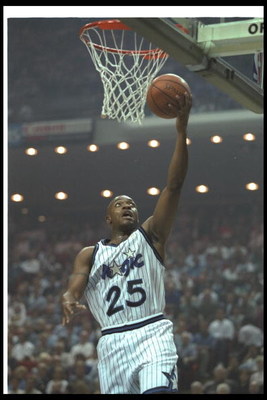 Nick Anderson was on the Magic throughout the spectrum.
He was with the team in the late '80s and early '90s when they were still an expansion team and they lacked any real identity or scorer aside from him. He was looked on to be the leading scorer for the team.
He was there during the contender years with Shaq and effective Penny when he was the third or fourth (some nights even fifth) scoring option and his role was to take pressure off of Penny and Shaq and to play defense.
He was there after Shaq left and when Penny became injured and not as efficient. He was asked to be a main scoring option for the team again, which he was able to do aptly.
A good shooter all-around, Anderson became infamous for his performance in game one of the 1995 NBA Finals when he missed four consecutive free throws that could have sealed a victory for the Magic. Orlando lost the game and the series 4-0.
Anderson's confidence was shot and his free-throw shooting plummeted (even as low as 40 percent one season), but gradually got better by the end of his career. But that is not, and shouldn't be, his legacy with the team because without him, they wouldn't have even made it that far.
He has spent more seasons with the team than any other player in team history. He is the team leader in games played, minutes played, field goals, steals, and points. He is also in the top five in all rebounding categories, assists, free throws, and three pointers.
Truly, he is the player who Magic fans can really be proud of. He is the first draft pick in team history and he was a key player for them in many different situations. Simply put, he is the best player in Orlando Magic history.
Keep Reading

Orlando Magic: Like this team?