Predicting Which Mid-Major College Basketball Stars Have NBA Futures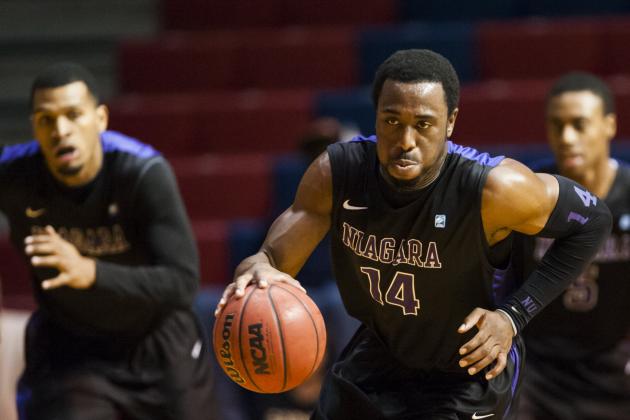 Howard Smith-USA TODAY Sports

A look at the early mock-ups for the 2014 NBA Draft show the same old story: most of those projected to get picked in the first or second round will come from the usual suspects in college basketball's power conferences.
According to NBADraft.net, its latest mock draft predicts 20 of the first 23 players selected will come from either the American, ACC, Big East, Big Ten, Big 12, SEC or Pac-12. The only exceptions are players from overseas.
That doesn't leave much room for standouts from the rest of Division I's 25 leagues, of which there are plenty. Though lacking the pedigree—not to mention publicity machines—of their top-tier brethren, the little guys from the lesser conferences still find ways to sneak into the pros each year.
One only needs to go back to the 2013 draft to see evidence of this. The top overall pick came from outside the big six (now seven, with the Big East now split into two leagues), as Anthony Bennett shined at UNLV, while Lehigh's C.J. McCollum and Gonzaga's Kelly Olynyk were taken as lottery choices.
All told, 12 of the 60 players drafted last season came from mid- or low-major conferences.
Will the same happen this year? A lot depends on the progress and performance made by players between now and late June, not to mention the fickle needs of the drafting teams.
For now, though, here's a look at which mid-major basketball stars might have a future in the NBA.
(NOTE: All statistics are through Tuesday, Jan. 21)
Begin Slideshow

»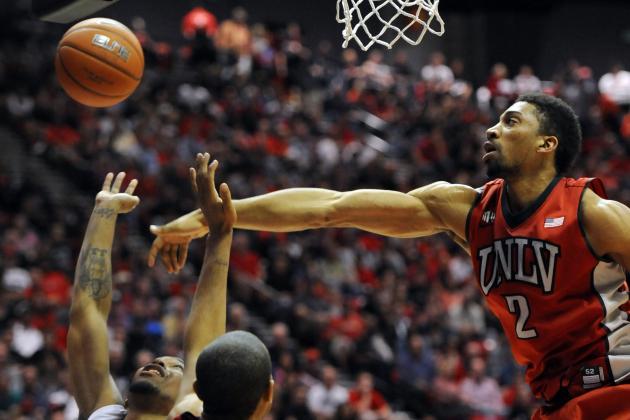 Christopher Hanewinckel-USA TODA

Year: Junior
Dimensions: 6'9", 220 lbs.
Stats: 11.2 points, 9.6 rebounds, 3.6 blocks per game.
Why he could make it in the NBA: The former McDonald's All-American is starting to show the promise and form that Pittsburgh saw when he was part of their 2011 recruiting class. Birch transferred from the Panthers midway through his freshman season, and after a year of so-so production with UNLV he's emerged as one of the country's top shot-blockers.
Birch has made defense his emphasis, using a great leaping ability and good instincts to play bigger than his height. He might not be the ideal size for a starting NBA power forward, but his defensive skills should give him a chance at a decent pro career.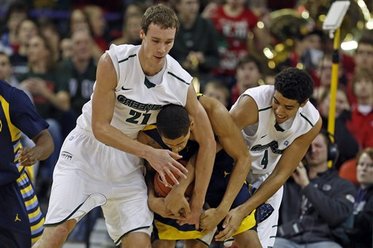 Matthew Ludtke/Associated Press

Year: Senior
Dimensions: 7'1", 235 lbs.
Stats: 17.0 points, 6.3 rebounds, 3.3 blocks per game.
Why he could make it in the NBA: The days of the 7-footer being solely a low-post presence is mostly gone in the pros, which is why Brown's developing game should get him drafted.
Brown hasn't needed to be that physical to dominate inside in the Horizon League, where his Wisconsin-Green Bay team is rolling. But while he's getting points in the paint, he's also showing an increased fondness for perimeter play, particularly when it comes to his three-point shooting.
Brown has taken 54 threes in the Phoenix's first 18 games, making 24 of them for a solid 44.4 percent efficiency. NBA big men who can shoot from the outside are always in need, so expect him to keep working on that stroke to improve his pro prospects.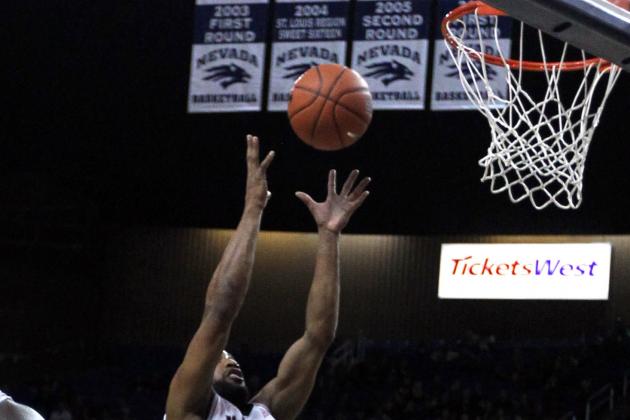 Lance Iversen-USA TODAY Sports

Year: Senior
Dimensions: 6'1", 190 lbs.
Stats: 20.9 points, 3.9 rebounds, 3.9 assists per game.
Why he could make it in the NBA: Burton isn't a pass-first point guard, as the 14.7 shots-per-game average he has this season is far and away tops on his Nevada team. But Burton is hitting those shots at a solid clip, raising his shooting percentage to 46.4 percent.
The key to Burton's game is his ability to get to the rim, because he's not a particularly strong three-point shooter, making just 31.6 percent of his attempts. Instead, he's getting to the line a lot, taking 7.4 free throws a night. With continued work on being able to not only draw defenses to him, but to also dish the ball to the open man, Burton should get a lot of looks from pro teams with backcourt needs.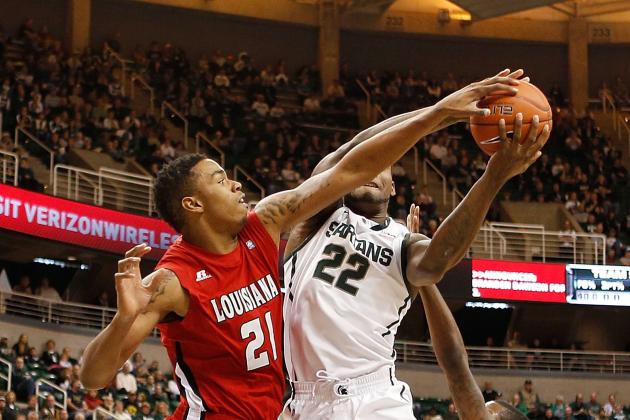 Gregory Shamus/Getty Images

Year: Sophomore
Dimensions: 6'9", 245 lbs.
Stats: 20.8 points, 10.6 rebounds, 2.9 blocks per game.
Why he could make it in the NBA: Long found a way to look impressive in a 39-point blowout against a top-tier team, scoring 25 points against Louisville in December. He had to bang around with Montrezl Harrell, and though he couldn't contain Louisville's post man on defense, he didn't have trouble scoring on him.
Long has improved his shooting as a sophomore, adding more of an outside game—he's hit 39.5 percent of his three-pointers this season—that should make him look more appealing to NBA teams searching for a versatile player with both an inside and outside game.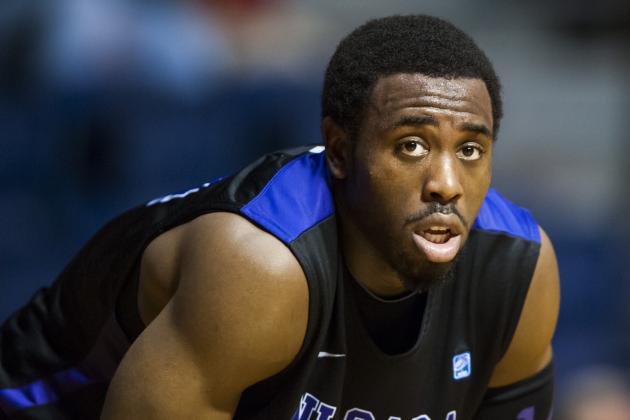 Howard Smith-USA TODAY Sports

Year: Junior
Dimensions: 6'3", 210 lbs.
Stats: 27.6 points per game, 3.4 rebounds, 1.3 steals per game
Why he could make it in the NBA: Mason is the son of an NBA star (former New York Knicks bruiser Anthony Mason) who is crushing the rest of Division I with his scoring. Though his outside shooting—29.5 percent from three-point range—leaves something to be desired, the speedy guard is putting out maximum effort every time he hits the court.
He's also a master at drawing fouls, taking 12.2 free throws per game.
He's a long shot to be taken with a draft pick, as Bleacher Report's C.J. Moore wrote that only one NBA scout has come to watch him so far this season, but if given a chance he's likely to impress.
Mason has his eyes on the pros and said, "I think the NBA is within reason," via Moore.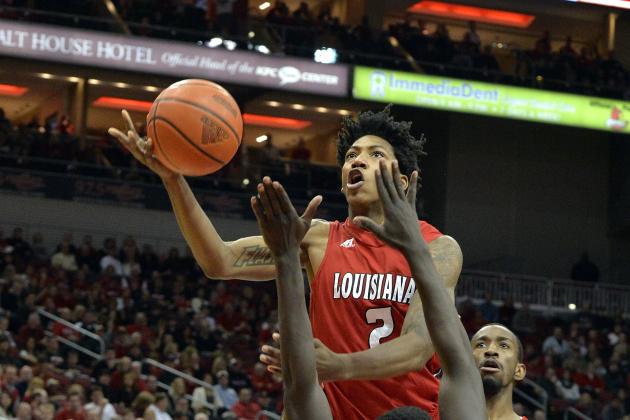 Timothy D. Easley/Associated Press

Year: Junior
Dimensions: 6'3", 190 lbs.
Stats: 19.7 points, 5.6 rebounds, 6.2 assists per game.
Why he could make it in the NBA: USA Basketball only takes the best of the best when it chooses its teams for international competition, which is why Payton's involvement with the under-19 team that won the FIBA World Championship is a big deal.
Playing alongside the likes of Aaron Gordon, Montrezl Harrell and Marcus Smart, Payton shot 57.5 percent from the field over nine games. With Louisiana-Lafayette this season, he's filling up the stat sheet with his unique ability to get to the rim, dish the ball and pull down rebounds.
Payton is also a little more than two weeks removed from a stellar triple-double, scoring 34 while adding 11 rebounds and 11 assists in a Jan. 4 win over Louisiana-Monroe. Those are NBA guard-like numbers.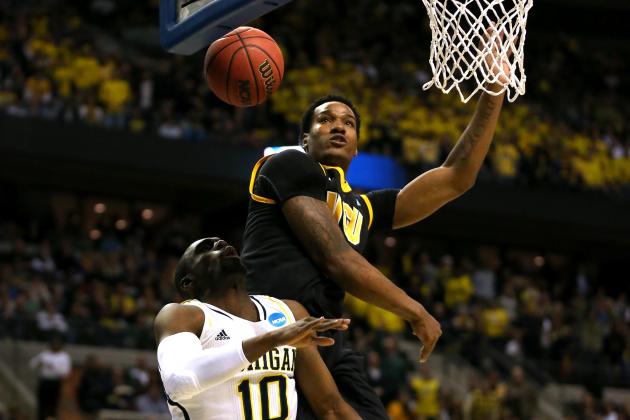 Jonathan Daniel/Getty Images

Year: Senior
Dimensions: 6'9", 250 lbs.
Stats: 11.2 points, 7.8 rebounds, 1.6 steals per game.
Why he could make it in the NBA: Reddic is a force in the paint, though he's still working on being more aggressive on offense. He has no trouble rebounding, averaging nearly three offensive boards per game.
VCU's system doesn't lead to players putting up big numbers, but Reddic has shown the kind of skills and instincts that NBA teams look for. He's probably more on the "project" side and would need some seasoning, but expect him to be on many teams' draft boards.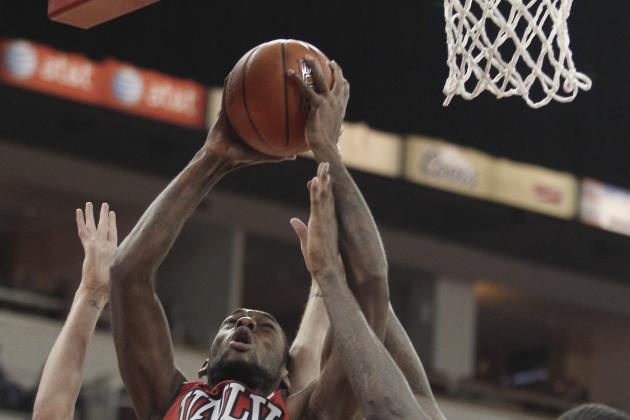 Gary Kazanjian/Associated Press

Year: Junior
Dimensions: 6'8", 215 lbs.
Stats: 12.0 points, 12.4 rebounds, 0.8 blocks per game.
Why he could make it in the NBA: Smith couldn't find a consistent role with Connecticut in his two seasons there, prompting him to transfer to UNLV. He had to sit out last season, but still got to practice against and learn from eventual No. 1 pick Anthony Bennett.
The wait seems to have been worth it for Smith, who has become one of the nation's best rebounders. He has 12 double-doubles in 18 games, including a stellar 18-point, 21-rebound performance in November against Arizona State. The scoring aspect of his game still needs improvement, but his commitment to cleaning up the glass will no doubt get him a shot at an NBA roster spot.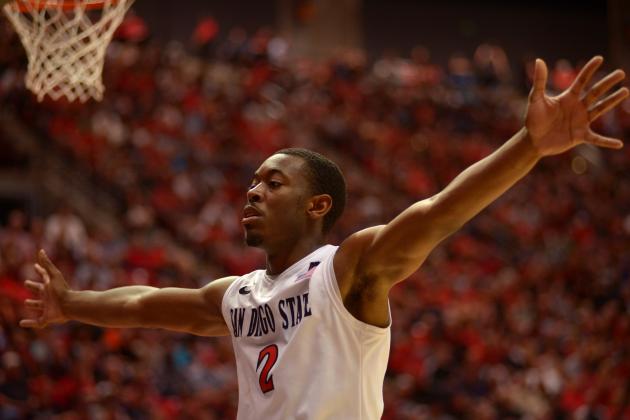 Kent Horner/Getty Images

Year: Senior
Dimensions: 6'3", 195 lbs.
Stats: 17.0 points, 2.8 rebounds, 2.6 assists per game.
Why he could make it in the NBA: Thames could be the next in a recent line of pro players from the still underrated San Diego State program, and like many others, he got there after transferring from a power-conference school.
Thames didn't play much as a freshman at Washington State, so he bolted and came to the Aztecs, where he's played a key role ever since. This season he's become more of a leader, while at the same time upping his aggressiveness on offense, which has enabled him to nearly double his free-throw attempts per game.
He'll need to get stronger, and may be more suited for the rookie free-agent route than as a draft pick, but look for Thames to impress during summer leagues and land a roster spot.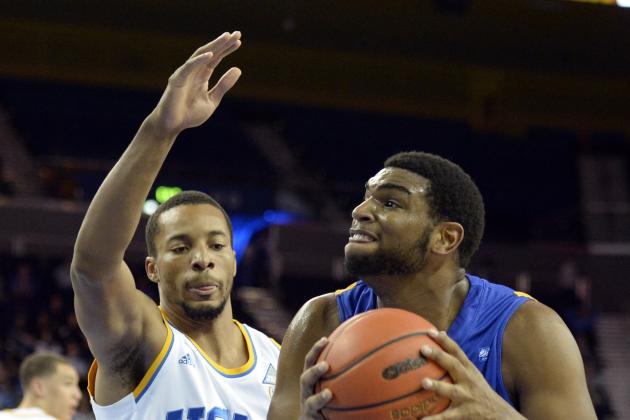 Richard Mackson-USA TODAY Sports

Year: Junior
Dimensions: 6'8", 280 lbs.
Stats: 22.8 points, 11.0 rebounds, 2.4 blocks per game.
Why he could make it in the NBA: Williams is one of the most beastly players in the college game now, using his all-around size to control the interior. He has had at least 15 rebounds in four of the 16 games he's played in, while also making at least 10 field goals in six games.
Williams would probably need another year in college to shore up some issues with speed and to better sculpt his body. He's more likely to be a 2015 draft pick than to get a sniff this year, but expect Williams to be in the mix for a pro career nonetheless.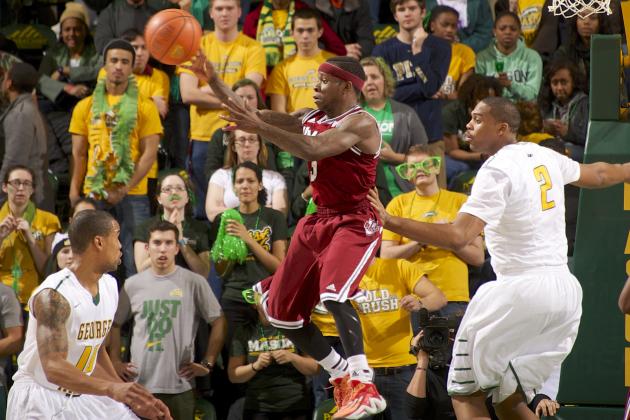 Rafael Suanes-USA TODAY Sports

Year: Senior
Dimensions: 5'9", 175 lbs.
Stats: 16.3 points, 2.7 rebounds, 7.4 assists per game.
Why he could make it in the NBA: Williams has been one of the most amazingly consistent players over his college career, scoring and dishing out at pretty much the same rate for the past three seasons. This year he's been the driving force for a UMass team that's far exceeding expectations at 16-1.
Though his diminutive frame will scare away a lot of teams, his fearlessness is reminiscent of journeyman NBA mini-guard Nate Robinson. Robinson was a first round pick in 2005, though he had the advantage of playing at a power-conference school in Washington. Williams will probably have to go the overseas route or muddle through the D-League for a bit before getting the call from an NBA ballclub.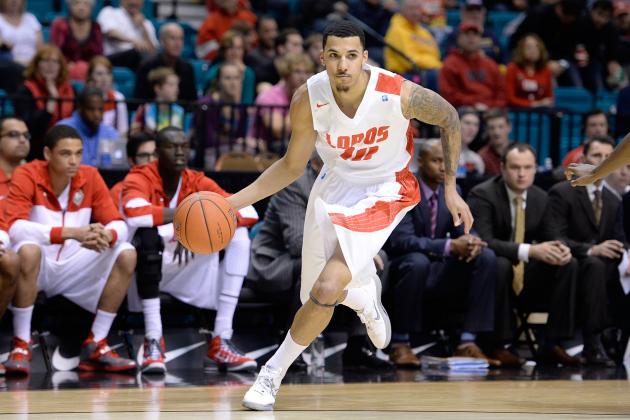 Jeff Bottari/Getty Images

Year: Senior
Dimensions: 6'4", 180 lbs.
Stats: 17.8 points, 3.7 rebounds, 5.5 assists per game.
Why he could make it in the NBA: Williams has been a key contributor for New Mexico for four seasons, but this year he's stepped it up a notch by increasing his ability to get to the free-throw line.
With the skills to drive left or right, he's drawing more fouls and taking 8.6 foul shots per game. While his shooting percentages remain so-so, Williams is getting others more involved by using his driving ability to suck in defenders and dish to open teammates.
He's playing an NBA-type game right now, so if there's a team out there wanting a score-first point guard, look for Williams to be their draft choice.