FIFA 14 Ultimate Team players will have been waiting for the conclusion of this year's Team of the Year reveal.
It's finally upon us, and of course, that means Cristiano Ronaldo, Lionel Messi and Zlatan Ibrahimovic have received upgraded items for lucky (or very rich) gamers to enjoy.
We've already detailed the defenders and midfielders who have also received better statistics after being named in the FIFA World XI—but it's worth noting they are no longer in packs.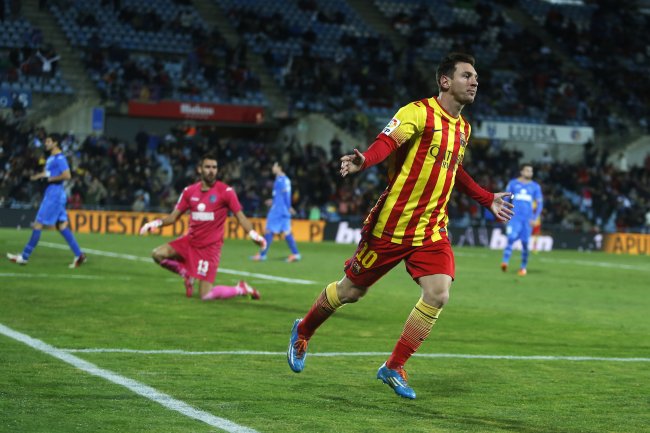 Andres Kudacki/Associated Press
Instead, you've got 24 hours to try and land blue variations of the top three attackers, as tweeted by EA Sports:
#TOTY Forwards are available for 24hrs until Saturday 6pm UK.

— EA SPORTS FIFA (@EASPORTSFIFA) January 17, 2014
For those who are too excited to think, this means the trio will exit packs at 6 p.m GMT/1 p.m ET on Jan. 18. Right, enough of the boring stuff, let's take a look at this campaign's Team of the Year forwards.
FUT 14: Team of the Year Forwards
Zlatan Ibrahimovic, Striker
#TOTY @ibra_official stats - ST 96 OVR - 82 PAC, 98 SHO, 88 PAS, 94 DRI, 58 DEF, 87 HEA. #FUT pic.twitter.com/uA0v6O2Otg

— EA SPORTS FIFA (@EASPORTSFIFA) January 17, 2014
Lionel Messi, Centre Forward
#TOTY Messi stats - CF 98 OVR - 97 PAC, 96 SHO, 92 PAS, 99 DRI, 52 DEF, 77 HEA. #FUT pic.twitter.com/Ip9VjLKt6o

— EA SPORTS FIFA (@EASPORTSFIFA) January 17, 2014
Cristiano Ronaldo, Left Wing
#TOTY @Cristiano stats - LW 98 OVR - 98 PAC, 97 SHO, 87 PAS, 98 DRI, 54 DEF, 92 HEA. #FUT pic.twitter.com/rxcARJrRJB

— EA SPORTS FIFA (@EASPORTSFIFA) January 17, 2014
Now, if you don't realise just how amazing these items are, think about this: Pele is only rated 95 overall.
Which Team of the Year player would you most like to use?
Ronaldo's combination of strength, pace and finishing ability is arguably the most striking, especially when you consider the Real Madrid star's latest variation makes his previous in-form stats seem low.
While it is always a little irritating to see such a great player pushed out wide on FIFA 14 (Marco Reus, that means you), 4-3-3 lovers across the globe will be licking their lips at this one.
Messi's 99-rated dribbling means his boots are laced with glue. Although his weak foot remains at three stars, the Argentinian's left peg is sure to make many opponents weep. Even the normal item has an unbelievable accuracy to its shooting, so it's best to tackle extremely hard if you come across this version in the wild.
Zlatan's shooting is the highest of all three at 98, and deservedly so, too. The Swede has scored a ridiculous variation of goals across the past year—including the Puskas Award-winning overhead kick against England—ensuring this is one for those who are looking to add an unstoppable powerhouse to the front line.
You can check out the entire Team of the Year, including stats, on FUThead.
While it's probably ridiculous to ask if any of these items take your fancy, will you be able to afford such a player?
Be sure to let us know in the comments section below.