Andy Murray's hunt for a maiden Australian Open title reached the quarter-finals on Monday, but only after a significant stumble against lucky loser Stephane Robert.
For the fourth time in the past eight days in Melbourne, Murray appeared on course to avoid the concession of a single set as he had four match points to clinch a routine victory.
However, a drop in standard from the Brit allowed Robert to put a blemish on his record, and an angry Murray found himself smashing his racket before he finally saw off his French rival 6-1, 6-2, 6-7(6) 6-2.
The Times' Neil Harman was not impressed:
Four match points gone by. Racket smashed. First set dropped by Murray in tournament. Silly boy

— Neil Harman (@NeilHarmanTimes) January 20, 2014
The world No. 4 was wasteful both when serving for the match at 5-3 and in the third-set tiebreaker, during which he held a 6-4 lead before ceding his advantage. It soured the eventual win.
The real tests are still to come. Murray will now meet Roger Federer in the last eight, likely followed by a clash with top seed Rafael Nadal and then a showdown with Novak Djokovic if both men get that far.
Federer said of the forthcoming matchup:
#Federer "It's the same draw, just 1 round earlier. I'm just happy I didn't play 5 sets v Joe this year. I'm looking 4ward to playing Andy."

— Australian Open (@AustralianOpen) January 20, 2014
Few players will have had an easier route to the quarters on paper, although Murray made hard work of his fourth-round opponent:
Andy Murray heading out to Hisense Arena again, to face Stephane Robert, unusually his 3rd opponent here outside the top 100.

— Mike Dickson (@Mike_Dickson_DM) January 20, 2014
At 33 years old, lucky loser Stephane Robert (and Murray's opponent tonight) is the oldest man to reach #AusOpen R16 since Agassi in 2005.

— ESPNTennis (@ESPNTennis) January 20, 2014
Robert had actually lost in qualifying, but after being granted a lucky loser spot upon a withdrawal, he became the first such case at the Australian Open to go on and reach the last 16. He told the BBC, via Giles Mole of the Telegraph:
It makes a story. I'm really happy to be this guy. I waited all day on Monday and came back on Tuesday thinking it would be the same.

I was in the player lounge and filling out some papers for the ATP and the referee called me to his office and told me I could play on Court Seven.

He said, 'Are you ready to play?' and I said, 'I'm ready'. I think it was like five minutes. I was unbelievably happy to get in.
Unfortunately for him, the match already looked beyond him after the opening 11 games. The first set was done and dusted inside 25 minutes, thanks to a sudden streak of points in the Brit's favour:
Having finished off his 2nd round game with 23 in a row, Murray racked up 11 successive points to win that 1st set

— Sky Sports Tennis (@SkySportsTennis) January 20, 2014
Start running the ice bath....

— Neil Harman (@NeilHarmanTimes) January 20, 2014
Murray was barely forced to break sweat in the second set either, aided by the drop in temperature around Melbourne. Robert's favoured forehand was thrown with abandon, frequently missing its target to hand his rival a series of breaks.
The first game of the second set was particularly alarming as Robert followed a double-fault with a couple of limp shots into the net. Harman summed up the Wimbledon champion's superiority:
Eleven games in Murray's match and he has won ten of them

— Neil Harman (@NeilHarmanTimes) January 20, 2014
Robert, ranked 119 in the world, was never expected to rattle his more illustrious opponent, but still there had to be admiration for the clinical nature of Murray's assault in those opening two stanzas.
In set one, he won nine of 15 points on the Robert serve, per the tournament's official website. Murray also won over double the number of points picked up by his opponent and conceded only four unforced errors.
If there was a concern in the second, it will have been the accuracy of the first serve, which fell to 58 percent. However, Robert's first delivery was even worse, finding his target with only six of 25 attempts.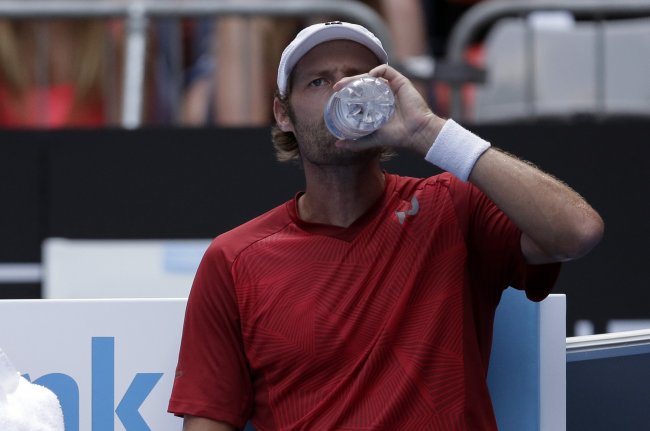 Rick Rycroft/Associated Press
That statistic changed considerably in the third as Robert suddenly enjoyed his best spell of the match. Winning 12 of his opening 15 points on serve, the Frenchman stayed with Murray at 3-3.
Inevitably, his resolve had to subside, but only after the longest game of the match. Five times Murray failed to convert break point but, after a booming backhand winner down the line, the Brit found another to lead 4-3.
Andrew Brownbill/Associated Press
However, still Robert wasn't prepared to disappear from the spotlight, breaking back at 5-5 as Murray served for the match. A tiebreaker was needed, and Murray had to drag himself back from 0-3 and 2-4 down to lead 6-4.
Still he could not finish things off and, after a 70-minute set, Robert held firm to get himself right back into the contest at 2-1. Murray's unforced errors had been the problem, coughing up 27 in set three, contrasted to just 17 across the opening two sets.
His racket paid the price:
#Murray's racquet smash after losing the third set to #Robert - http://t.co/MXgjTW2it3 #ausopen

— Australian Open (@AustralianOpen) January 20, 2014
Typically, order was restored as Murray closed out the match in the fourth, but with Federer next on his agenda, the world No. 4's Australian Open title bid truly begins now.