Earlier Friday, it was announced by various media outlets that Hull City have secured the signing of Shane Long from West Bromwich Albion for an undisclosed fee, although BBC Sport speculates that the fee could rise to around £7million.
Long's departure leaves us with the question of who's going to score the goals to keep West Brom in the Premier League.
OK, so Long wasn't prolific in his time at West Brom—he scored just 22 goals in 87 games for the Baggies—but his tireless work ethic up front more often than not created chances for his team-mates.
Long did the ugly side extremely well. No striker wants to have to work the channels and run themselves into the ground for very little reward, but the Irishman led the line well for West Brom.
The Midlands side is among a number of clubs battling to avoid being dragged into a relegation dogfight. The sides from Hull City, who are 10th in the league, all the way down to Crystal Palace at the bottom are separated by just six points.
We're talking fine margins here.
Let's take a look at West Brom's current options up front then.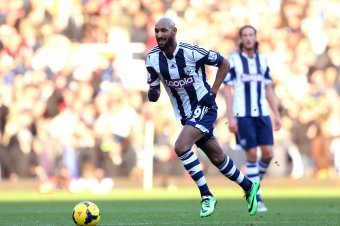 Warren Little/Getty Images
First off, we've got the enigmatic Nicolas Anelka. Controversial goal celebrations aside, Anelka has the pedigree—and the record—to show that he's more than capable of being West Brom's main man.
During Anelka's time in the Premier League, which has included spells at Arsenal, Chelsea, Man City and Liverpool (among others), he's scored 125 goals in 359 games. Not a bad record.
But Anelka isn't the player he once was. He'll be 35 in just a few weeks time and doesn't have the pace that he once did. However, he has bundles of experience and is still just as clever as ever.
Anelka will have an important role to play in West Brom's survival bid.
The Baggies have other options, though.
Forwards Markus Rosenberg and Matej Vydra are unproven at this level, although both have good reputations in their own right. We'll have to wait and see whether they impress new coach Pepe Mel enough to warrant regular starting slots.
That leaves us with Victor Anichebe and Saido Berahino.
Anichebe is a powerful man: quick, strong and explosive. But for some reason, he's never managed to do it regularly in the Premier League. Maybe he'll play more regularly now that Long has left the club.
Berahino is the one who, for me, will be absolutely pivotal if West Brom are to survive this season.
The 20-year-old only made his Premier League debut this season, but he's already turned in some eye-catching performances and scored some great goals, notably at Old Trafford against Manchester United.
He's the one attacking player who's a little bit more inventive than others in the side. He's also relatively unknown compared to some of his more experienced team-mates, which gives him an advantage.
Of course, West Brom's new coach might well want to bring in a new striker to offset the loss of Long.
But who's out there? Finding a prolific striker is notoriously difficult. Unless, of course, you're able to shell out tens of millions of pounds for one.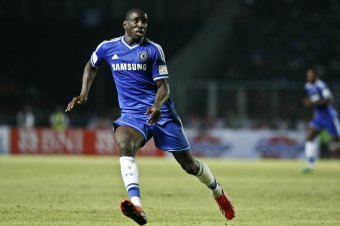 Ulet Ifansasti/Getty Images
An option who might surprise some people is Chelsea forward Demba Ba.
The Senegalese forward's time at Chelsea hasn't been helped by the squad's rotation policy. You get the best out of Ba by playing him regularly and making him feel special.
If West Brom were to make a move for Ba and make him the focal point of the team, they might be able to persuade him to move to The Hawthorns, which would be best for his career—at least in the short term.
Ba's record in the Premier League is quite good. He's scored 39 goals in 88 games.
By making a move to sign Ba, and with players like Anelka, Berahino and Stephane Sessegnon around him, West Brom might just get away with selling Shane Long to one of their rivals.