An unnamed English club have seen their offer of €10 million rejected by Cruzeiro after the first steps were made towards taking Everton Ribeiro to the Premier League.
The player's agent, Robson Ferreira, is reported by the Daily Star's Colin Harvey to have noted that the club are considering their options regarding a sale, adding:
We did bring a 10 million euro offer to Cruzeiro for Everton Ribeiro but we won't reveal the club in order not to affect the negotiations, after all they are in the middle of their season.

We presented the offer to Cruzeiro, we talked and we will schedule another meeting within the next days. The club want to keep him and the player also wants to help the club in the Copa Libertadores. We'll try to merge all the interests.
Harvey notes that United are the club most strongly linked to Ribeiro, although there is no confirmation at this stage that they submitted the offer.
Ribeiro has received massive plaudits in South America and was named in the Brasileiro Serie A Team of the Year for 2013, as well as being named Player of the Year.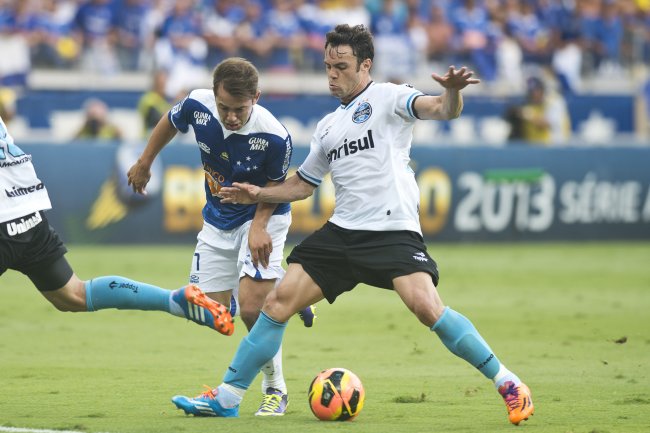 Eugenio Savio/Associated Press
The attacking midfielder only joined the club 12 months ago, so it's no wonder Cruzeiro are eager to hang onto the player whom they plucked from Coritiba last January.
Sky Sports quotes the club's director of football Alexandre Mattos saying:
Everton Ribeiro is one of the players that arrived at Cruzeiro with a lot of potential and along with his team-mates, he managed to turn that into reality. He achieved individual awards, he is happy but there was no offer to convince the club's president. An offer from England arrived yesterday and Cruzeiro turned it down immediately.

Maybe an offer will come that will make Cruzeiro understand it would be a mistake not sell, but the important thing is knowing how to find a replacement of the same level. When someone leaves, we have to have to find a replacement.
The allure of playing in England's top flight is a temptation that many a South American has failed to resist down the years, but Ribeiro's rise to fame could see the Brazilian champions lose their star asset.
Sky Sports' Brazilian correspondent Paulo Freitas has suggested there might be more to the deal than first meets the eye, however:
@mikediscofox Yes, yesterday, according to Cruzeiro's director of football, it was an English third party that made the offer, not a club.

— Paulo Freitas (@Cynegeticus) January 16, 2014
@mikediscofox Or they could just keep Everton Ribeiro at Cruzeiro and then officially Cruzeiro would sell him to another club+

— Paulo Freitas (@Cynegeticus) January 16, 2014
Mattos' comments would serve in suggesting that the club are at least knowing in the possibility that Premier League interest could result in a departure.
Should a player of Ribeiro's variety be Moyes' priority?
Ribeiro was largely responsible for Cruzeiro's run to the Brazilian title last season, during which he contributed five goals and eight assists in 34 games for the club, per Transfermarkt.co.uk.
The playmaker's main attributes lie in his chain of supply, but a keen sense of positioning sees that he also bears a threat on goal himself.
One can see why such a skill set would intrigue David Moyes, who is striving to add more star quality to his midfield.
Another advantage to Ribeiro's arrival would be that, providing work permit complications aren't an issue, the maestro would be available to compete in this season's Champions League in what would be his first European endeavours.
Scott Heppell/Associated Press
As of yet, the origin point of the rejected bid hasn't been divulged, but it's plausible that United may have competition in the hunt to sign their target.
Should that be the case, the knowledge that others are establishing concrete interest could push the Red Devils into quickening their own pace over the next fortnight.