The Houston Rockets blew a 14-point halftime lead on their home court at the Toyota Center and lost to the Oklahoma City Thunder, 104-92, on Thursday.
The Rockets score 73 in the first half and 19 in the 2nd half as the Thunder win 104-92. Durant scored 36 in the win. pic.twitter.com/eLVK7rwA0i

— Bleacher Report (@BleacherReport) January 17, 2014
That may not be such an astronomical lead for Houston to concede, but the Rockets' scoring drop-off between halves was the largest in NBA history:
Thunder Top Rockets 104-92. Rockets score 73 in the 1st half, 19 in the 2nd. NBA record for biggest negative disparity b/w halves.

— NBA on TNT (@NBATNT) January 17, 2014
These two teams were trending in opposite directions entering the evening, with Oklahoma City losing three of its last four and Houston winning five of six. It looked as though it'd remain that way after 24 minutes, and ESPN Stats & Info highlighted the significance of Houston's offensive outburst in that span:
The Rockets scored 73 points in the first half, their most in any half this season and the third most by any NBA team.

— ESPN Stats & Info (@ESPNStatsInfo) January 17, 2014
Even without star point guard Russell Westbrook, though, the tables turned in the Thunder's favor.
Kevin Durant led the visitors and all scorers with 36 points, but also got his teammates involved in the action, dishing out an OKC-best seven assists. Although it wasn't Durant's best night shooting from the floor (8-of-21 shooting), he got to the free-throw line at will, sinking 18-of-20 attempts from the charity stripe.
One big momentum swing came in the third quarter, when Durant knotted the game at 83 with a step-back three-pointer over Rockets swingman Chandler Parsons.
As poor as the Thunder were from beyond the arc, Durant's three-point bucket was the second in a row, after perpetually improving forward Serge Ibaka poured in the first from the corner.
What can't be overlooked is how well Reggie Jackson played in Westbrook's place, notching 23 points, four assists and six steals—the fifth of which led to a fast-break dunk that iced the win:
Jackson's only made three-pointer in seven attempts came with just over four minutes left to put OKC up eight.
The Rockets overcame an early deficit in this seesaw affair to explode for 41 points in the second quarter, taking a 73-59 lead into the break. ESPN's J.A. Adande pinpointed what went wrong for the hosts in the third:
Rockets went from 12-20 threes in first half to 0-6 in 3Q

— J.A. Adande (@jadande) January 17, 2014
Superstar center Dwight Howard was on the bench with four fouls to begin the second half, and the Thunder took advantage on both ends of the court. Howard wound up with just 11 points and eight rebounds, coming up small in a big contest.
For Rockets guard James Harden, this was yet another matchup versus the franchise that drafted him, and he had a stellar all-around game with 16 points, seven rebounds and eight assists. He didn't get to the foul line as much as usual, though, firing just three freebies.
That is in large part due to the presence of Ibaka and Oklahoma City center Kendrick Perkins on the inside. Still, there's no excuse for a team as talented as Houston to score 10 points in a quarter:
Rockets scored more points in 1st 3 minutes (11) of the game than they did the entire 3rd quarter against the Thunder (10).

— ESPN Stats & Info (@ESPNStatsInfo) January 17, 2014
Here is a look at the shot chart showing that abysmal 3-of-17 shooting performance, per the NBA on ESPN Twitter account:
The Rockets had 73 points at halftime. They scored just 10 in the 3rd quarter on 3-of-17 shooting. pic.twitter.com/EjOmhNCYDT

— NBA on ESPN (@ESPNNBA) January 17, 2014
Houston thus didn't have much of a choice but to continue launching from three-point land, which didn't work out any better late. The team's official Twitter handle had an interesting movie analogy, which CNN's Rachel Nichols weighed in on:
Rockets collapse tonight ugly. Retained a sense of humor though RT @HoustonRockets First half = Godfather 1 & 2. Second half = Godfather 3

— Rachel Nichols (@Rachel__Nichols) January 17, 2014
Head coach Scott Brooks' Thunder buckled down on defense and did a far better job contesting as the game progressed.
CBSSports.com's Royce Young was thoroughly impressed by OKC's effort:
Best Thunder win of the season right here, non-Russell Westbrook division. Much needed, and an excellent second half performance.

— Royce Young (@royceyoung) January 17, 2014
It didn't seem possible to keep Houston off the scoreboard more than it did in the third, but the road team only yielded nine points in the last quarter. The Rockets failed to adjust on the fly and it cost them a chance at a statement win against a shorthanded Thunder squad.
Grades
Dwight Howard, Houston Rockets: D

This was just not a good effort from Howard on either end of the floor. He didn't assert himself as he needed to for the Rockets to combat Oklahoma City's size on the inside and got into foul trouble too soon.
Doing that on one's home court is inexcusable, and served as a microcosm of Howard's inconsistency and that of the Rockets as a team.
Kevin Durant, Oklahoma City Thunder: A
What more can be said about the Durantula? He's amazing, and put on a clinic of how to put pressure on defenses with his relentless slices to the hoop while sinking some timely shots.
Durant did his fair share of putting the ball in the hoop, yet acknowledged defense as being the key to his team's victory afterwards, per the Thunder's official Twitter account:
Kevin Durant after the game: "Our defense was the reason we won this game. We had to stay disciplined. Everyone played hard."

— OKC THUNDER (@okcthunder) January 17, 2014
Defense will be the name of OKC's game if Durant and Co. are meant to be true NBA title contenders. Thursday was a great step in flashing the Thunder's potential at that end.
James Harden, Houston Rockets: C-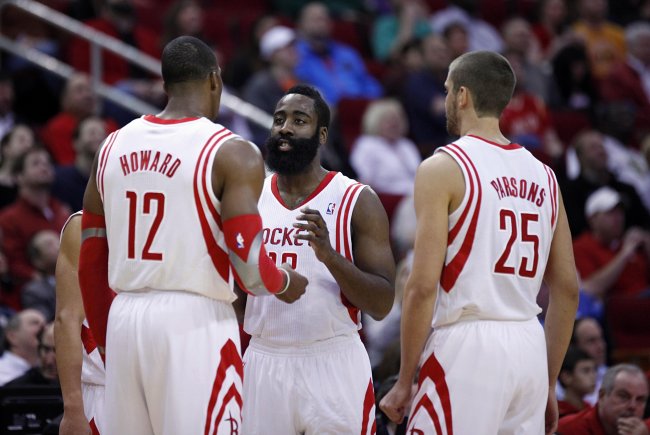 Andrew Richardson-USA TODAY Spor
The aggressiveness Harden typically shows when attacking the paint and initiating contact was absent. It's hard to knock him, though, because he managed solid assist numbers even when it seemed his teammates couldn't throw it in the ocean.
A monster first-quarter dunk over Ibaka was the big highlight, as Harden had 16 points at the break. Unfortunately for the home fans, he didn't record a single point in the final half.
Serge Ibaka, Oklahoma City Thunder: A
Jackson is certainly worthy of recognition, but that would overlook what Ibaka brought to the table. Aside from the aforementioned tide-changing three-pointer toward the end of the third quarter, Ibaka made his presence felt all game.
With 15 rebounds and five blocks, Ibaka played like a man possessed in addition to shooting an efficient 10-of-13 from the field, putting up 21 points—just two behind Jackson's total of 23.
What's Next?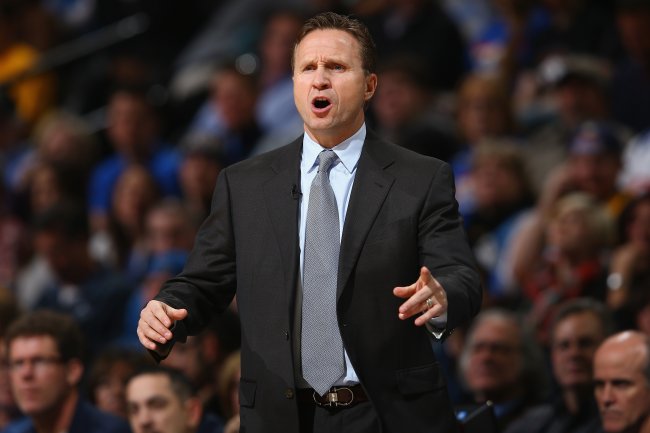 Doug Pensinger/Getty Images
This was a big win for Oklahoma City to regain some momentum and avoid falling too much further down the standings in the competitive West. Brooks will prepare his bunch for a quick turnaround at home, where the Thunder will clash with the Golden State Warriors on Friday.
As for Houston, the loss showed that this is still a team with an identity crisis, struggling to strike a balance between its stars. Next up for the Rockets is some likely relief on Saturday, coming in the form of a home contest against the lowly Milwaukee Bucks.