After a 1-2 start in the American Athletic Conference, No. 17 Memphis was probably the last team Connecticut wanted to see, especially at the FedExForum.
But the Huskies got double-doubles from both DeAndre Daniels (23 points, 11 rebounds) and Shabazz Napier (17 points, 10 assists), and escaped with an 83-73 win to even their record in the conference.
FINAL: #UConn 83, No. 17 Memphis 73. Huskies (14-3, 2-2) get the win behind double-doubles from Daniels (23-11) & Napier (17-10) #BleedBlue

— UConn Men's Hoops (@UConnMBB) January 17, 2014
Transfer Michael Dixon Jr., poured in 16 points off the bench for the Tigers, and Austin Nichols added 13 and five rebounds, but Josh Pastner's squad allowed UConn to shoot 57.1 percent from the field and couldn't complete a late comeback attempt, falling to 12-4 overall and 3-2 in the competitive AAC.
There was very little separating these teams for most of the game.
Connecticut was able to jump out to a seven-point advantage in the early moments, but that's the most either team would lead by in the opening 20 minutes. As the Huskies shot a scorching 53.6 percent from the field and the Tigers controlled the offensive glass, there were five lead changes and two ties.
ESPN's college basketball Twitter feed summed up the opening period:
1st Half #UCONNvsMEM pic.twitter.com/x1701BbnxV

— ESPN College BBall (@ESPNCBB) January 17, 2014
DeAndre Daniels came out of the break scorching hot, knocking down three jumpers for eight points in the first three minutes to extend UConn's lead to seven.
But Pastner counter-punched by moving to a zone defense, which confused the Huskies and allowed Memphis to reel off a quick 8-0, giving it the 50-49 edge.
From there, the back-and-forth affair resumed, with the lead exchanging hands four times in the next couple of minutes.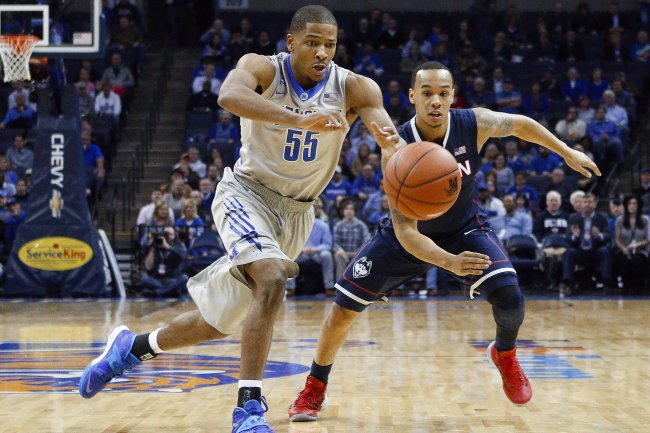 Lance Murphey/Associated Press
After Shaq Goodwin knocked down a jumper to tie the game with just over five minutes remaining, however, the Huskies, behind a pair of beautiful isolation plays from Napier, went on a quick 8-1 run to extend the lead. Napier hit another clutch jumper moments later, pushing the lead to a game-high (at the time) eight with just 1:26 to go.
Who will go deeper in March?
As was typical, though, the roller coaster was about to hit another Memphis peak, as the Tigers cut the lead to four and forced a subsequent turnover with less than a minute to go.
But Joe Jackson missed a layup and the Huskies hit their free throws down the stretch to seal the impressive road victory.
Player Grades
Shabazz Napier, Connecticut: A-
Napier didn't shoot the ball particularly well. He shot 1-of-6 in the first half (with every attempt coming from three) and finished just 5-of-13 for his 17 points. Not exactly an efficient display to brag about.
Still, as the electric playmaker tends to do, he found other ways to contribute. Most notably, he got into the lane, where he either drew contact (6-of-6 from the free-throw line) or found an open teammate (10 assists).
Moreover, he made a slew of plays and shots down the stretch when it mattered most.
I will take Shabazz Napier over any point guard in nation. Can do it all -- and plays both ends of floor.

— Jeff Goodman (@GoodmanESPN) January 17, 2014
This one may not go on the resume for Napier's Player of the Year candidacy, but a double-double against one of the best backcourts in America certainly won't hurt his case, either.
Joe Jackson, Memphis: C+
Memphis' leading scorer was quiet. He struggled with his shot (4-of-14 from the field) and wasn't involved in the offense as much as Pastner probably would have liked. He finished with 11 points, four rebounds, three assists, one steal and one turnover.
The dynamic senior finally started looking to create more down the stretch, but a missed layup and turnover in the final minute essentially guaranteed the victory for the Huskies.
Jackson deserves credit for his defense on Ryan Boatright, but this was a mostly forgettable night for him.
DeAndre Daniels, Connecticut: A
So, this is what happens when DeAndre Daniels plays with confidence and aggression.
This is one of the best games I've seen DeAndre Daniels play since he's been at UConn. Legit pick and pop threat. X-Factor.

— Jon Rothstein (@JonRothstein) January 17, 2014
Dom Amore of the Hartford Courant shares Daniels' thoughts on how he was able to take over the final 20 minutes of the game:
DeAndre Daniels "I was more aggressive in the second half than I was in the first half." #uconnmen

— Dom Amore (@AmoreCourant) January 17, 2014
The junior forward has shown glimpses of his ability to take over games with standout performances against Boston University and Boston College this season, but he doesn't always put it together on a consistent basis.
When he plays with consistent effort and looks for his shot, he has the potential to be the Huskies' second-best player and go-to option when Napier is busy distributing. On Thursday night, Daniels knocked down shots from the outside, scored under the basket and crashed the boards with reckless abandon.
Memphis had no answer.
What's Next
The Huskies are back at the Pavilion for a visit from Russ Smith and defending champion Louisville on Saturday (Jan. 18), while the Tigers host LeMoyne-Owen before returning to the AAC and the real world with a home game against Houston in one week.