Put yourself in the shoes of Jack Del Rio and John Fox. If you're the defensive coordinator or the head coach of the Denver Broncos, preparing for a game against the New England Patriots, what is your defensive game plan to stop the Patriots offense?
Stop the run.
It might seem crazy, especially if you're Del Rio, who has watched Brady complete 171 of his 235 passes (72.8 percent) for 1,774 yards (7.5 YPA), 17 touchdowns and no interceptions in seven games.
It would be even crazier to allow the Patriots to continue to build off their recent dominance on the ground, after running the ball down the throats of the past three defenses they've faced, with 123 total carries for 643 yards and 10 touchdowns.
"They've run for 200-plus yards in the last three games so that's definitely some of the tape that's fresh in our minds," Del Rio said. "They have made a concerted effort to be the more physical team and have done so and so we understand that we can't allow that to happen."
Patriots running game vs. Broncos run defense

| | | | | | |
| --- | --- | --- | --- | --- | --- |
| Team | Carries | Yards | YPA | TD | 1st down YPA |
| Patriots | 470 (9) | 2,065 (9) | 4.4 (9) | 19 (2) | 4.9 (3) |
| Broncos | 420 | 1,626 (7) | 3.9 (10) | 15 (23) | 4.15 (18) |
Source: Pro Football Reference (rank in parenthesis)
Statistically, that should be the heavyweight battle of the game. The Patriots' top-10 rushing attack against the Broncos' top-10 run defense is not getting nearly the billing of Tom Brady-Peyton Manning XV, but it probably should be, as it's one of the key matchups that could determine the outcome.
The Broncos know the Patriots want to run, but the Patriots know that even though the Broncos have some weak links in their pass defense, their best bet is to stick with the balanced approach.
"You try to find a balance," Brady said of sticking with what's worked versus attacking an opponent's weakness, "but sometimes you watch a team's defense and you go, 'Well, we'd love to try these types of things but that's not really what we do really well.' So you don't do them. I think you have to figure out what you do well and then go out there and try to do it the best you can. This is the game where it matters most. This isn't a big trial-and-error game."
The Patriots aren't going to come out swinging for the fences. What you've seen from them in recent weeks is likely to be what you'll get from them on Sunday in the AFC title game. If the Patriots can run the ball effectively, they will be in a much better position to win than if the Broncos can force New England to air it out.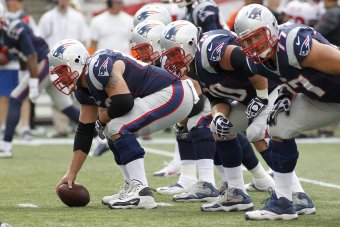 Stew Milne/Associated Press
However, Denver may not allow itself to be beat by the ground game, which would then force the Patriots into passing situations. That's specifically true on first down, where the Patriots have gained an average of 4.9 yards per attempt (third in the NFL), while the Broncos have allowed an average of 4.15 YPA (18th).
That being said, the Broncos know who the Patriots quarterback is, so this may be a game of pick-your-poison rather than simply finding the Patriots' strength and doing whatever it takes to stop it.
"Oh of course yeah they can still throw it—[they are] good at it," said Del Rio. "Play [action] pass shots and some of the quick game they do out of opened up formations. Tom is one of the top quarterbacks in the league, so when you have a guy directing it like that obviously you're going to be very good at it, but the thing they really are doing is physically they are getting after people, they're winning the heading battle in the trenches and running the ball right at people."
The battle in the trenches is the key to the running game, and the running game is one of the keys to the passing game.
Tom Brady, when using play action

| | | | | | | | | |
| --- | --- | --- | --- | --- | --- | --- | --- | --- |
| Type | Comp | Att | % | Yds | YPA | TD | INT | Rate |
| Play action | 92 | 153 | 60.1 | 1527 | 10 | 4 | 1 | 99.8 |
| No play action | 288 | 475 | 60.6 | 2816 | 5.9 | 21 | 10 | 83.3 |
Source: Pro Football Focus
Brady attempted a play-action pass on 24.6 percent of his pass attempts in the regular season, the ninth most in the league according to stats website Pro Football Focus (subscription required), and his passer rating has been 16.5 points higher with a play-action fake than on a standard dropback.
Brady's big pass plays v. IND both off play action fakes.. Here 27yd catch by Edelman. Lead run action sucks up LBs.. pic.twitter.com/n8h39QDfVZ

— Ben Fennell (@TheXOsOfLife) January 15, 2014
The Patriots, however, have been adapting all season long. According to the NFL's stats and information department, the Patriots have utilized 293 unique lineups on offense, which is the seventh most in the NFL. Their most common lineup was only featured on 2.45 percent of their offensive plays, which is the third-lowest percentage in the league.
Some of that is due to injuries, but it speaks to the Patriots' ability to switch things up if need be.
Their most common formations involve the 11 personnel grouping (aka "posse" personnel, which consists of one running back, one tight end and three wide receivers).
The Patriots like that formation because it spreads a defense out with three receivers, forcing them to respect the pass, but also presents the threat of the run with six potential blockers in the front against a defense that will likely have six defenders up front to account for seven gaps.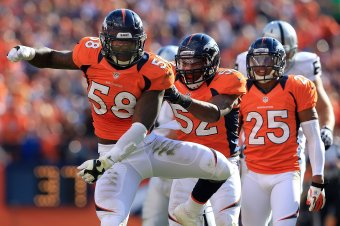 Doug Pensinger/Getty Images
It may not be a bad idea to test the Broncos' pass defense, not only given Brady's previous success against Del Rio, but also to capitalize on the losses of both outside linebacker Von Miller and cornerback Chris Harris, Jr. The two are considered Denver's best defensive weapons against the pass, and both men played in the previous meeting between the two teams.
There are still talented defensive backs to be found in Denver's secondary. Safety Duke Ihenacho made a big impact with a forced fumble of LeGarrette Blount in the first half of the last contest. Champ Bailey didn't play in Week 12 but is back in the lineup as a slot cornerback. Dominique Rodgers-Cromartie missed the second half of the Week 12 contest with an injury.
Bailey hasn't played the slot in years, though, and the fact he's even in that spot (rather than his customary spot on the outside) indicates a step back for the once-great shutdown cornerback. Beyond Bailey, if the Patriots can find ways to take advantage of the Broncos' third and fourth cornerbacks, Quentin Jammer and Tony Carter, that will be a huge advantage for them.
The only question, then, is whether the Patriots have enough depth at the skill positions to capitalize on those matchups when they appear on the field.
Patriots receivers, past four games

| | | | | | |
| --- | --- | --- | --- | --- | --- |
| Player | Receptions | Targets | Cth % | Yds | TD |
| Julian Edelman | 35 | 50 | 70 | 365 | 1 |
| Danny Amendola | 16 | 25 | 64 | 262 | 0 |
| Shane Vereen | 9 | 20 | 45 | 70 | 2 |
| Josh Boyce | 4 | 7 | 57.1 | 42 | 0 |
| Austin Collie | 3 | 4 | 75 | 40 | 0 |
| Michael Hoomanawanui | 3 | 6 | 50 | 28 | 1 |
| Aaron Dobson | 2 | 7 | 28.6 | 27 | 0 |
Source: Pro Football Reference
The Broncos will likely put Rodgers-Cromartie on Patriots receiver Julian Edelman, forcing Brady to go to some combination of Danny Amendola, Austin Collie, Aaron Dobson (if healthy) and running back Shane Vereen.
At the same time, the Patriots can't forget who their opponents are. The Broncos scored a league-record 606 points in the regular season. Their ideal scenario involves any in which the Patriots get away from the running game, whether or not that means this game turns into a shootout.
The over-under for this game is 55 points; a Patriots win is likely on the "under" side, where the "over" category feels like Broncos territory.
The Patriots will likely continue to try to run the ball, but in the end, Brady's dominance against Del Rio will have to continue if the Patriots want to come away with a win.
Erik Frenz is also a Patriots/AFC East writer for Boston.com. Unless otherwise noted, all quotes obtained firsthand or via team news releases.