Malcom Floyd Injury: Updates on Chargers WR's Neck and Recovery
Use your ← → (arrow) keys to browse more stories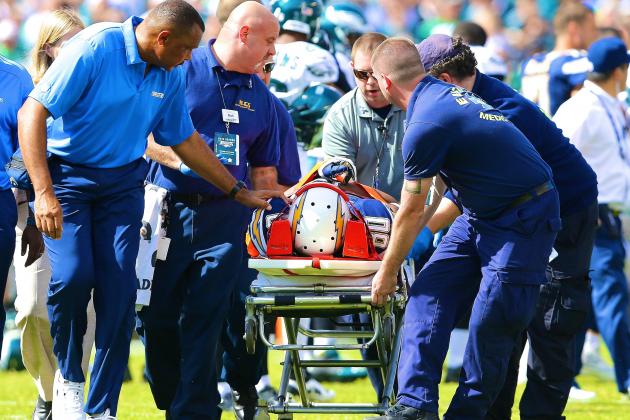 Getty Images

San Diego Chargers wide receiver Malcom Floyd has proven to be a physical force throughout his NFL career at 6'5" and 225 pounds. Unfortunately, a scary neck injury suffered in Week 2 of the 2013 season may signal the end of his playing days.
According to a report by U-T San Diego's Michael Gehlken on Thursday, Jan. 16, Dr. Robert Atkins has told Floyd that the neck injury could be career-threatening:
Malcom Floyd wants to play again, but neck injury could prove career ending: http://t.co/4zNU10PdNV

— Michael Gehlken (@UTgehlken) January 16, 2014
However, Floyd has also been told that players have come back to play from similar health issues before.
Floyd expressed hope for the future amid a grueling rehabilitation process, which still requires him to wear a neck brace to bed four months after sustaining the injury, per Gehlken:
I definitely want to play again. I definitely do. I'm getting better steadily, and if my body allows me to play, I'm going to do it. I'm really excited for our team. I want to add some more firepower...If not, then yeah, I need to hang it up. It won't do anything positive. It won't help out me or the team.
Philadelphia Eagles linebacker DeMeco Ryans was fined for his role in the sandwiching hit on Floyd, which occurred in spite of the parameters in place to protect receivers from getting hit hard when they're focused on securing the catch.
The 32-year-old wideout barely got a chance to play in the Chargers' new system this season, which saw a resurgence from Pro Bowl quarterback Philip Rivers.
Head coach Mike McCoy guided San Diego to the playoffs in his first year at the helm, creating optimism for the future. Floyd's attitude reflects that:
This city deserves a championship, regardless. That's what I'm coming to play for. I feel like I owe the city a lot. You can only do what you can do and control what you can control...I want to play. I think I can still do it. I feel like I can still go out there and make plays. I'm confident, but at the same time, I have to make sure I'm healthy.
Before registering a career-high 56 receptions as more of a focal point of the offense in 2012, Floyd had averaged over 19 yards per catch in each of the previous two seasons.
When it was announced Floyd would go on injured reserve after his injury, ESPN Stats & Info highlighted how sure-handed he's been:
Malcom Floyd is out for the season. Floyd has the lowest drop percentage by any WR over the last 5 seasons (min. 100 Rec).

— ESPN Stats & Info (@ESPNStatsInfo) October 1, 2013
That explosiveness would give the Chargers even more weapons in the passing game next season, but as Floyd said, he must make sure he's fit enough to return to the gridiron rather than risking any further damage.
Should Floyd suit up for San Diego again, it will undoubtedly be an emotional scene after how ominous it looked when he was stretchered off the field early this past season.