Without throwing a single clothesline, Ryback made himself the talk of Wednesday's WWE Main Event.
After suffering start-and-stop booking and constant character shifts, he's now headed down a path lined with promise. Ryback leaned on a volatile energy to grab fans' attention.
Kofi Kingston defeated Curtis Axel in the first match of the night. Ryback soon came charging in with his entrance music blaring.
Kingston readied himself for a fight that never came.
Ryback stomped around the ring before heading back up the entrance ramp. He chuckled as Kingston and fans worldwide were left confused.
"The Big Guy" continued this throughout Main Event.
He made a similar circle around the ring even before Damien Sandow and Sin Cara had finished their match. The announcers struggled to pay attention to Sandow's eventual win as Ryback made typing motions and yelled at fans.
Tony Chimel pointed out that Ryback yelled, "Keep typing, morons!" at the crowd.
The strangeness continued after the last match of the night. Ryback again forced his way into the spotlight, this time when Los Matadores beat 3MB.
The powerhouse wore a strange, unnerving look on his face. He looked capable of erupting on live TV, of doing anything from pulling a George Steele and eating turnbuckle padding to clocking a random fan.
This latest tweak of Ryback's character had fans perplexed and unsure but, most importantly, focused on him.
It's not Shakespeare. It's not Breaking Bad. Ryback's nutty, self-involved character is mighty interesting, though.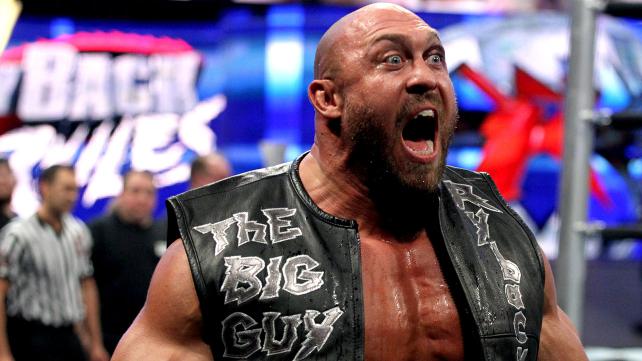 WWE.com
WWE has tried a number of things with him in his short time with the company. He's been asked to be a hateful, angry man who issued threats atop an ambulance in his feud with John Cena, a bully to employees backstage and the object of Paul Heyman's affection.
Each time, the company cut his story short.
He didn't remain that leather-clad badass that he was against Cena for long. No rival stood up to his bullying. His angle with Heyman had but a few pages and no climax.
He's now headed somewhere new, somewhere capable of sparking interest. Either this is an angle born from his recent aggressiveness on Twitter or his tweets were simply an extension of the character we saw emerge wild-eyed on Main Event.
Ryback has used social media to call fans "morons" and poke fun at the Internet Wrestling Community.
Moving into my new million dollar house today. Thank you internet community I love you and I love myself. You Feed Me Morons are amazing!

— Ryan Reeves (@Ryback22) January 16, 2014
FEED ME MORON: 1) Internet community members who believe the lies they read. 2) A #STUPID Internet community member who has 2 many opinions.

— Ryan Reeves (@Ryback22) January 16, 2014
His tweets don't stay up long, though, as he has adapted a motto of, "Eat, tweet, delete, repeat."
This version of Ryback effectively blends being insane with being a creep.
As WWE history has shown, both traits often get one noticed. He seems to be borrowing the kind of unpredictability that made Ultimate Warrior and Brian Pillman unforgettable and honoring the company's long line of memorable jerks from Rick Rude to CM Punk.
The more animosity among the audience he can create, the more seeing a fan favorite get his hands on him in the ring will be a cathartic experience.
Who knows where this is headed, but the important part for Ryback is that it is a narrative that's leading to fans talking about him and forming strong opinions of him.
Some folks love the weirdness.
Ryback just walking around the ring is my favorite part of this. #MainEvent

— Solace Winter (@SolaceWinter) January 16, 2014
Others fans are already annoyed with it.
Looks like Ryback is gonna be the main focus of #MainEvent tonight. Yeah I definitely won't be watching.

— Marisa Garcia (@mngarcia1993) January 16, 2014
Either way, he's getting a reaction. There are a number of Superstars at the bottom of the roster who would love to say the same.
WWE just has to let this story play out rather than halt it prematurely as the company has done with all of the other incarnations of Ryback. Crazy, trash-talking Ryback has fans' attention in a headlock. We await to see what he does with it.