Alabama Football: Breaking Down Tide's QB Contenders for 2014 Season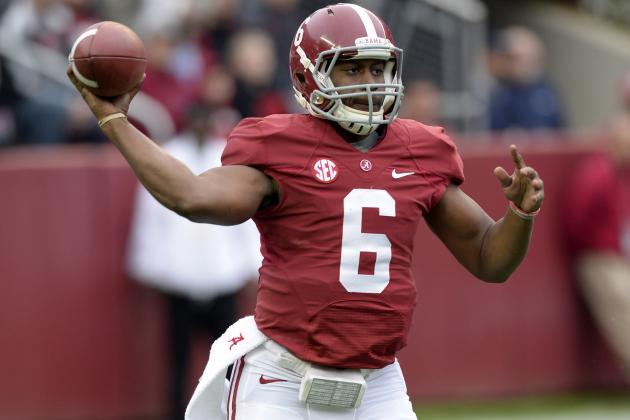 John David Mercer-USA TODAY Spor
Alabama QB Blake Sims
If there's one criticism facing Alabama head coach Nick Saban, it's that—during AJ McCarron's three years as starting quarterback—he didn't groom a backup quarterback to take over either in a pinch or after McCarron's career closed.
When the backup went in for mop up duty, it was truly mop up duty.
As a result, new Alabama offensive coordinator Lane Kiffin's first order of business is figuring out who's going to take the first team snaps.
Freshman Luke Del Rio took his name out of the running on Wednesday, when he announced on Twitter that he is leaving the Alabama program.
I had an incredible year at Bama, it's sad to say that it will be my last,I'm excited for the next chapter of my life and what it will bring

— Luke Del Rio (@Ldelrio12) January 15, 2014
That leaves senior Blake Sims, sophomore Alec Morris, redshirt freshmen Cooper Bateman and Parker McLeod and true freshman David Cornwell fighting for playing time to become the next starter for the Tide.
So who's going to win the job? Let's take a look at the competitors.
*All recruiting rankings courtesy 247Sports.com
Begin Slideshow

»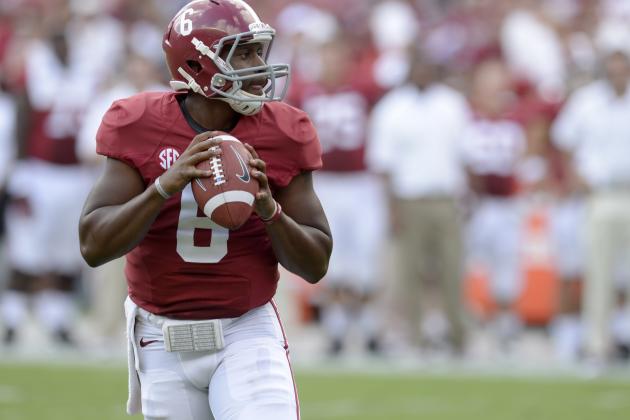 John David Mercer-USA TODAY Spor
Alabama QB Blake Sims
Sims has bounced around from quarterback to running back and back to quarterback during his career in Tuscaloosa and settled in to the backup role last season behind McCarron.
In eight games, he completed 18-of-29 passes for 167 yards and two touchdowns, while rushing 15 times for 61 yards.
The 6'0", 202-pounder from Gainesville, Ga. has a good arm and a grasp of the weapons around him, but he will need to become consistent with the deep balls to have a shot at winning the job.
Saban was non-committal in October, when asked by Andrew Gribble of AL.com if Sims was the heir apparent to McCarron's throne.
"Not at all," Saban said. "Not at all."
He's more of a dual-threat than his Crimson Tide predecessors, which isn't typical of Alabama quarterbacks of the past or Kiffin's style. But Kiffin was brought to revolutionize the offense to an extent, and if Sims can provide duality while maintaining his ability to operate the offense the way Kiffin wants, he could be just what the doctor ordered.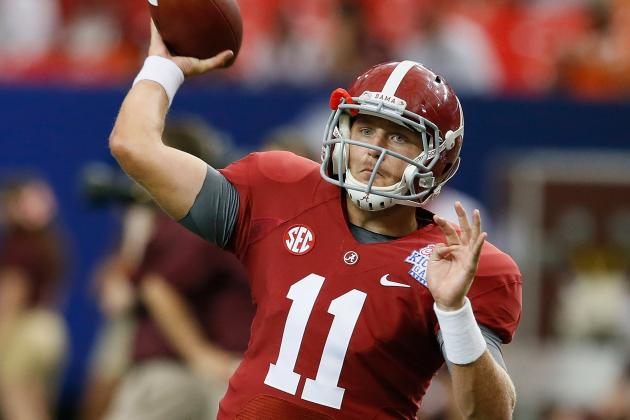 Kevin C. Cox/Getty Images
Alabama QB Alec Morris
Alec Morris is one of the most experienced members of the Alabama quarterback group, and that speaks volumes. He saw the first action of his career against Chattanooga on Nov. 23 but didn't attempt a pass.
The 6'3", 230-pound native of Allen, Texas was a 3-star prospect in the class of 2012, after throwing for 3,242 yards, 35 touchdowns and six interceptions in 2011 at Allen High School.
He completed 10-of-18 passes for 141 yards in Alabama's spring game last season, which turned a few heads in the process according to Don Kausler of AL.com.
Morris doesn't have the arm strength of some of his competitors for the job, but he's a smart quarterback who can get the ball out on time where it needs to be. Will that be enough in an offense that will be predicated on establishing the run and working off of play action?
We'll see. But offensive coordinator Lane Kiffin made Jonathan Crompton into a star in 2009 at Tennessee after a miserable 2008, so he has worked magic with quarterbacks before.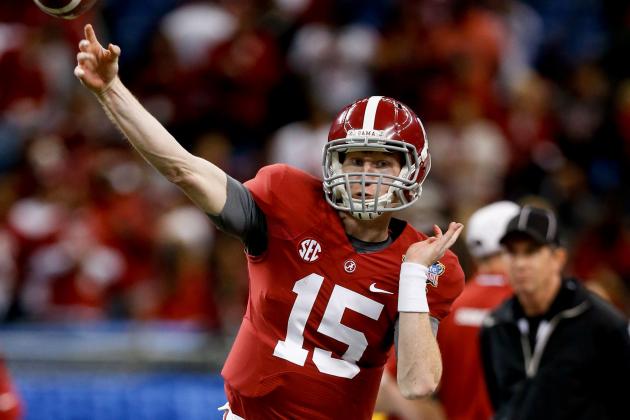 Derick E. Hingle-USA TODAY Sport
Alabama QB Parker McLeod
Parker McLeod came to Alabama with Tyren Jones—his high school teammate at Walton High School in Marietta, Ga.—in the class of 2013.
Like Allen, he was a 3-star prospect coming out of high school and chose the Crimson Tide over offers from Louisville, Boston College, Syracuse, Oklahoma State and others.
The 6'3", 193-pounder is accurate with the intermediate routes but has to work on some of the deep outs and play-action passes designed to stretch the field and take advantage of safeties who have crept up to stop the run.
Don't count him out. He's a bit of a game-manager who didn't get much of a senior season in high school thanks to a nagging ankle injury, but that doesn't mean he can't evolve into a weapon for the Crimson Tide.
One of the stars of the class of 2013 was Alabama's Cooper Bateman.
The 6'3" 208-pounder from Salt Lake City was a the fifth-best pro-style quarterback prospect in the nation last recruiting cycle and came to Tuscaloosa to be the next big thing.
Armed with a cannon, accuracy downfield and enough mobility to keep plays alive behind the scrimmage, Bateman has everything that offensive coordinator Lane Kiffin and head coach Nick Saban want in a quarterback.
He's smart and can play within an offense but not afraid to air it out when it's appropriate. In other words, he's "McCarron lite" but can evolve into just as effective of a passer if given the chance.
Will he get the chance?
He will enter spring camp as one of the two favorites to win the job.
While Bateman will be one of the primary favorites, nipping on his heels will be true freshman early enrollee David Cornwell.
The 6'5", 241-pounder from Norman, Okla. is rated as the third best pro-style quarterback in the class of 2014, and he has the size and arm strength to be a superstar in a Lane Kiffin-coached offense. He has the arm strength to stretch the field, which should come in handy once those stable of running backs have established the run.
He suffered a knee injury that ended his senior season at Norman North High School but told AL.com's Matt Scalici in October that he would be healed in time for spring practice.
"I will be ready and practicing in spring ball," Cornwell said.
Whether he is at 100 percent or not remains to be seen, but at the very least, he's rehabbing with the Tide, getting acquainted with the playbook and his new teammates.
Cornwell and Bateman will be the favorites, and if Cornwell's rehab allows him to earn significant snaps during spring camp, he could take the first snap against West Virginia in the Georgia Dome in the 2014 Chick-fil-A Kickoff Game.