Lionel Messi couldn't hold off Cristiano Ronaldo's charge to retake the Ballon d'Or from the Argentine, but he did continue to one up Ronaldo in another category: the world's most valuable footballer.
For the third consecutive year Messi landed atop Brazilian-based business firm Pluri Consultoria's list of the most valuable footballers. And for the third consecutive year, Ronaldo came in at second place.
Messi's total worth came in at a staggering €138.1 million.
The big risers on the list, unsurprisingly, were those who made blockbuster transfer moves over the past year.
Gareth Bale jumped from the 17th spot to the third spot and Mario Götze jumped from 37th to fifth. Wayne Rooney, who had been the fourth most valuable in 2011 and 2012, fell to 19th in 2013.
See the original list in its entirety here.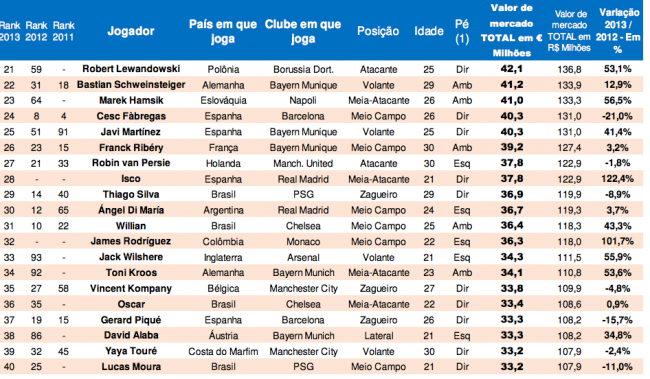 Screengrab
Hat tip to 101greatgoals.com for the find.