Luol Deng was born in Sudan, went to high school in New Jersey, has citizenship in Great Britain and played his college ball at Duke University. Despite all of his world travels, nowhere is Deng more needed than in Cleveland, Ohio.
Following an early January trade from the Chicago Bulls, Deng has already made an impact on the young Cavaliers.
Cleveland is 3-2 since acquiring the two-time All-Star, a nice improvement after beginning the season 11-23. For all the promise the Cavs brought with them into the 2013-14 campaign, we forgot that this is a very young team desperately searching for some veteran guidance.
This is where Deng comes in.
Scoring, defense and rebounding are all nice, but what the Cavs need most of all from Deng is his leadership.
Why Cleveland Needs Deng
The good part about playing awful basketball for three years is that the Cavs have put together a nice group of young talent through the draft. The bad part about all of this young talent is just that, youth and inexperience.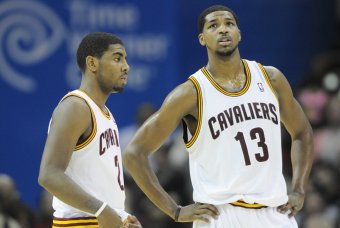 David Richard-USA TODAY Sports
Letting Kyrie Irving, Dion Waiters and Tristan Thompson play through mistakes and growing pains the past few seasons was expected, since Cleveland wasn't a serious playoff contender.
After three straight trips to the lottery and a combined 64-166 record since 2010, it's playoffs or bust for all in Cavalier land. And by bust, I mean a job likely lost for general manager Chris Grant.
This is professional sports after all, the ultimate "what have you done for me lately?" job market.
Because of this, an 11-23 start to the season just isn't acceptable.
Blame the players.
Blame the coach.
Blame the front office.
Whoever you'd like to choose, the bottom line is the Cavs weren't looking like a playoff team. Cleveland dug themselves a hole that not even Zydrunas Ilgauskas could have climbed out of. The Cavaliers needed a boost, someone who not only talked a good game, but could back it up with his play as well.
Enter Deng, a former All-Star forward now in his 10th professional season.
Deng isn't necessarily a vocal leader, but rather one who prefers to let his play do the talking. He's led the Cavs in scoring twice already in just four games and is averaging 18.5 points on 51.3 percent shooting.
It's fair to say he's the best defender on the team, capable of handling even the most dynamic players on the wing. Mike Brown can talk about defense in practice all he wants, but seeing Deng commit 100 percent on that end of the court may be just what another player needs to truly buy into.
Deng isn't the type to come in and put a team on his back, but he has gladly helped guys like Derrick Rose and now Irving shoulder the load.
For the Cavs, this is precisely what they need.
Experience and Playoffs
Deng is 28 years of age, making him older than 12 of the 14 other guys suiting up in wine and gold. Only Jarrett Jack and Anderson Varejao can be called his seniors.
Spending nine-plus seasons with the Chicago Bulls proved to be a great experience for Deng, even if none ended with a title. Playing under a great coach like Tom Thibodeau only made him a better defender, and time spent with an All-Star point guard in Derrick Rose should mean better chemistry with Irving.
For a team like the Cavs so desperate to taste the postseason, Deng can offer plenty of advice.
Look at how Deng's playoff experience compares to that of every other Cavaliers' player.
Player

Luol Deng

Anderson

Varejao

Jarrett Jack

C.J. Miles

Earl Clark

All Others

Total Playoff Games
48
71
18
23
13
0
Total Playoff Minutes
1932
1600
537
424
189
0
Only Varejao has appeared in more playoff games than Deng, but it still isn't close to the same amount of time spent on the court.
Deng has been the starting small forward in 42 of his 48 games, with a ridiculous workload of 40.3 minutes a night. He's endured countless battles on the court and had to fight an even bigger one off of it last year.
With everything he's been through, Deng can be counted on as a leader in the regular season, and hopefully beyond.
Effect on Teammates
As good as their physical talents may be, players like Irving and Waiters need a role model to look up to like Deng.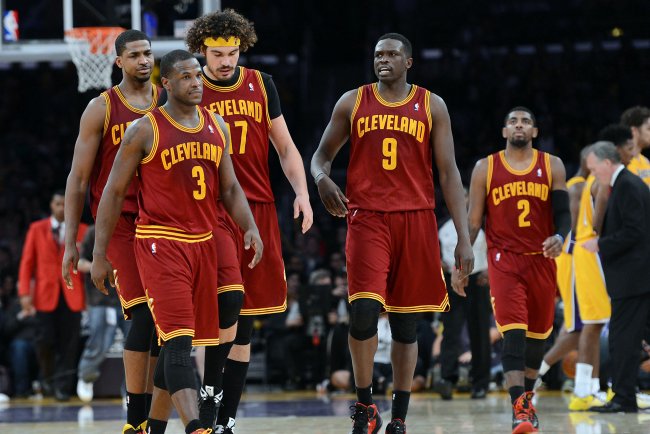 Jayne Kamin-Oncea-USA TODAY Spor
What Irving and Waiters bring physically to the Cavs, many could argue they lack in maturity right now.
There was the instance of Irving becoming "disinterested" during a blowout loss to the Detroit Pistons last season. He can appear moody at times and often looks to score himself before getting teammates involved.
Waiters has arguably been worse. He's a very emotional player, which may or may not be a good thing. Jason Lloyd of the Akron Beacon Journal pointed out the following regarding Waiters:
...he still has a lot more growing up to do. He has to stop sulking on the court when things aren't going his way. He has to stop thinking people are out to get him. The coaches see it, the players see it … basically everyone inside the organization has seen it.
Waiters' edginess may stem from his upbringing in Philadelphia. As rough as that may have been, it probably doesn't compare to Deng's family of 11 being forced to leave their home country of Sudan due to civil war.
Deng doesn't seem like the type of person to bring a story like this up, but it's important for a player like Waiters to know about.
Lloyd also had this to say about Deng and his work to become an immediate leader in the locker room:
One player said tonight Deng plans to talk individually to the rest of the guys, get to know them a little better and get a deeper understanding of what's going on. Deng said he was never really a vocal leader in Chicago, but his voice needs to be heard here, particularly since he's giving the same message as the head coach.
Bingo.
Watching a player like Deng and learning from him should be crucial to the young Cavaliers. What time does he get to practice? How does he warm up? How does he handle the media?
These are all things Deng won't press on anybody, but that doesn't mean the younger guys shouldn't pay attention.
With a young core of Irving, Waiters and Thompson coupled with veterans in Varejao, Jack and now Deng, there's no excuse not to make the playoffs in this Eastern Conference.
The Cavaliers didn't just trade for Deng because they needed a small forward, scorer, rebounder or defender.
They needed someone for all of those previous high draft picks to follow and learn from.
Deng brings a lot to the table for the Cavs, but nothing will be as valuable as his leadership moving forward.
-GS
All stats via basketball-reference.com unless otherwise noted.