Crucial Adjustments New England Patriots Must Make in AFC Championship Rematch
January 17, 2014

Jared Wickerham/Getty Images
The biggest storyline surrounding the AFC Championship Game entails the epic rivalry between Tom Brady and Peyton Manning.  Countless gobs of ink and bandwidth are being spent to reinforce their greatness or to make apples-to-oranges comparisons to Ali-Frazier, Bird-Magic, etc.
Thus, it is almost easy to forget that the New England Patriots and Denver Broncos are also a rematch, and 52 other players from each team will be showing up this Sunday.  The Patriots' Week 12 win should be both a source of encouragement and consternation for the Foxboro faithful—the Pats will have no fear in facing Denver again, but the first win was full of weird anomalies that shaped the outcome.
As the San Diego Chargers proved last week, copy-pasting the same game plan against Denver is unlikely to succeed.  Thus, here are the three most crucial adjustments the Patriots must make from their first meeting if they are to slay the Broncos once again.
Hold the Middle
The Denver game represented the Patriots' clear low point in run defense this year.  New England, which played all 90 snaps in its sub defense, conceded a whopping 280 yards on the ground.  More problematic was that the Broncos essentially ran the same play the majority of the game—an inside zone on a halfback draw. 
Indeed, 34 of Denver's 48 runs came in between the tackles, as Knowshon Moreno consistently had gaping holes to run through.  Opponents copied that tactic to try to take advantage of New England's undersized middle, but the Pats' results improved due to a commitment to eliminate that specific play:
Not coincidentally, Sealver Siliga also earned a promotion to the active roster the week after the Denver game and has received acclaim for helping anchor New England's run defense.  This week, Siliga will face a stiff challenge against Broncos center Manny Ramirez, who graded out as the eighth-best run-blocking center in the league during the regular season.
It's not hyperbole to suggest that Ramirez was the Broncos' offensive MVP during the first meeting with New England.  Ramirez graded out at a whopping plus-7.7 that night, by far the highest center grade of the week.  Quite honestly, you could pick any run from the night and make Ramirez look good, because he often opened up gaping holes:

Via NFL Game Rewind
At 6'3", 320 pounds, Ramirez was simply too big for Chris Jones and Joe Vellano, both of whom are outweighed by nearly 20 pounds.  The 325-pound Siliga, however, has adequate size to combat Ramirez.  For instance, against the Cleveland Browns and 315-pound center Alex Mack, Siliga (No. 71) consistently held his ground on plays like this: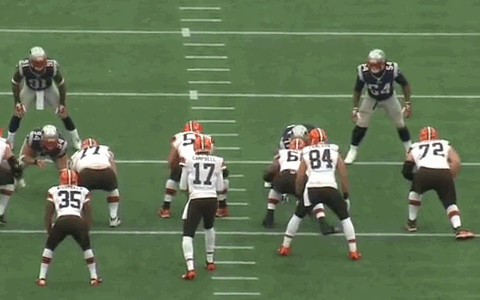 Via NFL Game Rewind
Though he initially lined up over the right guard, the Browns offensive line shifted right on a lead strong run.  That put Mack on Siliga, and if the play worked correctly, running back Fozzy Whittaker should have had space between the center and right guard.  But Siliga successfully shed Mack's block, even getting his hands on Whittaker.  Though Siliga didn't make the tackle, Whittaker had to bounce his run outside into Rob Ninkovich's waiting arms, resulting in a minimal gain.
Siliga must be similarly successful in eating up space against Ramirez and the Broncos.  The Patriots have little choice but to play sub packages the whole game once again to combat Denver's three-receiver set, meaning there will be six or fewer defenders in the box all game.  Manning is not afraid to audible to a run and play the numbers game, so Siliga and the other interior linemen will be crucial to helping the Patriots beat the odds.
The Julius Thomas Problem

Christian Petersen/Getty Images
Despite the first Patriots-Broncos game occurring just eight weeks ago, the personnel has changed dramatically on both sides.  Gone are important contributors like Von Miller, Rob Gronkowski, Chris Harris and Brandon Spikes.
While the Patriots will get Steve Gregory and Alfonzo Dennard back (Dennard was technically active the first game but left early due to an injury), the most impactful returning player is Broncos tight end Julius Thomas.  Thomas is the latest model in the line of physically freakish tight ends, and while backup Jacob Tamme had a solid game in his stead, Thomas' return adds another headache for New England.
So how will Thomas impact what the Patriots will do to combat Manning and the passing attack?  Well, as we can see by his receiving chart, Thomas does a lot of his damage in short-to-intermediate distances, especially in the middle:
Julius Thomas' 2013 Receiving Chart
20+ Left
20+ Middle
20+ Right
0 rec
4 rec, 98 yds, 1 TD
2 rec, 46 yds, 1 TD
10-19 Left
10-19 Middle
10-19 Right
7 rec, 117 yds, 2 TD
5 rec, 93 yds, 2 TD
2 rec, 19 yds, 1 TD
0-9 Left
0-9 Middle
0-9 Right
14 rec, 98 yds, 1 TD
19 rec, 174 yds, 2 TD
16 rec, 204 yds, 1 TD
Minus Left
Minus Middle
Minus Right
0 rec
2 rec, 15 yds, 1 TD
0 rec
via Pro Football Focus
In this first meeting, the Patriots were fairly conservative, almost always playing a two-deep shell with the safeties, in contrast to their typical single-high safety looks.  That was aimed at taking away the deep outside throws and forcing Manning to check down.  Indeed, Manning only threw 10 of his 34 passes over 10 yards in that game and completed just four of those 10 attempts facing looks like this:

Via NFL Game Rewind
However, Thomas' return figures to help the Broncos exploit such a strategy.  The Patriots will likely have to devote more resources, probably with some combination of Jamie Collins and Steve Gregory.  Collins was impressive in limiting Indianapolis Colts tight end Coby Fleener last week, but Thomas is a step up in competition, and it would be wise to provide the rookie some safety help. 
That would put a lot of pressure on outside corners Aqib Talib and Alfonzo Dennard or Logan Ryan.  Talib often found himself in single coverage on Demaryius Thomas the first time (he's doing so in the snapshot above), though asking Dennard or Ryan to cover Eric Decker on an island for long stretches could be troublesome.  But as ESPNBoston.com's Mike Reiss opined in his mailbag, it might be the Patriots' best shot at slowing down the Broncos' passing attack:
Brandon, if there is one thing we've learned over the years in games where the Patriots faced Peyton Manning, they can't just do the same thing over and over again; Manning is too sharp. My initial thoughts on the plan, and these are based off discussion with Tedy Bruschi, is to adopt a similar plan to the Dolphins games this year -- play from the inside-out and if the quarterback is going to beat you, make him do it by having to throw downfield and outside the numbers.
While that goes against the Patriots' typical "bend-but-don't-break" philosophy, limiting Thomas and Wes Welker also force Manning to take more chances on difficult throws.  Though the Broncos will surely hit some big plays, the higher probability of generating a turnover might make it worthwhile for New England to gamble on its outside corners holding up.
Third-Down Offense

Elise Amendola/Associated Press
You'll notice the first two adjustments were defense-related, and with good reason.  The Patriots offense had such a weird game in the first meeting that it is hard to pinpoint any clear alterations, other than the "don't-fumble-on-the-first-three-possessions" philosophy.
A relative constant through their inconsistency, however, was poor third-down situations and execution.  The Pats were just 6-of-14 in the game, largely due to the unfavorable circumstances they put themselves in on third down.
For the game, New England faced an average yards-to-go on third down of 7.4, and only three of its third downs were four yards or less, per Pro-Football-Reference.com.  PFR also illustrates how the Pats have averaged 5.5 yards to go since Week 16, fourth-best among all teams.
Staying "on schedule" is absolutely crucial for the Gronk-less New England offense.  The Patriots' run-heavy approach has helped create plenty of favorable 3rd-and-short situations, where Brady can throw an assortment of crossing routes, screens and slants. 
Against the Broncos, Shane Vereen accounted for half of the Pats' third-down conversions, all of which were 3rd-and-6 or less.  In those distances, the Patriots can run one of their favorite quick concepts—a clearing route by a receiver that leaves Vereen one-on-one in space with a linebacker. 
On this conversion, Aaron Dobson ran a crossing route that attracted the attention of Broncos linebacker Wesley Woodyard (No. 52).  When Woodyard ran forward to jam Dobson, Vereen (initially in the backfield) simply scuttled into the vacated area for a 14-yard gain.  Poor Danny Trevathan (No. 59) didn't stand a chance: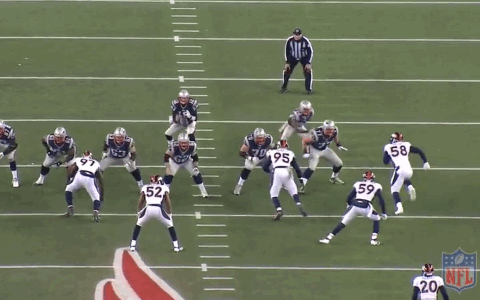 Via NFL Game Rewind
From an overheard perspective, we can see that Brady did a nice job of manipulating Woodyard by initially locking onto Dobson.  Once he flipped his head, Vereen had predictably left Trevathan in his tracks:

Via NFL Game Rewind
These are the type of passing concepts the Patriots excel at, and they got themselves in trouble when Brady had to stretch things vertically.  The Broncos are injury-plagued throughout the defense, and while it's tempting to attack the secondary deep like the Chargers did in their furious comeback, that simply does not play to the Pats' strengths.
Some have speculated that the game will come down to how well the Patriots passing game fares.  The Chargers were unable to sustain drives through the air last week, which sapped their defense and created a huge deficit.  New England has excelled at playing keep-away in recent weeks and must create down-and-distances that allow it to stay within its deliberate, high-efficiency approach.
Patriots-Broncos is not a one-on-one duel between Brady and Manning, and the New England supporting cast bears more weight than ever.  Nonetheless, the Patriots' fate may once again rest on whether or not their quarterback can make the timely throws that allow them to dictate the game's rhythm and ultimately its result.