Late Wednesday, Chelsea announced the signing of Nemanja Matic from Benfica for a fee in the region of £20.8 million, according to the Press Association via The Guardian.
The talented midfielder has become the latest piece in Jose Mourinho's midfield jigsaw puzzle, where he has an embarrassment of riches to choose from.
Following Matic's arrival, his current midfield options are: David Luiz, Michael Essien, Ramires, Frank Lampard, Juan Mata, Oscar, John Obi Mikel, Kevin De Bruyne, Marco van Ginkel, Eden Hazard and Willian.
Since returning to Chelsea in the summer, Mourinho has favoured a 4-2-3-1 formation centred around work ethic as well as skill, and it's likely that Matic will be competing with Lampard, Ramires, Mikel and even David Luiz for a central midfield berth.
Matic's development at Benfica cannot be underestimated. After Javi Garcia left to sign for Manchester City, Matic found himself with more responsibility, and he flourished as a result.
It's highly unlikely that Matic will have left Benfica without some form of guarantee of first-team football. Who would leave a club where they're guaranteed first-team football to fight for a place in the squad at Chelsea?
So where does Matic fit in to Mourinho's side?
His attacking midfield options are excellent, with the likes of Oscar, Willian and, in particular, Eden Hazard, who has had some eye-catching performances this season already.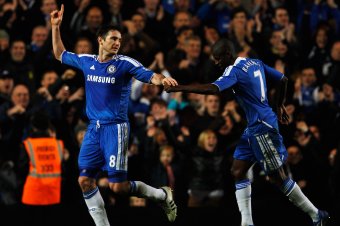 Paul Gilham/Getty Images
This is just my opinion, but if it were down to me, I'd use Matic in what has become Frank Lampard's role—alongside Ramires.
No disrespect to Frank, but he's at an age now—he turns 36 in June—where he should be used sparingly to ensure that Chelsea get the best out of him. As good a player as Frank is, he just doesn't have the energy to burst forward as often as he used to.
Don't get me wrong. Frank Lampard is still an exceptional player. You only have to look at the consistent nature of his performances to see that, but Chelsea needed to draft in a long-term replacement, and Matic could be the man.
Whatever happens, it's clear that Jose Mourinho recognises that he needs to draft fresh legs into an aging Chelsea squad, and Matic seems to be the first of a new breed that The Special One is bringing to the club.
Whether they win the league or not in a few months' time, Chelsea fans should expect an influx of new players in the summer. And those players will be the foundation of Jose's latest attempt to dominate English football.