Much like Southampton's former executive chairman Nicola Cortese in January, manager Mauricio Pochettino has left the club. The man who once controversially replaced Nigel Adkins but led Southampton to an excellent 2013-14 campaign will be joining Tottenham on a five-year contract.
From Spurs official Twitter account:
The Club is delighted to announce the appointment of Mauricio Pochettino as our new Head Coach on a five-year contract.

— Tottenham Hotspur (@SpursOfficial) May 27, 2014
Pochettino had the following to say about joining Tottenham, via Squawka Football:
Pochettino: "This is a club with tremendous history and prestige and I am honoured to have been given this opportunity to be its Head Coach"

— Squawka Football (@Squawka) May 27, 2014
Squawka Football also passes along this interesting statistic on Pochettino's Premier League record:
Mauricio Pochettino's Premier League record with Southampton: P54 W19 D18 L17. Points per game: 1.388. pic.twitter.com/5tTGYTUQhl

— Squawka Football (@Squawka) May 27, 2014
Former player and current pundit Gary Lineker couldn't help cracking wise about Pochettino's future under the impatient Daniel Levy, however (before showing his support for the appointment):
Mauricio Pochettino is the new manager of Spurs. Needed to get that tweet out quickly before they fire him.

— Gary Lineker (@GaryLineker) May 27, 2014
On a serious note, I like Pochettino's style of play. Could be a really good appointment if he's given time, support and a say in transfers.

— Gary Lineker (@GaryLineker) May 27, 2014
In that same vein, Paul Hayward of the Daily Telegraph feels Levy must give Pochettino a longer leash than he allowed former managers:
Pochettino a rational appointment by Spurs. Daniel Levy's pin sticking and directional swerves have to end one day.

— Paul Hayward (@_PaulHayward) May 27, 2014
Perhaps Pochettino's departure should have been expected. According to Sky Sports, Cortese left after a power struggle with owner Katharina Liebherr in January. And via that same report, Pochettino expressed his complete and utter support for Cortese last May, going so far as to say that if the executive chairman were to leave the club, he would shortly follow:
I would not understand staying in this role if Nicola was not here. I have great respect as well for Southampton, the club and the supporters, but Nicola has been the one that has placed his trust and faith in me.

We are on the same wavelength about the club and the future of the club so it really would not make any sense if I was at this club and he was not.
Say this for Pochettino—he is nothing if not a man of his word.
It's all a bit messy for a club that had an absolutely brilliant start to the season and finished in eighth place on the table. Remember, this was a club that was in third-tier League 1 in 2010-11 before achieving back-to-back promotions and finishing 14th in the Premier League last season.
The club's rise had been meteoric under Cortese—brought on as executive chairman in August 2009—and the team continued to improve under Pochettino, who controversially replaced Adkins after the latter was sacked in January 2013.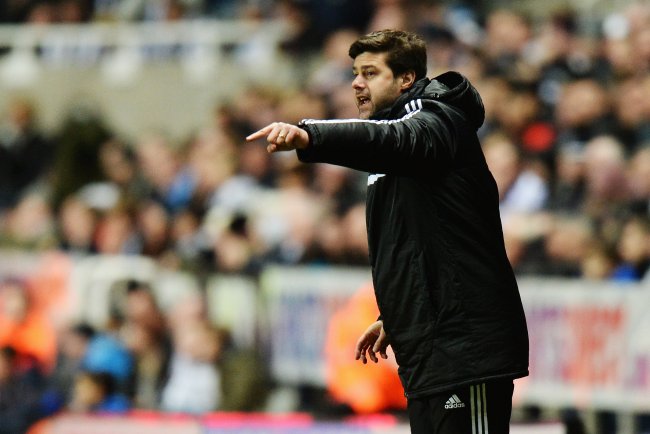 Tony Marshall/Getty Images
Pochettino has certainly gotten the most from his players this season, however, perhaps justifying what appeared at the time to be a very unfair sacking for Adkins, the man who led Southampton into the Premier League in the first place.
Pochettino previously managed Espanyol from 2009 to 2012.
With Cortese and Pochettino now gone, it remains to be seen if Southampton can remain a top-10 squad next season. It could be a tough summer for Southampton, as key players like Adam Lallana and Morgan Schneiderlin seem sure to attract multiple suitors and could end up leaving during the transfer period.
The Saints had a solid campaign by finishing eighth, but it wouldn't be shocking if the team hit a serious rough patch given all of the changes over the past several months. This will likely be a much different looking team come August.